<< Back Abigail and Steven Waffles: Veganized!
We have attended many a brunch in the last couple of years- vegan and otherwise.  At almost every brunch, our friends Abigail and Steven descend with their heavenly looking (and smelling) waffles, but alas, they contain milk, eggs and butter.  They kindly gave us the recipe and this last Sunday they debuted in the IV kitchen in all of their veganized glory.  Behold: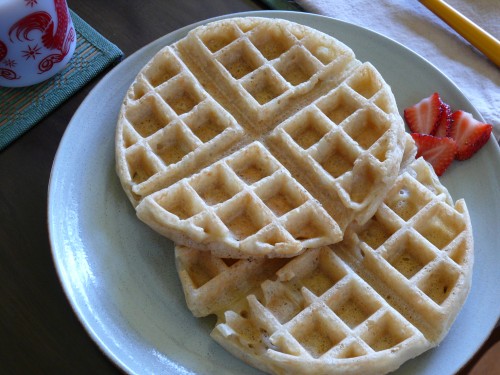 So, the MAJOR trick to getting these waffles right is to really get to know your waffle iron, and to pre-plan, since they need to be started the night before.  Mark spent a lot of time testing time and heat settings to get the perfect level of finish (ratio of crispness to doneness).  I was not at all sad to be the taste tester for this process as I whipped up the quiche.   Truth be told, the waffles in the photo are the teensiest bit underdone, but were wonderful with Earth Balance (tm) and real maple syrup none-the-less.  So, we suggest practicing these with your waffle iron on some long morning where you can experiment, before you unveil them at a brunch.  I think his best efforts occurred somewhere in the middle of the testing.  Since the only other folks present for this brunch were my mom and brother, we bought their patience with bites of hot waffle goodness.  Here goes nothin':
Abigail and Steven Waffles: Veganized!
2 1/4 cups milk of your choice (warmed)- we went with unsweetened soy milk.  I bet vanilla soy would be good!
2 cups all purpose flour
1 tbsp yeast
8 tbsp buttery spread (melted)- we use Earth Balance (tm)
1/4 cup water (warm)
two egg substitutes- we used Energ Egg Replacer (tm) (follow the directions on the box), but next time we may try apple sauce, one tbsp per egg
1/8 tsp baking soda
The night before:
Dissolve yeast in warm water in a large-ish mixing bowl (it should be able to fit into your fridge).  Add milk, flour and melted butter.  Mix.  Cover and refrigerate overnight.
*Tip from Abigail: Set the bowl onto a cookie sheet or tray in case the yeast causes the batter to overflow in your fridge (it did in our case and we were happy for the tip!).
The morning of:
Beat egg replacer and baking soda into batter.  Follow the directions on your waffle iron at first, and if those don't cut it, experiment as mentioned above until you have golden brown waffles of glory!
Thanks Abigail and Steven!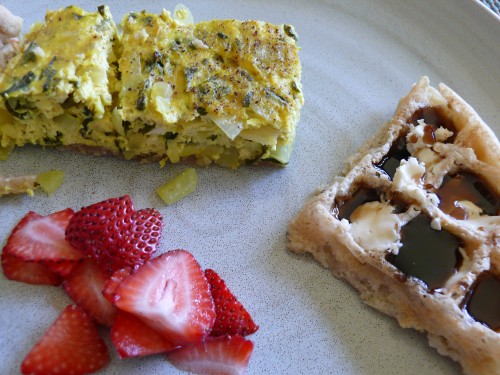 We served the waffles with this wonderful quiche, but this time I substituted a huge handful of chopped baby spinach (in season!) for the rainbow chard, since we had the one and not the other.  My very non-vegan mom and brother ate everything up and loved it!  Victory!