Aloo Gobi is our second favorite Indian dish after Chana Pindi/Masala (and maybe third after Dal Makhni, if you can ever find it vegan). There are lots of variations on this dish across restaurants, some saucy and others more or less just seasoned cauliflower and potatoes. We love the former, and thusly bring you: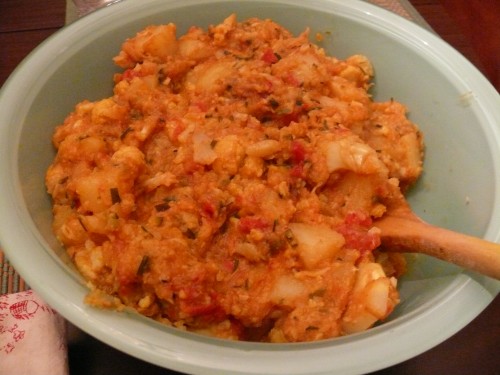 The secret to this guy is (a) chickpea water or veggie stock and (b) blending a small portion of it to make it saucy.
Aloo Gobi
1 head of cauliflower, cut into pieces
4 or 5 medium-sized potatoes, peeled and cubed
2 tsp ground cumin
2 tsp ground coriander
1/2 tsp turmeric
1 tsp cumin seeds
2 -4 garlic cloves, crushed or minced
1 large/2 medium tomato(es) (or 1 8oz can), diced
1/2 tsp cayenne pepper
1 green chili, seeded and diced finely
small bunch of chives, diced (optional)
1 cup veggie stock or chick pea water
salt, to taste
In a medium-sized pot, cook the potatoes until they're barely tender. Strain and save.
In a large skillet or wok (as always, wearing leg warmers and a headband), heat up some high heat cooking oil over medium heat. Toss in the cumin seeds, chili, and garlic and cook until the garlic begins to brown. Add in half of the spices (you can just combine them in a small dish ahead of time and pour in about half--this doesn't have to be exact). Let them cook for a few seconds, then add in the cauliflower, stirring well to coat, cooking until it starts to brown/sear--about 6 - 8 minutes. Add in the potatoes, again, coating well, and cook for another 2 - 3 minutes. Add in the tomatoes, broth/chick pea water (we made this along with a chana, so we had chick pea water on hand), and remaining spices. Blend briefly with an immersion blender or scoop a small portion into a standard blender and puree--this should be just enough to make a thick sauce to coat the potatoes and cauliflower.
Serve over rice (we had this over couscous the second time, and have had it over quinoa to delicious effect as well), ideally with pakora and naan (gluten free), and maybe Chana Marksala, if it's a feast.