The Indian Feast Saturday night would not have been the same without pakora.  We especially like that our version is baked, not deep fried.  If you know anything about us here at IV, you know that we leave frying to greasy spoons and love adapting fried recipes to delicious (and healthier) baked ones almost as much as we like converting meaty, cheesy, eggy dishes to delicious (and healthier) vegan versions.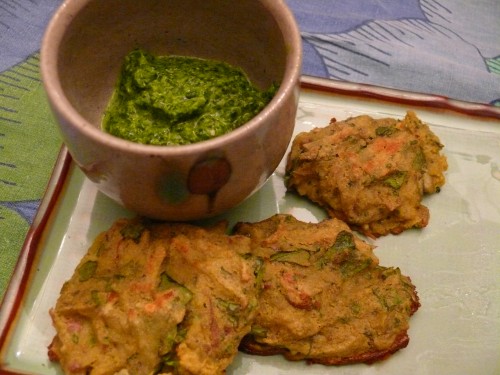 When we told our friend Mad Dog about this recipe last night, she nearly squealed with glee.  We hope you receive it with just as much enthusiasm.  Adapted to vegan from this recipe, it sure was fun to make (even more fun to eat).  At the last minute, we got the bright idea to make dhaniya dipping sauce to accompany the fresh pakora.  Ken was a champ and served as our runner, heading out the local food coop for a big bunch of cilantro (in southeast Asia, it's called coriander) to make it happen.  Without further ado, we give you:
Baked Pakora and Dhaniya (Coriander Chutney)
Pakora:
three medium-sized soft-skinned potatoes (such as red or yukon gold) or peeled russet potatoes, grated
one large onion (any color), diced
one overflowing handful of chopped spinach
any other veggies you might want to add such as grated carrots, peas, or diced cauliflower.
2 cups chickpea (garbanzo bean) flour
1 tsp baking powder
1 tsp salt
1 1/2 tsp curry powder
1 tsp cumin
1/2 tsp turmeric
1/2 tsp red pepper (optional)
1 1/2 tsp dried coriander (cilantro)
1 1/2 cups water
Preheat oven to 500 degrees Fahrenheit.
In a large mixing bowl, combine all dry ingredients (flour, spices, herbs, baking power).  Stir in enough water to make a batter.  Do it a bit at a time, making sure that is it about the consistency of pancake batter.  Ours was a little too thin, but didn't affect the overall deliciocity of the outcome.
In a separate bowl, combine all veggies, and mix well with your hands.  Pour the batter into the veggies, stirring to a homogeneous consistency.
Use a spoon to ladle little bundles of battered veggies onto an oiled cookie sheet.
Bake for 8 minutes, then flip and bake for 10 more minutes until toasty around the edges.  This batch made about 30 pakora for us, but the final quantity really just depends on the size you make each one.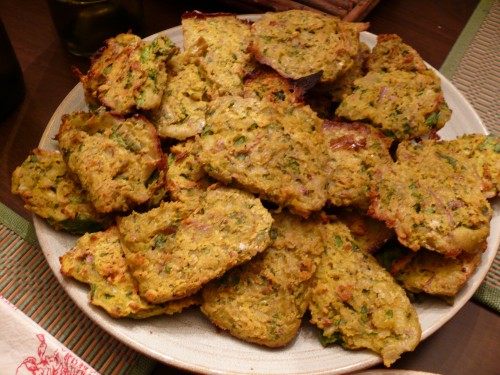 Dhaniya
(We used this recipe and are rewriting it here with some measurement and ingredient changes.)
one large bunch of fresh coriander (cilantro), leaves peeled from the stems
a one-inch square chunk of fresh ginger, grated on a ginger grater (or about 1 tbsp of dry ginger)
4 cloves of garlic
the juice of half of a lemon
a whole green chili (we used half of a poblano pepper since that's all we had)
1 tsp mustard powder
1/2 tsp salt (or to taste)
enough olive oil to make into a sauce (1/4-1/2 cup)
Combine all ingredients in a food processor and blend until smooth.  If you want enough dhaniya to accompany all of the pakora in the recipe above, I suggest at least tripling this recipe.