There are a lot of chanas (chick pea curries) out there. Generally, though (at least in my experience at Indian restaurants in America, mostly in the Midwest), they can be divided into masalas and pindis. While there are some differences in the spices, the fundamental difference is that masalas have a tomato/onion gravy and pindis don't. Recently, we've been more into the pindi-style chana, but this is an old standby that I find myself returning to over and over, largely on account of its simplicity.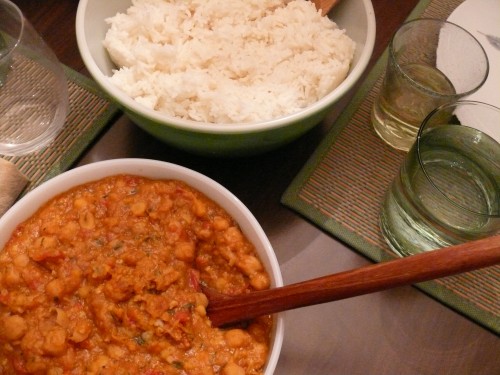 It isn't particularly authentic--there are way more spices in a genuine chana masala--but it is delicious. It's also a really good starter chana, something to develop. In my early Indian cooking days, I over-spiced everything. I took this in the reverse direction, letting the chickpeas and tomatoes do more of the work. The optional veggie stock gives it a little extra body, but moves it further away from authentic chana masala.
Chana Marksala
~ 4 cups (2 cans) cooked chick peas
1 large tomato (1 8oz can), diced
1 medium-sized onion, diced
2 -4 cloves garlic, minced or pressed
2 tsp ground cumin
2 tsp curry powder
1/2 tsp ground coriander
1/4 - 1/2 tsp ground ginger powder (depending on desired level of sweetness)
4 cups water or veggie stock (you can use veggie bouillon and/or chick pea water)
salt, to taste
handful of diced cilantro (optional), for garnish
Saute the onion and garlic in high heat oil in a large pot over medium heat. When the onions start to become tender, stir in the spices, coating the onions well. Add in the tomatoes, then the chickpeas, then the water/veggie stock. Bring to a boil, then reduce heat to then reduce heat to low and let simmer--at least 45 minutes, but the longer the better. Before serving, add in the diced cilantro, if using.
That's it!