<< Back Dinner For Breakfast: Breakfast Burrito & Breakfast Pizza
So, everybody loves breakfast for dinner, right? Like when you were 8 and you got to have Fruity Pebbles (tm) for dinner?
Well, this is like that--but the opposite! It's about taking regular dinner-y foods, and converting them into something palatable for breakfast. So, we're not talking about firing up the grill at 7am and cooking up a black bean burger; we're talking about the breakfast burrito--with which you're probably already acquainted--which consists of a tofu scramble, soysage, and potatoes, all wrapped up in a lightly toasted tortilla, and the breakfast pizza--a delicious new treat--which consists of a toasted pita, topped with the same tofu scramble, soysage, and potatoes, but with the addition of pinto poblano/refried beans & chilis.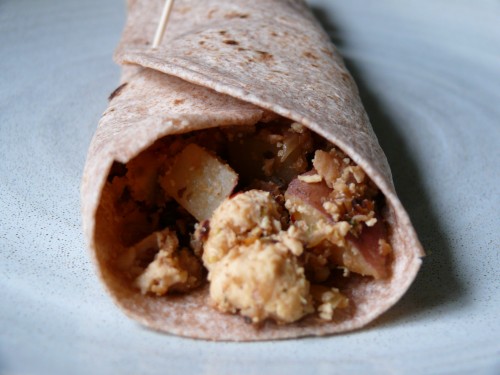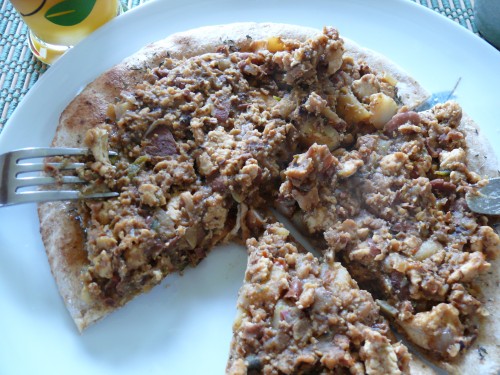 Truth be told, I'm not sure what relegates these to breakfast. The tofu in your scramble is the same as the tofu in your stir fry. We've used tempeh/tvp soysage/soyrizo in soups and all manner of Mexican delights. So what makes this any different?
Thusly, you have our blessing to indulge in dinner for breakfast for dinner.
For both recipes, you will need the following scramble:
1 batch of tempeh soysage (or the same recipe, using 1 cup dried TVP, rehydrated in 3/4 - 1 cup water)
1 lb of extra firm tofu, drained
3 medium-sized red potatoes, cut into small cubes
1 medium - large yellow or white onion, diced
2 - 4 cloves of garlic, minced (optional)
Prepare the tempeh/tvp soysage as instructed in the above link, and let sit, allowing the flavor to soak in. In a large pan, saute the onions in oil over medium heat, until they start to get tender. Add in the soysage and cook until the soysage starts to brown on one side. Crumble in the tofu and add in the potatoes, stirring well. Cook for about 5 minutes, then lower heat to medium-low and cover, stirring occasionally. Cook until the potatoes are tender.
6 - 8 tortillas (or however many you plan on eating--but this should fill 6 - 8 )
In a toaster over or frying pan, lightly toast a tortilla (you want it warm, but not crispy). Generously fill with the above scramble. Top with salsa, if available. Roll up then eat up. Outstanding!
6 pitas (same as above, my friend)
olive oil OR Earth Balance (tm)
~ 2 tsp dried thyme
2 cups pinto poblano soup OR

2 cups (1 can) cooked refried beans
1 4 oz can of diced green chilis
1/2 poblano or green bell pepper, diced
1/2 tsp chili powder
1/2 tsp smoked chili powder
1/4 tsp oregano
1/4 tsp ground cumin
Prepare the scramble as directed above. If you don't have pinto poblano soup on hand, add the pepper and chilis in with the onions. When the scramble is ready, mix in either the pinto poblano or the refried beans and spices. Continue heating until it's heated through and through.
Meanwhile, prepare your pitas. If you don't have a toaster oven, preheat your over to 400 degrees Fahrenheit. Lightly brush the pitas with olive oil or slather them with Earth Balance (we used Earth Balance), then sprinkle them generously with dried thyme. Bake in the (toaster) oven until they just start to brown.
Remove them from the oven, then allow them to cool for a few minutes. Dollop the bean-y scramble on them and spread. You can serve these with a fork and knife, or cut them up in advance, pizza-style. Using the latter method, these would make a great brunch treat. Phenomenal!