<< Back Mod'ed Polenta with Lemon Asparagus and Chickpeas
A guest post by our pal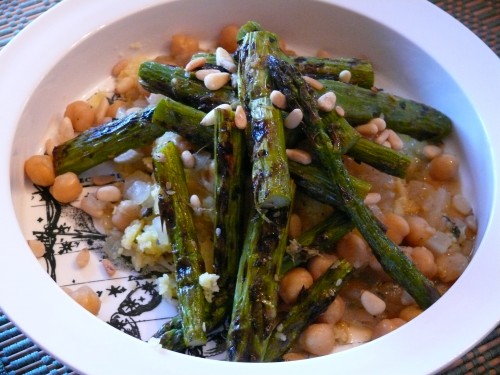 I wanted to call this Mod'ed Polenta with Lemon Asparagi and Chickplease but my hands were slapped, and I was told NO because it isn't nice for folks searching for a delicious dish with asparagus and chickpeas. I could have told the hosts of this guest post to go stuff it and f-off, but I guess I can surrender to a bit of authority for a moment in pleasing some friends.
After an afternoon of working in a hot and sweaty room, staring at computer screens, a dish that was light and delicious was in order. So Mark, Amy, Val and I (of imjustdoingthisthing) cooked down a delicious meal. Amy in her quest to eat healthier found this amazing looking recipe on FatFree Vegan Kitchen. Since the recipe is mod'ed I'll try to really only point out the differences and save pixels (mods of ingredients are in italics).
Polenta
2 1/4 cups water
2 cups vegetable broth or "no-chicken" broth
1 cup instant polenta
3-4 teaspoons minced garlic
1 teaspoon dried basil
Chickpeas
4/5 of a largish white onion, chopped fine
2-3 cloves garlic, minced
1
1 12oz can chickpeas (drained and rinsed)
1/2 cup vegetable broth or "no-chicken" broth
1/2 teaspoon dried basil
1/4 teaspoon freshly ground black pepper
1 teaspoon lemon zest (peel), freshly grated
1 teaspoon lemon juice
1 teaspoon arrowroot or cornstarch
 1/4 cup water
Asparagus
A large bunch of (a bit larger than a handful) asparagus, ends trimmed
1 teaspoon lemon peel
the juice of 1 lemon
salt to taste
fresh ground pepper
a good sprinkling of some crazy homegrown Hungarian paprika
about a tablespoon or more of thyme, finely chopped
olive oil, about a teaspoon or so
a teaspoon or so of sesame seeds
4 teaspoons pine nuts (lightly toasted)
Alright, I probably didn't need to re-post the recipe and wasted more pixels than I wanted to, so here is where I am going to save on pixels. The polenta and the chickpea/onion mix of goodness were cooked as suggested by the FatFree Vegan Kitchen recipe, go there for how to cook that part. The asparagus was the big change and if you have ever read Val's and my blog (another shameless plug) you would know that I like to grill. In preparation for the grill: rub the oil on the asparagus, sprinkle on the salt, pepper, paprika, sesame seeds, and thyme. Toss on the grill, over a medium high heat, and cook until al dente. Be sure to flip them over once so that you get nice purty grill marks on both sides. Once done remove from the grill let cool (to handle) and chop them into 1-1/2 to 2 inch bits. Pour some lemon juice on, sprinkle the zest on top, and add salt and pepper to taste if necessary.
We had a salad on the side made of freshly picked lettuce  and radishes from the IV garden, carrots, red onion, tomatoes, and candied pecans lightly tossed in vegan caesar dressing. Our bellies are full. Hopefully you will one day enjoy this meal.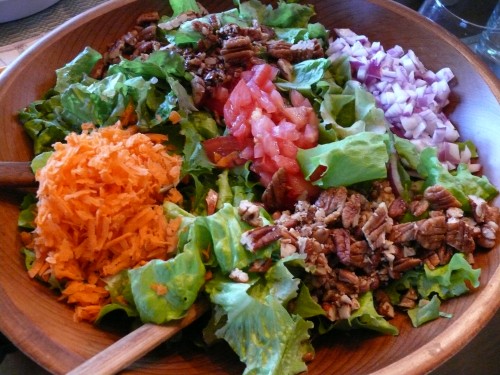 Alright this has been fun; hopefully someone will at least spell check for me before posting. This is Ryan signing off from a guest blogging stint.*
*Amy here: I think Ryan was an all-around superlative guest!  (and spelling...checked!)