I may have mentioned this before, but one of my all-time favorite soups is Beezy's pinto poblano. So, we got a hankerin' for pinto poblano tonight (which isn't that weird...I probably hanker for this soup half of my waking hours), but it was 8 o'clock and Beezy's was closed...so, it was up to us to replicate it, without consulting Bee for a recipe, of course. We always do it the hard way at Irreverent Vegan. I'm not sure how close this was to Bee's, but (a) it was pretty damn awesome, and (b) we made do with what we had on hand.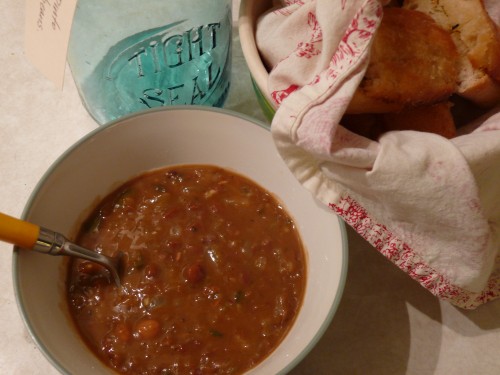 Pinto Poblano
2 1/2 cups dried pinto beans (or ~3 cans of pinto beans)
1 poblano chili, roasted, peeled, and diced
1 medium-sized onion, diced
1/2 HEAD of garlic, pressed or minced
1 4 oz can of diced green chilis (or a second poblano)
4 cups veggie stock
2 - 4 cups of liquid from cooked/canned beans (or water)
1/2 tsp chili powder
1/2 tsp smoked chili powder
1/2 tsp ground cumin
1/2 tsp dried oregano
salt & pepper, to taste
If you're making the pinto beans from scratch, the first step is to start them; in a pressure cooker, cook 2.5 cups of pinto beans in 8 cups of water for 50 minutes.
Meanwhile, start roasting the poblano (using your favorite method or ours). Dice the onion and mince/press the garlic. Toss into a large pot with the diced green chilis (I know, I know, we like it fresh...this probably would have called for another poblano, but we only had one).
Once the poblano is done, peel and seed it, dice it, and add it to the onions, garlic, and chilis.
When the beans are done, add a splash of your oil of choice to the onions, garlic, and  chilis, and begin cooking over medium heat. Remove 2 cups of beans, then mash the remaining beans thoroughly. Add both the mashed and whole beans to the onions, garlic, and chilis, one they're softened. Add in the veggie stock (we used the remaining stock from our seitan chik'n cutlets). Bring to a boil, then reduce heat to medium-high and simmer/boil for 30 minutes or more, until thickened to desired consistency. Salt and pepper to taste.
Though not exactly like Bee's, this was still pretty great. Serve with garlic bread!