Most people don't know this, but spicy vegetable couscous is an indispensable staple of the Norwegian diet.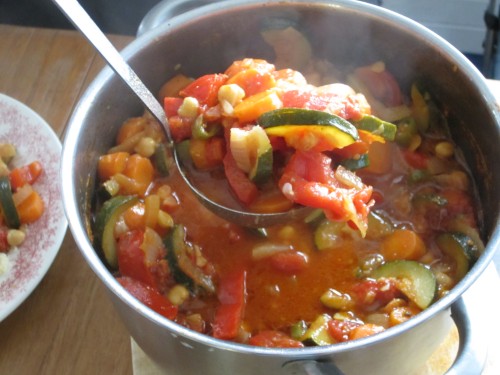 The reason they don't know this is that I just made it up.
Our new friends and fellow adventurers, the Norwegian artists Torgeir Husevaag and Catrine Thorstensen adapted this from a meal they often prepare, kindly subbing veggie stock for chicken stock. After a long day inside making art and avoiding the ash cloud (did you know there's an official weather condition on weather.com, "ash cloud"?), we ventured out briefly to the vinbudin to grab some beer and wine. Shortly after returning, Tor and Catrine started preparing this delicious dinner, over which we hatched the next day's plans to hit the hot springs (or "hot pot" as everyone seems to like calling it).
These hot springs, in Hveragerdi, aren't to be confused with the now Disneyfied Blue Lagoon (I've not been, but I have it on reliable authority that it's a total tourist trap)--these are the real deal. You hike in a small, beautiful mountain range for around 2 hours to get to get to the point where a geothermally heated spring meets a cold spring, producing bath-water like conditions--naturally! Along the way, we encountered various small lagoons of boiling water and mud--volcanic heating produces very hot water--as well as geysers of steam.  Amy posted about the experience on her blog, if you're interested in seeing photos.
But I digress. We were talking about delicious couscous. So without further ado, I give you:
Couscous Somi Oslo
1 onion, diced
1 red bell pepper, cut into medium-length strips
2 carrots, peeled and cut into disks
1 zucchini, cut into half-disks
2 tomatoes, diced (or 1 can)
2 cups of chick peas (or 1 can)
2 red chili (or fresno/serrano) peppers, seeded and minced
4 - 6 cloves of garlic, minced
1 - 2 tsp ground cumin
6 - 8 cups veggie broth
a dash of cinnamon (to taste)
salt & pepper, to taste
2 - 3 cups dry couscous (cooked in 4 -6 cups of water)
Like our vegetable soup, this looked pretty straightforward. Saute the veggies in oil in a large pot over medium heat until they're tender, then in add in the tomatoes, veggie broth, chick peas, and spices. Bring to boil and then let simmer. Meanwhile prepare 2 -3 cups of dry couscous in 4 -6 cups of water (bring the water to boil, add the couscous, reduce heat and cover, cooking until the couscous is soft and the water is soaked up). Serve the veggies over the couscous. This is excellent nourishment for a long day of hiking and thermal bathing!
Up next: Julie and Nina make a fabulous Volcanic Eggplant Quinoa!