Okay, so this isn't Iceland yet--we had a 9 hour layover in Boston (there's pretty much only one airline that goes to Iceland, and it only leaves twice a day, and only from a few cities, and flying to Boston at night is $300/person more than flying there in the morning; it reminds me of the best airlines operating in Costa Rica and flying to many domestic destinations), so we decided to make the most of it and hang out in the city all day instead of staying cooped up in the airport.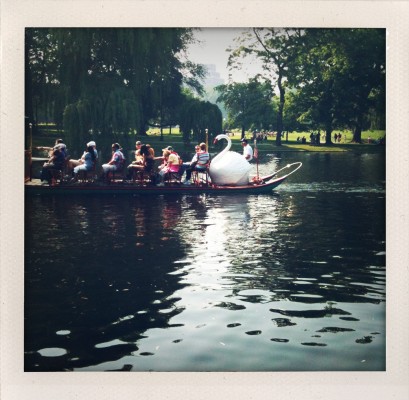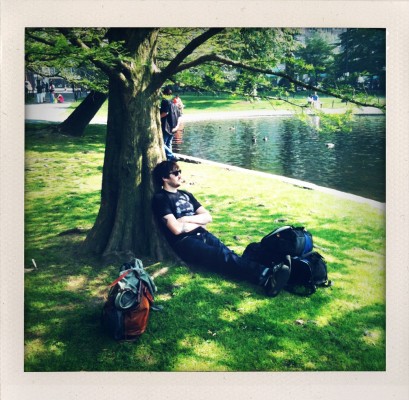 Both the airport and the train system are really easy to navigate, so we actually ended up with lots of time to explore and even to fit a delicious meal in (which is good, since Iceland Air doesn't provide a meal). Fortuitously, it was Memorial Day--and I can't think of a cooler place to be (maybe Philly?). Boston was the basin in which the American Revolution was fomented, and the final resting place of such heroes as Paul Revere and Sam Adams.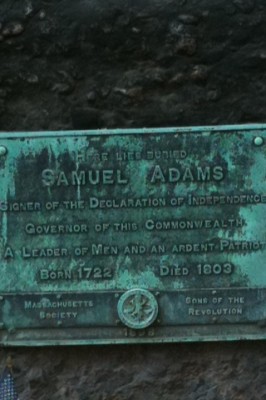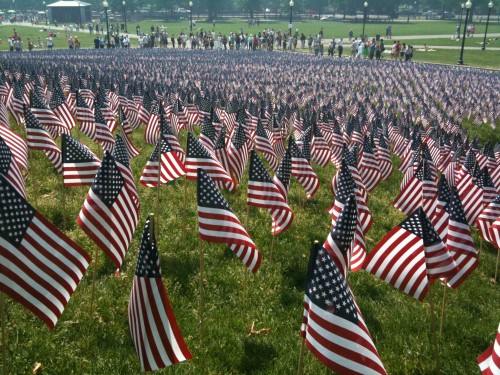 Above: Brewer. Patriot. (left) A tribute to the fallen soldiers of Mass. (right)
On our way to the Commons, we stumbled upon the Granary Burying Ground. After checking out the Granary Burying Ground, we headed over to My Thai, an all vegan thai restaurant, for a late lunch. It was a little overwhelming having a menu with like 100 things we could choose from. I've actually come to appreciate the sort of clarity a paucity of choice can often provide. We tried to pick stuff that we can't normally get at our local thai place--so we decided on wonton soup, thai basil salad, pad kee maow with assorted faux meats, and bubble tea.
Let me just ask first off: Why in tarnation did nobody tell me about bubble tea?! Amy got thai tea and I got mango. It was phenomenal. For those who haven't been initiated, bubble tea (at least My Thai's bubble tea) is coconut milk, balls of tapioca, and tea, fruit, or both. It's thick and rich, and comes with a giant straw, through which you inhale marble-sized tapioca balls.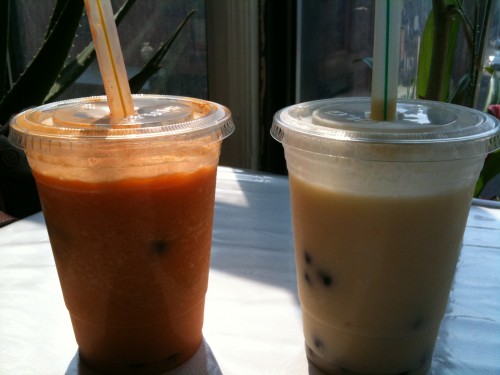 Now you know.
The next delight was the wonton soup--another heretofore untold treasure. This was also stellar. You pretty much have to find a specialized shop to get a vegan wonton, let alone a vegan wonton soup. This one had a clear broth that seemed almost preternaturally flavorful. You can't see the flavor. Where does it come from?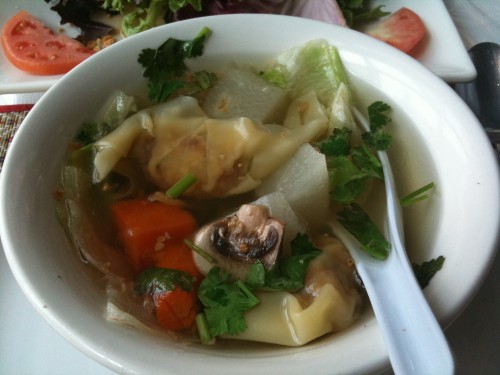 The thai basil salad came out next, followed in quick succession by the pad kee maow.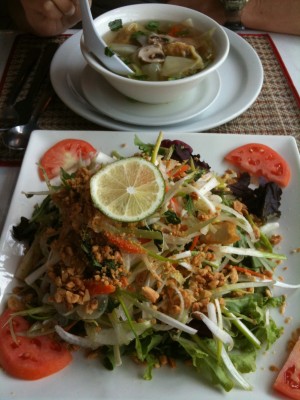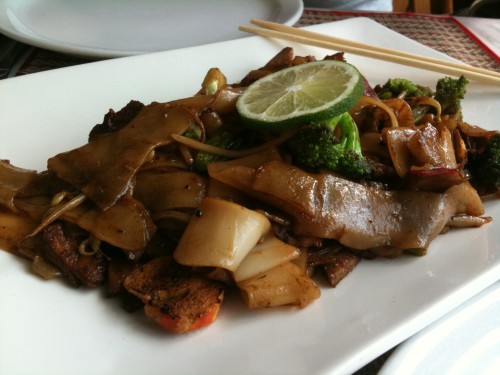 While both were decent, neither blew me away. It was nice to get a kee mau that didn't suffer from its lack of fish sauce, and the faux meats were tasty enough, but I think we've gotten to a point where ersatz meats aren't really a big attraction any more--certainly not enough to carry a dish (a faux pas--ugh...was that pun avoidable?--committed by many vegan Asian restaurants). The salad was good, but was roughly half lemon grass--not nearly enough fresh greens.
We headed back to the Commons to check out the pond and relax a little bit (as seen above), then hit the streets of downtown to get a feel for the city a bit. We popped in and out of a few shops and then relaxed at Ciao Bella with a pitcher of sangria and some high-grade people watching.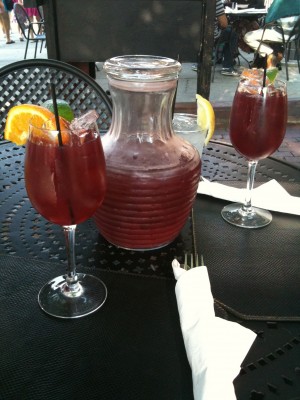 It's amazing what a little booze and a lot of people can teach you about a city in a short amount of time.
Post-sangria, it was time to head back to airport, then off to Iceland (where I am currently composing this post).
I know it might be too soon, but we are already thinking about our next destination (New Zealand), we have gotten as far as deciding what company will carry our stuff! White & Company seems to be the right choice since they offer shipping to new zealand and are very reputable. More on our Icelandic adventures and future plans soon!