Icelandic cuisine centers largely around seafood--it's the most readily available fresh food. There's not much arable land and a short growing season, so local produce is in short supply, and generally comes from greenhouses or is grown hydroponically. So it might be surprising that it's relatively easy to eat vegan in Reykjavik. On the other hand, Reykjavik is a cultural center, home to a lot of great music, art, and design. So maybe it's not so surprising. There are several vegetarian restaurants and a variety of places that cater to vegetarians and vegans.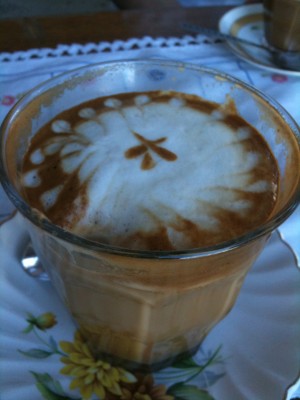 To fuel our coffee addiction, our first stop was Kaffismiðjan, a local coffee shop/roaster. Not only is their coffee fantastic (we'd recommend the Colombian), not only do they roast it themselves in a gigantic hot pink roaster, not only do they create tiny works of art in your foam, but they also offer soymilk! Though I usually drink my coffee black, it's occasionally nice to have a soy latte or cappuccino in the afternoon. This is a mandatory stop for any coffee drinker--for a simple cup of joe and/or the beans for your daily coffee.
Located at Kárastígur 1, 101 Reykjavík--kitty-corner from Hallgrímskirkja (Hallgrim's Church).


Overwhelmed by hunger at the Listasafn Reykjavikur (Reykjavik Art Museum), we had our first incidental veg dining experience in the museum cafe. They had five soups, all of which were vegetarian! Only two were vegan, a lentil soup and a North African tomato soup, so Amy and I each got one, so we could try them both.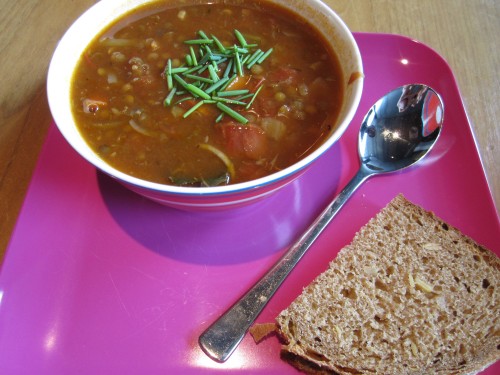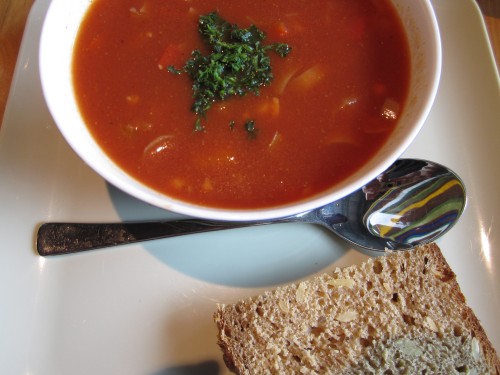 They were both quite good, and quite unexpected. I don't know many museums anywhere that have vegan soups available. Their online menu suggests that there are always some vegetarian soups, but I'm not sure if they're all always vegetarian, or if there are always vegan options. The staff was friendly and helpful, so it wouldn't be hard to find out on any given day.
Located at Tryggvagata 17, 121 Reykjavik.
There are a few vegetarian restaurants in Reykjavik, but A Naestu Grosum seemed to come the most highly recommended on HappyCow, so it was the first one we tried. Like a lot of vegetarian restaurants in not-so-vegetarian cities, it was small and cafeteria-style. Despite this, the atmosphere was pleasant and cozy. There were a variety of options, about half of them vegan, and the staff understood the term 'vegan' and were really helpful in answering our questions. I got roasted tomato, garlic, onion; a cinnamon-y lentil curry; and a raw (I think) patty/ball made largely out of sunflower seeds. Salad, bread, and (really good) hummus were all on the house.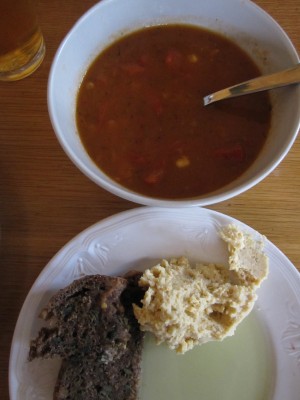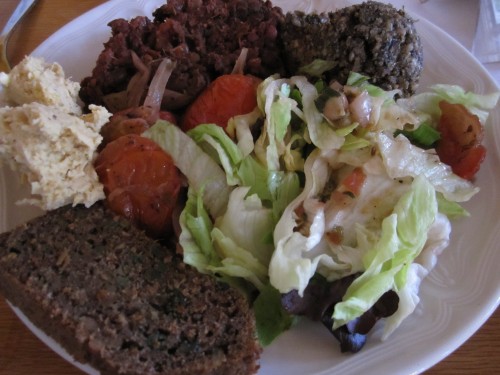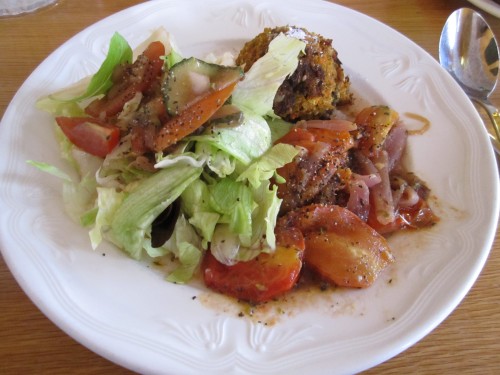 Amy also got the tomato dish, along with a carrot-based patty/ball and a tomato soup. For the most part, the food was good, but not great, with the exception of the tomato soup, which was probably among the best we've ever had. The price per plate (you pay by the plate, priced by the number of entrees) was pretty reasonable (by local standards) , and with free bread, salad, and hummus, you'll definitely leave full and happy.
Located just off Reykjavik's main drag at Laugavegur 20b, Simi.
While out exploring one day, we stumbled upon a wonderful little gem: Núðluskálin--a fusion noodle bar where you create your own noodle dish. The sign out front advertised vegetarian and vegan options, so it was definitely quite easy to request something vegan. The owner/noodle-barista was very friendly and knowledgeable about veganism. There were window seats for people-watching and he played a great selection of music. We got a ginger-lime-coconut noodle soup and a clear, spicier, noodle soup, both with tofu.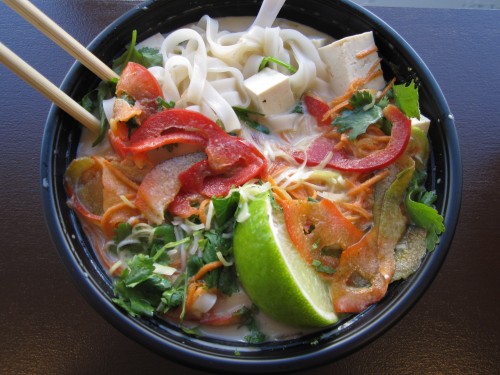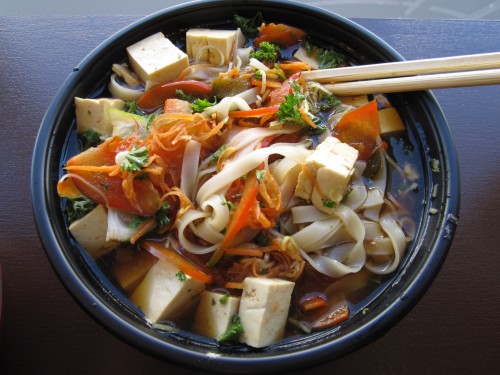 While probably not on par with a genuine Tom Kha or Tom Yum from a Thai restaurant, these were certainly as good as any noodles we've had from a fusion noodle joint. The prices were very cheap and portions were pretty large, so on an extended stay, this place would warrant repeat visits, to be sure.
Located at Skólavörðustíg 8, 101 Reykjavík.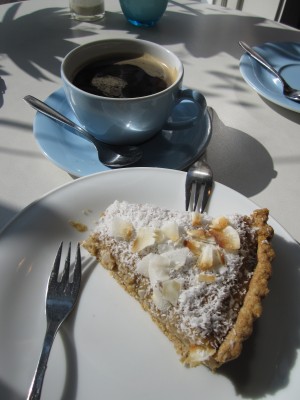 Not far from Núðluskálin, we chanced upon Ecstasy's Heart-Garden, another all-vegetarian restaurant. Like A Naestu Grosum, they have a daily menu. They are not cafeteria-style, however; there is one entree and one soup every day, with a few desserts and coffee available as well. The put out a new daily menu every week, so you can plan your visits accordingly. They don't distinguish between vegan and vegetarian on the menu, but you can ask the staff. Almost every soup (all but one) is vegan, so on any given day you could probably find something to eat. We just stopped in for a coffee and snack--a banana custard pie, which was outstanding.
Again, on an extended stay, this place would probably also warrant repeat visits--just be sure to confirm which options are vegan ahead of time.
Located at Klapparstigur 37, 101 Reykjavik.
Not surprisingly, we did a fair amount of cooking on our trip. Since we eat mostly produce and bread, most of our staple ingredients were readily available at most grocery stores--including veggie stock, soy milk, and tofu. The one thing we couldn't find, however, was vegan margarine. For this, and a wider selection of organic options, we hit up Yggdrasill, a health food store.
Located at Skolavordustigur 16, 101 Reykjavik.
Luckily, we had a hike up Mt. Esja and to the hot springs in Hveragerði to work all of this off!