<< Back South of the Border, South of the Continent: Refried Bean & Zesty Quinoa Tostada
Taking a brief break from my solitary bachelor existence, I had my mom over the other night and we cooked it down. Over the last year, we've opted to cook at home more and more, to the point where we rarely go out. My mom loves to cook too and over the years has come to enjoy a lot of the same foods as Amy and me.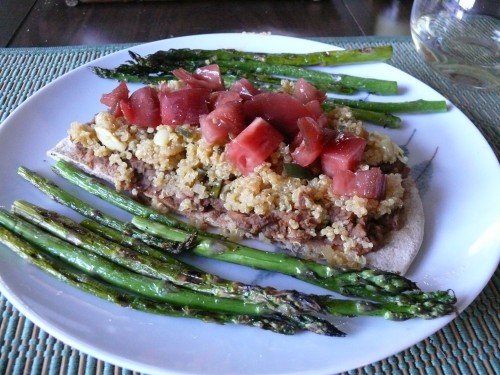 We were in the mood for something Mexican-ish, largely because my mom wanted guacamole. We also wanted to do something low fat. While fate would have it that nary a ripe avocado was to be had, the taste for Mexican food lingered--and we had to improvise a little. Beans are low fat, so refried beans were a no-brainer. I would often do a Spanish or Mexican rice, but rice is high carb, and I've been on a quinoa kick lately, and my mom is addicted to quinoa...so that too, was a no-brainer: zesty far South quinoa, with onion, poblano pepper, and garlic. This was rocked with a scosh of carbs, in toasted pita form, and fresh heirloom tomato (it looked like a Cherokee Purple). We had it with grilled asparagus, which I eat almost every other day, for the brief time it's in season.
But wait, here's how you too can enjoy this delicacy:
Refried Bean & Zesty Quinoa Tostada
1.5 cups uncooked quinoa
3 cups veggie stock
6 - 8 cloves of garlic, cut into thin slices
1/2 medium-large white onion, diced
1/2 poblano pepper, seeded and diced
1 serrano/jalapeno pepper, seeded and diced (optional)
2 cups (or 1 can) refried beans (note, our recipe for refried beans is already spiced)
1 tbsp chili powder (we used a combination of smoked and standard)
2 tsp dried oregano
1 tsp ground cumin
salt, to taste
1/2 pita per person
1/4 tomato, diced, per person
shredded lettuce (optional)
diced cilantro (optional)
If you're doing the refried beans homestyle, start those first. When the homemade beans are done, or the canned beans are warm, add in the spices: chili powder, cumin,  oregano, and salt to taste.
In a medium-sized  to large saucepan, saute the onions, pepper(s), and garlic in high heat oil. Once they're tender, stir in the quinoa coating well, and cook for a minute or two. Add in the veggie stock (or water and powder/cubes) and bring to a boil. Reduce heat, cover, and simmer until all of the water has cooked off.
In an oven or toaster oven, toast the pita until just crispy. Spread on a generous layer of beans, then an even more generous layer of quinoa. Top with fresh tomatoes.
I had this the next night with lettuce and cilantro from our garden. Delicious!