<< Back Schlutzkrapfen (Slippery Pockets)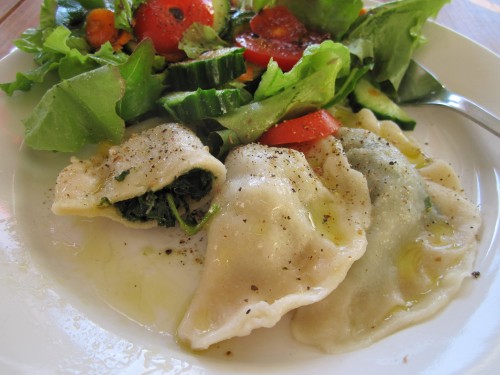 By far one of the best things about artist residencies is the community--getting a chance to hang out with really interesting and talented people from all over the world. Some artist residencies are fairly small, and interaction is, accordingly, limited. The SIM residency in Reykjavik, however, is quite large; there's space for 10 artists here (and we're currently exceeding that, with a couple couples and a straggler or two). We're brushing elbows with folks from Austria, Norway, Germany, Denmark, the US, and Canada. Our first full day here, we ended up running into our fellow flatmates in downtown Reykjavik on several occasions. Somewhere along the way, Klaus (Taschler) offered to cook dinner for everyone, starting what looks to be a residency-long tradition of meal-sharing. So, just about every night, someone cooks a meal for everyone--buying all of the ingredients (and usually a bottle of wine) and then preparing a "cultural" meal. This is what I wish real life were like.
Klaus set the bar pretty high on night one with Schlutzkrapfen (roughly translated as 'slippery pockets')--spinach, garlic, and onion in a delicious noodle dumpling--made from scratch.
Schlutzkrapfen, or Schlutzer, originate in northern Italy (which borders Austria), where Klaus's family came from. The noodles are pretty much just wheat flour and water; they're deceptively simple. The filling is also pretty straightforward--saute onion, garlic, and spinach until it's soft.
Here's the vital info:
Schlutzkapfren
Dough
2.5 cups flour
1.5 cups water
All measurements are estimates (and all instructions are gleaned from watching Klaus)--mix enough flour and water to make a dough that isn't sticky, then knead for about 5 minutes. Let sit--just leave it while you're preparing the filling. Roll flat on a floured surface then cut into circles using a large glass.
Filling
1 package/bag of spinach, diced
1 onion, diced
1/2 head of garlic, minced
salt & pepper, to taste
Saute it all until soft. That's it.
And then...
Place about a teaspoon of spinach mix into each dough circle and fold in half. Mash the edges together, forming a pocket.
In a large pot, bring water to boil. Toss in as many pockets as will fit, and boil for about 5 minutes, until the noodle is cooked well.
These are delicious with a little olive oil and some salt and pepper, but would be great with a homemade sauce as well. You should be able to freeze unused pockets for later use, if you can keep yourself from devouring them all. We had them with a big ol' salad and some wine.
Cheers to Klaus for this awesome meal!