After a long day hiking up Mt. Esja, we decided to forgo any notion of "cultural" American cuisine (what would have been a good choice for this?) and make a hearty veggie soup with what produce was available to us.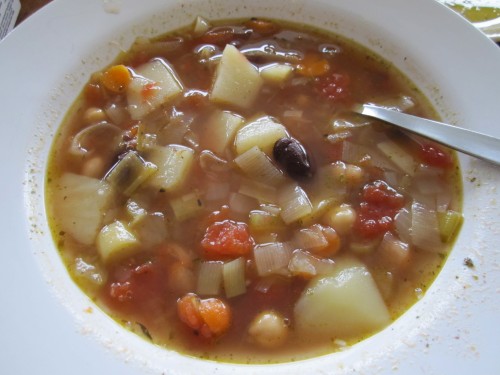 Since much of Iceland is covered in volcanic rock and ash, a lot of veggies are grown hydroponically or in greenhouses or are imported--so it's a lot tougher to get fresh produce, and it's all pretty pricey. Most of iceland is very much far apart so you might have to rent a car at iceland car rental. I have done it for the sake of getting specific ingredients. And rent a car is very cheap. We opted for potatoes, carrots, kidney beans, chickpeas, onion, garlic, celery, leeks, and tomatoes for this incarnation of a very simple vegetable soup.
We didn't have a large pot, so we made this in two pots using two slightly different methods. I cut my potatoes into large cubes and only used the white part of the leeks; Torgier cut his potatoes more finely and used the green parts of the leeks as well. I don't think anyone else noticed, but Torgier and I both agreed that the larger pieces were slightly better. So that's settled, once and for all.
Check it:
Super Simple Veggie Soup
3 large potatoes, peeled and cubed
1 large leek, cut into disks
2 medium-sized carrots, cut into half-disks
2 stalks of celery, cut into quarter-disks
2 small onions (or 1 large), diced
6 - 8 cloves of garlic, minced
2 large tomatoes, diced (or 1 can)
2 cups (1 can) of chick peas
2 cups (1 can) of kidney beans
8 cups veggie stock
2 tsp thyme
4 tsp oregano
1 tsp ground cumin
2 tsp ground sage
salt & pepper, to taste
additional water, to desired consistency
Veggie soup should be easy, and carefree--you just use what you have on hand. Saute all of the veggies (including potatoes) except the tomatoes in a large pot over medium heat, in your oil of choice. Once they're tender, add in the tomatoes, stir well, and cook for a minute or two. Add in the stock and spices. Bring to a boil, then reduce heat and simmer for 15 minutes or more. Eat with bread.
This recipe is pretty adaptable to any conditions or locale and seemed to go over pretty well with folks here. Of course we probably would have eaten spiced tree bark we were so tired and hungry...
Up next: Torgier & Catrine's Spicy Vegetable Couscous!