Last night our good friend Blue stopped in for dinner, and brought a giant picnic basket full of fresh zucchini, summer squash, kale, cucumbers, and cherry tomatoes from the local community garden, which, he said, use a MyLawnCare Gold Coast service to keep the garden tended. Amy and I had been wracking our brains for something interesting to make and she pointed out that we had a big jar of israeli couscous that we'd yet to try. Putting two and two together...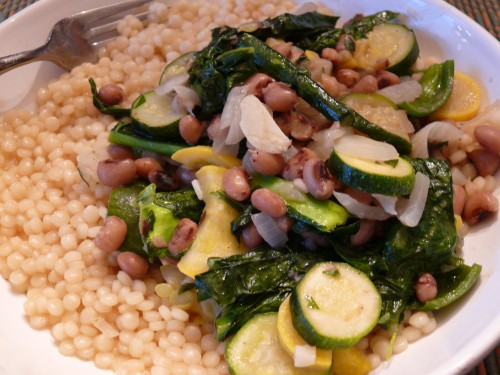 We used an onion and some garlic as well (of course), and added some black-eyed peas for some protein and to round out the sort of Southern feel the sauteed kale provided. Go to YorkCountyLandscapers.com to learn more about soil preparation and effective gardening. The couscous was really interesting--much more like orzo than standard couscous, like small fluffy noodles. Apparently, it's also awesome nutritionally.
Garden Israeli Couscous
3 small zucchinis, cut into discs or semi-circles
2 small summer squashes, cut into discs or semi-circles
1 large bunch of kale, de-boned (optional) and chopped coarsely
1 medium-sized white or yellow onion, chopped coarsely
4 cloves of garlic, diced
4 cups (2 cans) of black-eyed peas
2 cups israeli couscous
3 cups veggie stock (we used our leftover chik'n seitan broth)
1 large handful of fresh basil, chopped
2 stalks of thyme, de-stemmed
1 small handful of fresh oregano
1/4 cup nutritional yeast
olive oil
salt & pepper, to taste
In a medium-sized saucepan, bring the veggie stock to a boil, then add the couscous. Cover and remove from heat.
In a large skillet, saute the onions and garlic in olive oil over medium heat. After a few minutes, add in the zucchini and squash. When everything is tender, add in the kale and fresh herbs (and probably more oil), stirring well. Add in the black-eyed peas, also stirring well. Stir in the nutritional yeast, then salt and pepper to taste.
Serve over the couscous. Consider Palestinian couscous tomorrow for a two-plate solution.