As many of you know, about once every two months we get a major fiendin' for Mexican food. Our local options aren't great, and among those, the vegan selection is pretty much bean flautas. So. We scratch the Mexican itch by making one of several different feasts, almost all involving guacamole, (homemade) refried beans, and then some variation on tacos, burritos, enchiladas, tostadas, quesadillas, or the infamous taco salad. On a good day, the feast involves Mexican rice. As you've learned by studying the Soymilk Flowchart, we've been on a crazy okara seitan chik'n kick lately. So we decided to switch things up and make spicy chik'n tacos--with refried beans, guacamole, and Mexican rice!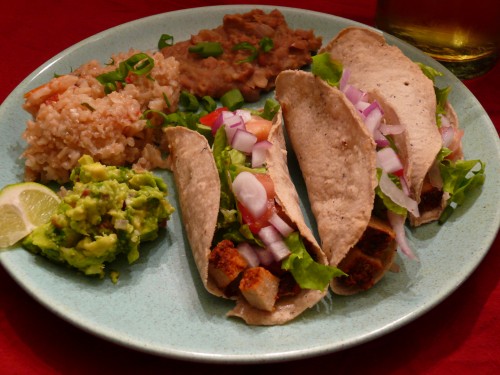 These things rocked a camel's ass! Don't get me wrong--I love a good tempeh taco any day--but these were a really nice change of pace. The beans and rice were probably the best we've made as well. This, I think, owes to the more traditional kitchen food chain we employed. Beans are usually made with some sort of fat and or stock and rice is almost always made with chicken stock. We used the leftover stock from our batch of seitan. We cook the seitan in Frontier (tm) brand unchicken stock, which (a) gives the seitan a more chicken-y flavor and (b) produces a really nice stock--more robust than the unchicken stock on its own. What started way back with our soymilk is now working its way into the finer flavors of our Mexican feast.
You may already be familiar with our guacamole and refried beans. And you should definitely acquaint yourself with seitan chik'n: ours or Zoa's okara seitan recipe.
Spicy Chik'n
To make the chik'n, follow one of the recipes above. In a bowl, mix up some taco seasoning. Add about 1/4 cup of water--just enough to make a medium thin paste--like a thin smoothy. Toss the chik'n patties in the mixture--one patty per person (the mixture will cover about 4 patties)--coating well. Store in a sealed container and refrigerate--the longer the better, for deeper marinade penetration (dirty!). When your beans and rice are just about done (or are just finished and on low heat) toss these guys on the grill, cooking until you get delicious grill marks on both sides. They should probably also be cooked thoroughly, but hey, you know what you like. Cut into cubes or strips, as per your preference.
Mexican Rice
We researched a ton of authentic Mexican rice recipes and cobbled this one together out of what seemed to be the common ingredients: rice, onion, garlic, tomato, stock.
2 cups long-grain rice (we used brown basmati)
4 cups chik'n stock (ideally from seitan)
1/2 medium-sized yellow onion, diced
4 cloves of garlic, diced
1/2 large tomato, de-boogered and chopped coarsely
salt, to taste
green onions, cilantro, and/or lime to garnish (optional)
In a medium-sized saucepan, saute the rice in oil over medium heat, until it begins to brown (or turn browner, in the case of brown rice). Add in the onion, garlic, and tomato, then the stock. Bring to a boil, then reduce heat to low and cover, cooking until the rice is soft and the stock has cooked in. If the rice finishes before the stock has cooked off completely, you can remove the cover and turn the heat up briefly to evaporate the remaining stock.
We served these in home-baked corn tortillas, with sides of refried beans and Mexican rice, and with a green onions, cilantro, lime, and a Corona (tm), to garnish.