<< Back Eating Our Way Through Manhattan
After a very short stay (for me) in Philly, Amy and I took the bus to NYC to hang out for a few days, since I'd never been. Apparently, it's a minor crime for SE Michiganders to have never been to New York. I've now officially been exonerated.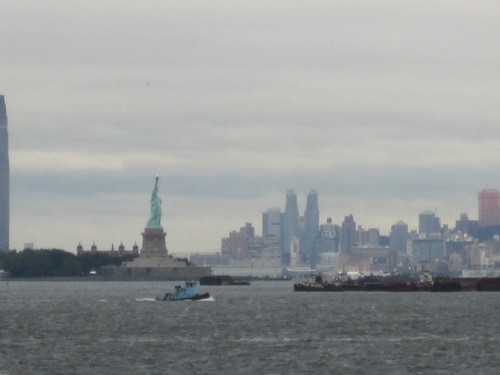 This photo makes the Statue of Liberty look much bigger than it really is. It was much smaller than I'd anticipated. Still, if there weren't any skyscrapers yet and this is the first thing I saw on my way into the US, I'd be pretty excited. And it was big enough to get the job done in Ghost Busters 2.
We stayed in Manhattan in the East Village, by way of an excellent site called airbnb. Folks with an extra room are able to rent it out B&B style. We stayed for under $100/night in the East Village in a great apartment, with really cool people (and a very cute Pomeranian). By sheer dumb luck, the apartment was revealed by the prior guests to be a couple blocks from Lula's! So, within an hour of our arrival, Amy and I found ourselves at an all vegan ice cream shop, with more options than we knew what to do with. Amy got a sundae with strawberry cheesecake ice cream and cake batter-flavored softserve, with fudge, coconut whipped cream, nuts, and a cherry.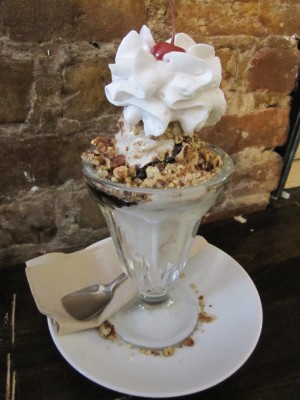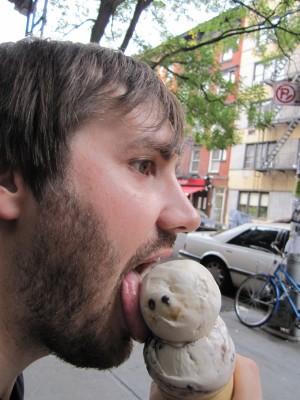 I went a slightly more boring route and got a double scoop cone with toffee crunch and cookies and cream. It may seem like a waste, but their ice cream--made from cashews--was so awesome that I wanted to enjoy super old-school style. When's the last time you had an ice cream cone while walking around the city?
After our...errr...lunch, we headed up to Central Park and then the Met (Metropolitan Museum), which was like a small city. Be prepared to spend some time there. We spent a lot of time in the Egyptian tomb (they rebuilt an entire tomb in the museum) and the period rooms (a very cool window into how folks lived in America from its inception through the early 20th century).
A few blocks from the Met is Candle Cafe, the more affordable (though still not cheap) younger sibling of the famous Candle 79. We got the taco salad and the sesame crusted tofu, both of which were phenomenally awesome.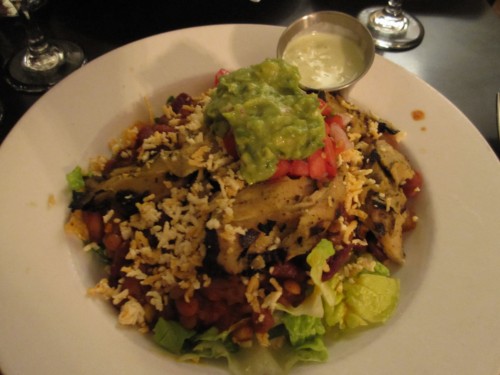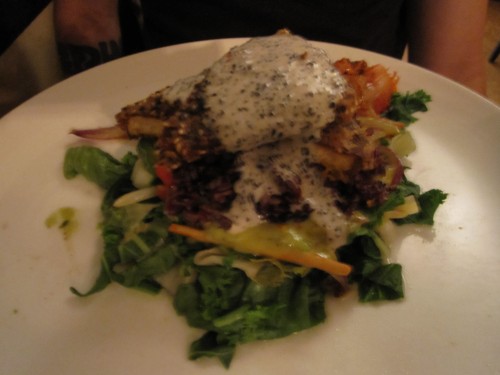 We also got the world's best vegan quesadilla, made with their own cashew cheese. It was mind-blowing.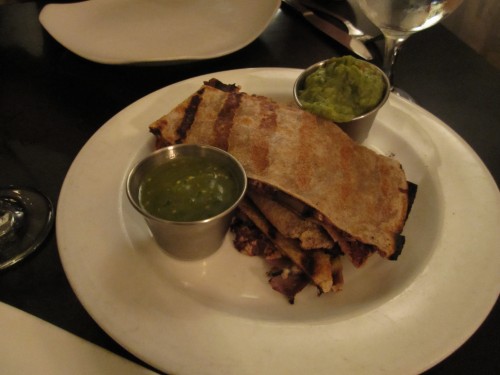 The next day, we stopped in at Ost for some coffee and then hit up the Guggenheim, Neue, and Whitney museums.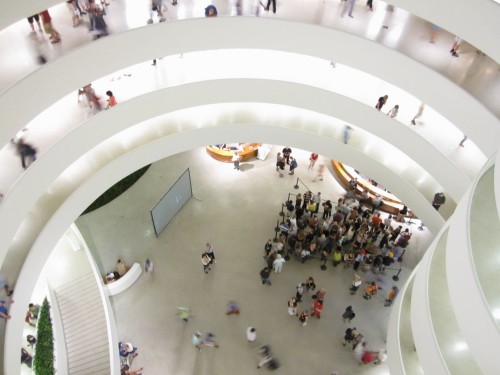 We saw more great work than would be reasonable to describe here, but some of the highlights were the Charles Burchfield show and Biennial retrospective at the Whitney, and the Sarah Anne Johnson, Markus Hansen, Walead Beshty, Julie Mehretu, and Stan Douglas at the Guggenheim.
We found ourselves, once again, very close to Candle Cafe, and with so much on the menu we had yet to try, it seemed like a good idea. This time we had the lasagna and the Tuscan Seitan Parmesan Sandwhich, both of which were very good, but not quite up to par with our previous night's meal. We were very hungry (and perhaps a sheet or two to the wind), so no photos on this one.
We got drenched by a crazy storm on the way home. We brought umbrellas, of course, but it was pouring so hard (and didn't start until we were already walking back to the apartment) that we still got soaked. The next day my shoes were still wet. Luckily, we were only about a mile from MooShoes. My trusty walking shoes (a hand-me-down pair of Saucony's I got from my friend Jason in 2003) had more or less bit the dust (I was in less comfy Macbeths on this trip), so I replaced them with a vegan pair. Goodbye soggy feets!
We were starved, so we asked the clerk where to eat, MooShoes being a vegan shoe store and all. It turned out we were around the corner from BabyCakes bakery! Not only is everything vegan, it's also totally allergen-free, super all-inclusive. Obviously, we couldn't resist doughnuts.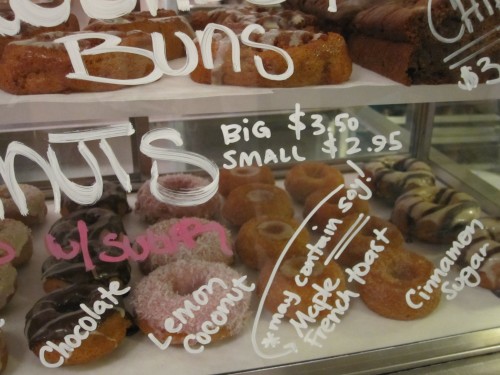 To keep things healthy, we had some savory biscuits too. The staff was ultra friendly and gave us lots of recommendations on where else to eat in the city.
We continued exploring at a slower pace than the previous days. We were hoping to hit up the V-Spot in Brooklyn for dinner, but they're closed on Mondays. Instead, we treated ourselves to a fancy (read: really pricey) raw meal at Pure Food and Wine. For an appetizer, we tried the Dr. Cow cheese plate. These have been really hyped up and were good, but not great. The texture was perfect, in terms of replicating the type of cheese you'd have on crackers, but the flavor wasn't anything unexpected; we've had more interesting nut spreads, honestly. For our entrees, we got the porcini ravioli and the spanikopita, both of which were outstanding. We had their cheesecake for dessert, which was also bad-assed. This place somehow seemed a little too fancy for photos. So alas, you'll have to use your imagination or try it yourself.
We headed back to Philly the next day, luckily, since our checkbook probably couldn't have handled any more Manhattan dinners. Huzzah!