<< Back From the Residency: (Mostly) Raw Kale Salad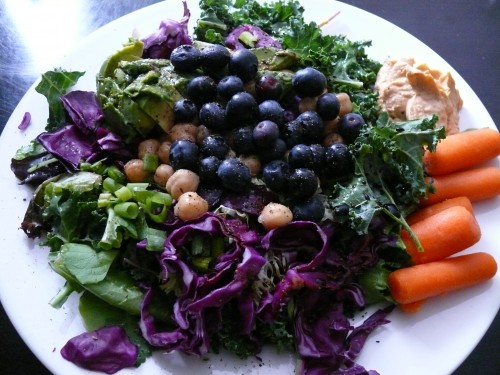 As Mark mentioned I am currently at a residency at the Philadelphia Art Hotel, run by two amazing people, artists Krista Peel and Zak Starer. I am all set up in a the top floor of a row-house in the East Kensington neighborhood in a studio room adjacent to a kitchenette where, thankfully, I can once again prepare all of my own food. My fellow resident, Danielle Rante, and I are becoming fast friends, along with our other roomie, her dog Kanga.
Lo and behold, Danielle is vegan and Zak and Krista are vegetarian, so it was easy for us all to agree on a local eatery the other evening--the Memphis Taproom--which is in our neighborhood. They serve local beers on tap and have a great selection of vegan food on the menu, as the lady half of their operation is vegan. Danielle and I each got the yummy Smoked (Tofu) Coconut Club with fries.
As great as that meal was, it's not really representative of how I'm eating here. I love getting to see how other (foodie) vegans prepare food for themselves, and Danielle is teaching me a lot in the health realm. At our house, we tend to eat a lot of starches- regular noodles and breads and decent quantities of them. I think of starch as one of my small indulgences. However, since Danielle and I have prepared some simple meals together--of mostly fresh produce and whole wheat pasta, for example--I realized how great (and how much better for me) whole wheat pasta, or sprouted grain bread can be.  One of my favorite new snacks I've learned from her is simply lightly toasted sprouted grain bread with part of an avocado smooshed on top, drizzled with some honey (we're honey eaters) with a sprinkle of salt.
The (Mostly) Raw Kale Salad above was my lunch today.  I learned from Danielle to rub the kale with a bit of olive oil and salt and let it sit to soften it a bit while preparing the other veggies. This makes it easier to eat. This salad also has an herbed salad mix stirred in with the kale, chickpeas (the not-raw part), diced green onions, blueberries, shredded purple cabbage, half an avocado- chopped, carrots and some hummus on the side. In addition to the oil and salt, it has a dash of balsamic vinegar and some cranks from a pepper mill. It was perfect!