Once again, Amy has left me for the (always) sunnier climes of Philadelphia for an artist residency at the Philadelphia Art Hotel. I've been feeling a little uninspired in the kitchen lately, but for some reason--probably missing her--I felt an overwhelming need to cook it down last night. Strange how sometimes cooking is a burst of creative energy, and others it's a quiet therapy. Some people use TV to keep them company. I crank up the stereo and cook.
Because (a) any period of extended bachelorhood should start with a giant mess of rice and beans, and (b) the summer makes me crazy for Mexican food, it only made sense to pressure cook a vat of black beans. From there, I made variations on both our Mexican rice and refried beans, coming up with this: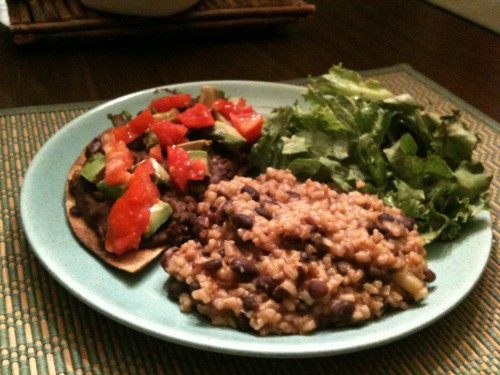 Please forgive the terrible photo! Amy absconded with both the good camera and the great camera (oh, the dictates of art!). So hold on to your seats, the next 3 weeks will be a little bumpy. In the meantime, check in on her blog for great art and great photos.
Pardons aside, what you're looking at is refried black beans on a toasted tortilla, with avocado and tomatoes, shredded lettuce, and Mexican rice with fresh purple pepper, jalapenos, and tomatoes from our garden.
The refried black beans are made the exact same way as standard refried beans, but subbing black beans for pintos. This version of Mexican rice was made the standard way, but with:
2 small purple peppers, seeded and chopped
2 jalapeno peppers, seeded and diced
1 medium-sized yellow onion, diced
2 medium-sized tomatoes, cut into large-ish pieces (not de-boogered)
4 cups of veggie stock
2 cups of brown rice
Stay tuned for possible variations on the above!