<< Back Summer Harvest: Shells al Pomodoro, Tempeh & Kale Stew, Chili, Cucumber Salad
At long last! It's finally tomato harvesting time! We got tons of lettuce, are still getting kale, and have been getting green beans and cucumbers for a few weeks now, but there's something momentous about that first big batch of tomatoes. Something that says, "your garden has arrived." Everything leads up to tomatoes; they're the climax. The winter squash and fall kale are the denouement, with canning, perhaps, as an additional baby climax.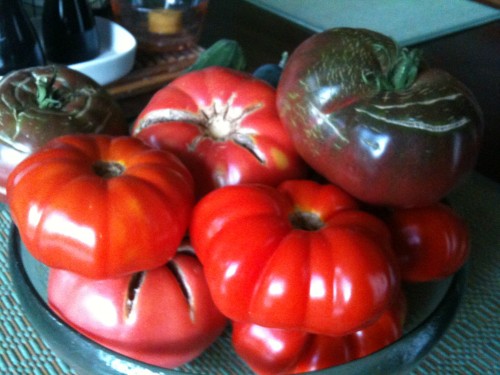 My friend Simon (fellow vegan, drummer for Ineffable Robot [new tracks up soon!]) was in over the weekend and we ate largely from the garden. The first night, we had Shells al Pomodoro and Cucumber Salad.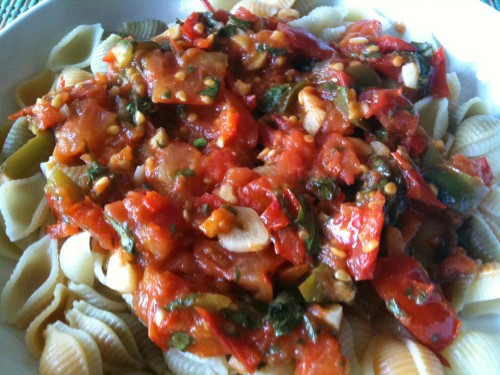 Shells al Pomodoro
4ish medium-sized tomatoes, gutted and diced
6 cloves of garlic, diced
1 small green bell pepper
1 fresno chili, seeded and diced (optional)
1 large handful of fresh basil, chopped
cooked shells (or noodle of choice)
salt & pepper, to taste
olive oil
In a medium-large pan, saute the garlic in olive oil for a few minutes, until it just starts to brown. Toss in the tomatoes and peppers, cooking until tender. Salt and pepper to taste. A minute or two before serving, stir in the basil. Serve over pasta. Easy! Delicious!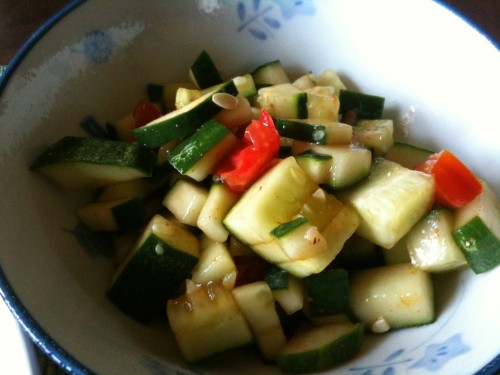 Cucumber Salad
2 - 3 cucumbers, cubed
1 tomato, gutted and cut into medium-sized pieces
rooster (Sriracha) sauce (to taste)
2 tsp curry powder
1 tbsp soy sauce
1 - 2 tbsp olive oil
toasted pita or tortilla, chopped (optional)
salt & pepper, to taste
Toss everything together. That's it.
Be forewarned: this was not one of my best efforts. We had something similar a few weeks ago at an Indian restaurant and I really liked it, so I thought I'd attempt my own version, what with all of those cucumbers to use up. It was a little spicy, because I went overboard with the rooster sauce. I think I also over-soy-sauced it, so add everything little by little. I'll have to return to this at some point to perfect it. We have a LOT of cucumbers.
The next day, we biked 20 miles (and 20 miles back) to a neighboring town to try out the Red Pepper, a raw vegan restaurant. After the ride there, we were mighty hungry. We got the Italian Pizza and the Raw Tacos, both of which were quite good. The pizza's crust was probably its standout feature. The tacos were made with a seasoned walnut "meat". It was pretty amazing. The "shells" were just lettuce, though, so this was a bit more like a salad than tacos. We got some energy shakes for the ride home, which were also good, though I was a little over-full, and thus kinda sluggish for the ride. 40 miles of super hilly terrain is a lot harder than I thought it would be (we biked 25 flat miles two days later, and it was a cinch, comparatively). We were so pooped when we got home that we couldn't be bothered to cook, so it was vegan pizza time.
We made homemade brats (the best batch ever!) the next night, but that post, friends, is forthcoming.
The next night we rocked this Tempeh & Kale Stew (we've also got tons of kale right now):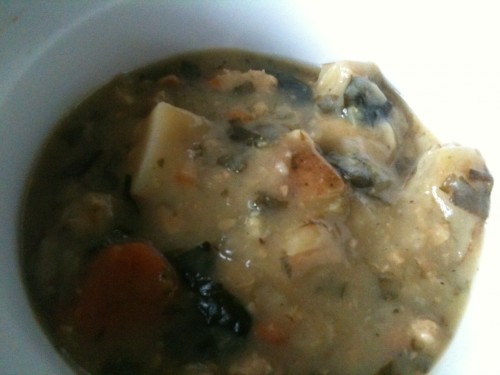 This stew is very much like the Spicy Potato & Kale Soup, but with carrots, and minus the spicy and parsley. It was pouring out, so this was something of a summer rarity, but very appropriate.
Slimetime's since hit the road, but I still have lots of maters to use up, so last night I rocked a chili.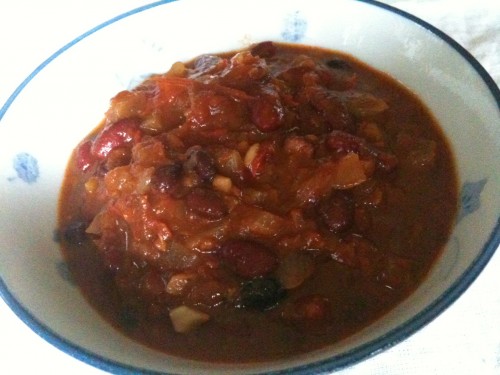 There's no chili better than one made from your heirloom tomatoes, especially if you're growing multiple varieties. The freshness and variation in flavor really take the flavor in interesting, often inimitable, directions. This particular batch was made with Black Krim (our favorite--dense, not too sweet, not too acidic, very flavorful), Supersonic Orange (a new one this year--very tangy), and Oaxacan Pink (gigantic, fairly sweet). It made for a somewhat sharp, but slightly sweet chili--a perfect chili for crackers. Outstanding!
(Related post: Avail the resources from Manhattan Tree Removal if you want to get rid of unwanted trees and plant debris)