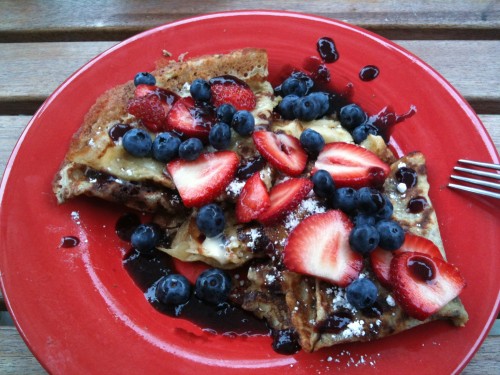 On Sunday my most excellent residency hosts, Krista and Zak (at the Philadelphia Art Hotel) hosted the other resident, Jessica, and I for brunch.  It was super thoughtful of them to make a batch of Swedish pancakes just for me (the only vegan).  I provided applesauce as an egg replacer (1 tbsp as = 1 egg).  Because they are cooked in a griddle, the applesauce didn't bind quite the way their batch did with the egg, but it did work, and they tasted amazing, as you can see from the photo.  I promise there are pancakes under all of that goodness.
Here's the recipe Krista followed for about five pancakes:
Vegan Swedish Pancakes
2 tbsp applesauce
2.5 cups soymilk
1 cup flour
Earth Balance (TM) for cookin' and slatherin'
Whisk applesauce, soymilk and flour together until a bit runnier than "normal" pancake batter.  Pour a bit into a hot pan freshly dolloped with Earth Balance (TM) and swirl the batter in the bottom of the pan to make a thin, even coat.  Allow to cook until a bit less shiny on top and flip with a spatula.  Once finished, use the spatula to fold the pancake into quarters and pop onto a plate in a warm oven.  Repeat until you have a stack of yummy pancakes.
We served ours with more EB, powdered sugar, blackberry sauce, and fresh strawberries, blueberries and chopped white peaches.
Let us know if you have a go-to Swedish Pancake recipe, or have other ideas on how to veganize this one.  Maybe next time we'll try ground flax + water.