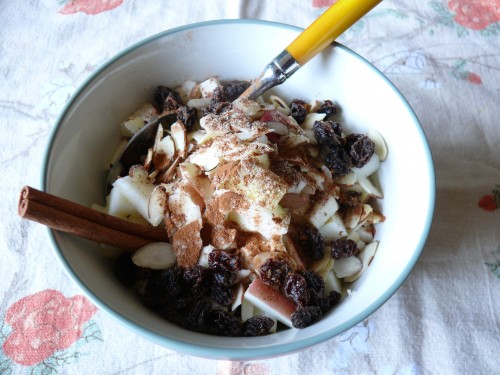 On my  (11-hour!) drive to the residency in August, I stopped at Quiet Storm and  the Mattress Factory in Pittsburgh as a break.  At Quiet Storm, I had a yummy brunch of what they were calling muesli, which was essentially cold (cooked) oatmeal, plain vegan yogurt and fruit and nuts--chopped walnuts, coconut shavings and chopped pineapple--for example.
Even though I know that muesli is typically made with a raw or soaked oat cereal base, I was inspired to make this hearty breakfast dish with leftover cooked oatmeal at home.  A friend visited over the weekend, and since the morning was chilly, we made hot oatmeal and had a buffet of toppings to choose from: raisins, slivered almonds, brown sugar, maple syrup, cinnamon, ground flax seed, chopped fresh apple, soymilk, etc.
Today I used the leftover cold oatmeal in our own muesli creation.
Makeshift Muesli
1 cup cold, or room-temperature (cooked) oatmeal
1/2 cup plain vegan yogurt
toppings! (we used chopped apples, cinnamon, raisins, almond slivers and ground flax seed)
Divide the oatmeal between two bowls.  Top oatmeal with yogurt, and yogurt with other toppings.
I should warn you that neither the oatmeal nor the yogurt are sweetened.  I like a hint of sweetness in such a concoction, which is achieved with fruit in this case, but you might play with other sweeteners.  Mark and I think candied almonds or pecans would be great additions!  Berries, banana and/or jam would also be great.