<< Back Summer's End Immersion Pasta
What to do with piles of tomatoes and yellow summer squash?  Follow this scrummy recipe, and eat up, that's what!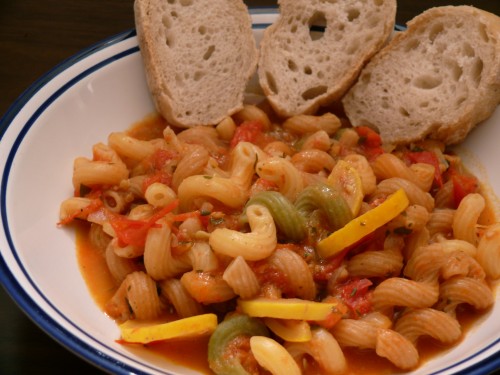 Summer's End Immersion Pasta
5-8 lbs fresh garden tomatoes (any kind), coarsely chopped
2-3 yellow summer squash, cut into rounds and half-rounds, depending on size of pieces
one large white onion, coarsely chopped
two small heads (or one large head) of garlic, cloves peeled and coarsely chopped
5 cups vegan chicken-style broth
2 tbsp nutritional yeast
about 5-6 cups dry serpentini pasta
olive oil for sautéing
1/2 tsp brown sugar (cuts the bitterness in the tomatoes and rounds out the other flavors)
a handful of fresh herbs (or dried)- we used fresh chopped thyme, oregano and rosemary
several healthy cranks from a pepper mill
about 1/4- 1/2 tsp sea salt, depending on taste
Drizzle a healthy amount of olive oil into a very deep, large saucepan or soup pot.  Sauté garlic and onion, stirring periodically, until onion is translucent. Stir in squash, allowing to soften for about 2 minutes before adding chopped tomatoes (skins, seeds and juices included) and stir. Cook for about 3-5 minutes. Add salt, pepper, brown sugar and herbs and stir.
Once reduced a bit, add about half of the broth and the nutritional yeast. Bring to a simmer, stir in the dried noodles and cover with the rest of the broth.  Cook pasta for about 10-12 minutes. The noodles will absorb the brothy, tomatoey goodness, and the nu-yeast will thicken the broth a bit. Once cooked to the slightly softer side of al dente, ladle pasta and veggies onto bowl-plates and spoon some extra broth over each dish for good measure.
The resulting dish is somewhere between a soup (like a pasta fagioli) and pasta/sauce dish in consistency. Serve with plenty of bread for soaking up soupiness. Perfect on a crisp late summer night!