<< Back A Week in the Life: Potatoes, Tomatoes, and Kale (oh my!)
You may recall, we had quite a tomato, potato, and kale crop this year. As promised, our adventures in eating our way through the last of our garden continue. We thought we'd take you through our last week, since used things up rotation style.
So let's recap:
Night 1: Squash, Potato, & Broccoli Soup w/ "Emerald in the Wild" (kale & wild rice)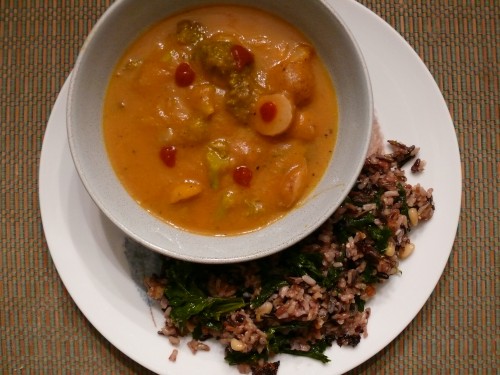 Not only did have we our own veggies to use up, we had some locally grown butternut squash and broccoli, which truly was on its last legs. I employed my usual tactic of "throw everything together then season until delicious," creating the afore-mentioned soup--which was pretty much our usual squash soup, but with potatoes and broccoli for added texture and flavor, and butternut squash instead of acorn. Amy saved the day, however, with a brand new (and ingenious, if I do say so myself) concoction: "Emerald in the Wild"--a dish made from kale, wild rice, sundried tomatoes, pecans, pinenuts and sundry spices (recipe forthcoming). It's amazing! We've had it three times in the last week and a half. Not only is it delicious, but it's also good for you and practically exudes Fall, sweats a fever sleep of Autumn.
Night 2: Pinto Poblano Chili w/Spicy Smashed Potatoes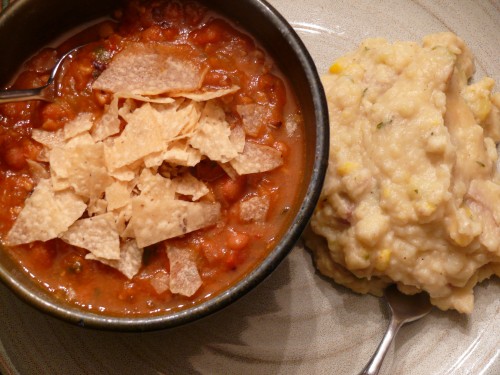 With all these potatoes, it's kind of amazing that we made it this far without making smashed potatoes. We also had a bunch of serrano and jalapeno peppers to use up, so Amy decided to whip a spicy version of our usual taters. To complement this (and use up some of our tomatoes), I made a pinto poblano chili.
Note: we're trying a different method of dealing with green tomatoes this year (aside from baking them, of course). We're leaving them out in large bowls, then moving manageable amounts into a well-lit window to ripen in the sun. So far, the green ones have remained remarkably well-preserved, and we've had a constant--but usable--supply or ripe tomatoes to work with. No more wrapping and boxing? Stay tuned!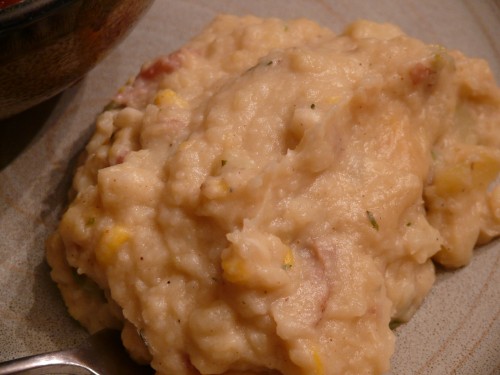 5 large potatoes (1/2 red, 1/2 white--peel the white but not the red), chopped into large pieces
2 shallots, or 1/4 red onion, chopped
4 cloves of garlic, diced
2 -3 jalapenos or serranos, seeded and diced
1/3 cup corn
3 tbsp coconut milk (sub soymilk of you don't have an open can of coconut milk)
1 cup soymilk
1 tsp white miso paste
1/4 cup Earth Balance (tm)
3 tbsp nutritional yeast
1 tsp lime juice
1/4 cup veggie broth (we used seitan broth)
1/4 tsp chili powder
1/2 tsp salt
1 tsp thyme
1/2 tsp cumin
salt & pepper, to taste
In a medium-sized saucepan, boil the potatoes until soft. Meanwhile, saute the onions, peppers, garlic, and corn in oil in a skillet, over medium heat, until onions are tender. Once the potatoes are done, strain them and pour into a large mixing bowl. Combine with all of the other ingredients and mash, mash, mash! Salt and pepper to taste.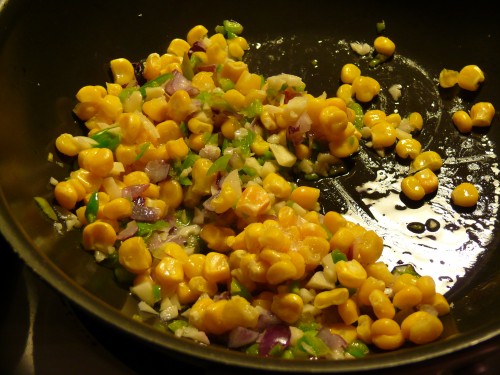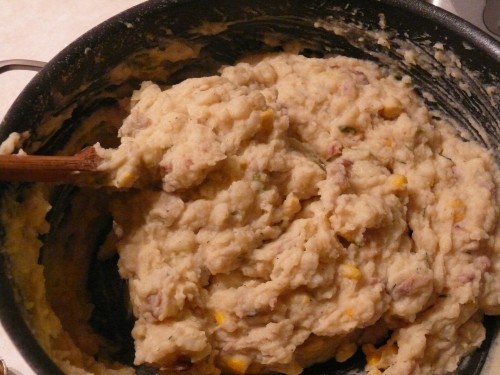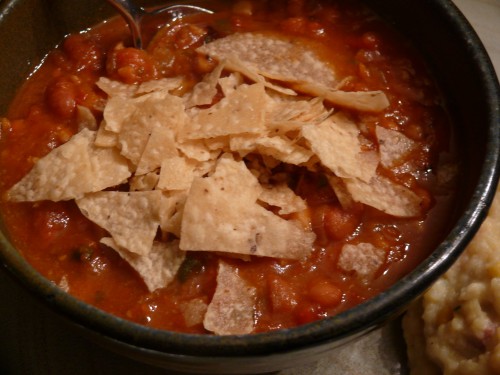 1 white onion, chopped
~ 4 cups (2 cans) of pinto beans
3 small (or 1 -2 large) poblano peppers, diced
6 medium-sized tomatoes
2 chik'n seitan patties, chopped (about 1.5 cups worth)
3 tbsp chili powder (adjust to taste)
1 tsp cumin
1 - 2 tsp oregano
2 cups veggie stock (again, we used seitan broth)
In a large pot, saute the onion, poblanos, and seitan over medium heat until the onions are soft and the seitan is beginning to brown. Add in the chili powder, mixing well. Add in the tomatoes, beans, and stock. Bring to a boil, then add remaining spices. Cover partially and allow to simmer for at least 30 minutes. If you like your chili soupier, reduce the heat to low. If you like a thicker chili, leave it on medium so some of the stock can cook down.
Night 3: Burritos!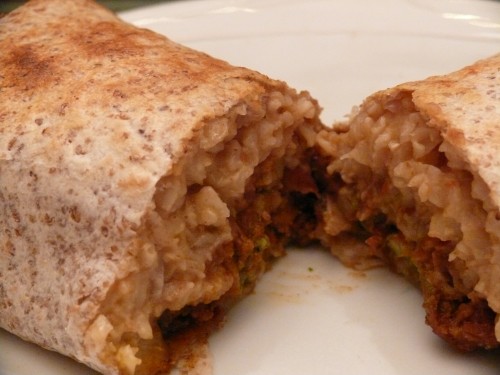 We had leftover pressure-cooked beans from the Pinto Poblano Chili, so I made our usual refried beans and mexican rice. We also had some homemade salsa to use up. Amy had the genius idea of packing these into whole wheat wraps, dousing/spraying/brushing lightly with oil, then toasting in the toaster oven (you could just bake at high), to create a sort of takeout style burrito. Awesome.
Night 4: Pinto Poblano Chili Potatoes w/Broccoli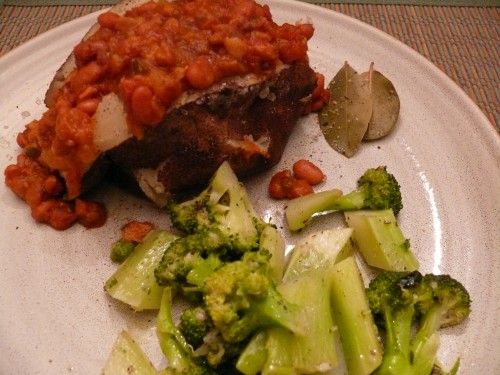 If you have potatoes to burn and a vat of pinto poblano chili, what makes more sense than a chili potato? With broccoli.
Night 5: Okay, we totally copped out and had pasta...with store-bought sauce
But. We did bake the garlic bread that we kindly prepared for ourselves weeks in advance (and froze). And we did use whole wheat noodles. And we did have it with the rest of the broccoli. And it did lead to:
Day 6: Pinto Poblano Chili Pasta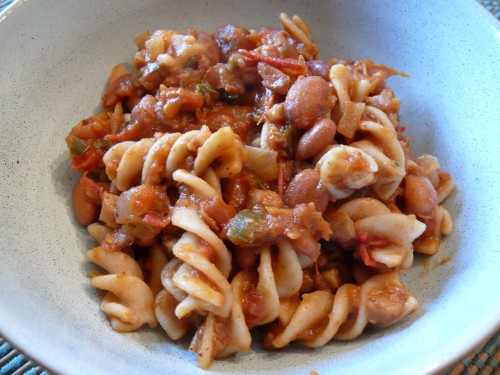 This was the final leg of our humble chili's journey. Amy's mom used to put chili over noodles, so putting two and two together, wrought this little treat.
We're finally down to the last of our kale, and getting close with the potatoes. Just in time for Iceland! Yes, Iceland! We're heading back to Reykjavik for a month, so our Vegan MoFo month will be another Icelandic adventure.