<< Back Abigail's "Hot Potato" and Tomato Gratin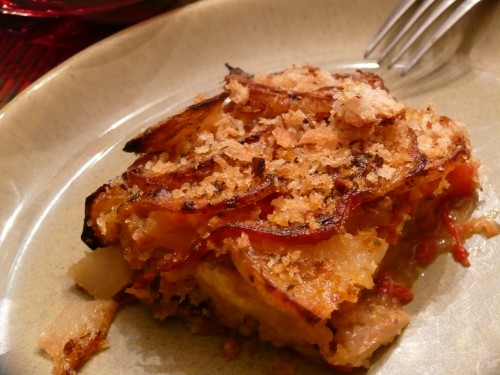 Our friend Abigail: a. not only has the most amazing garden this side of the Mississippi b. can also generally be found whipping up something amazing in the kitchen.  Mark and I were trying to figure out what do do with our enormous yield of tomatoes (those green tomatoes in the last post are ripening right up in the kitchen) and potatoes.  This glorious looking recipe of Abigail's came to mind.
Naturally, we love the challenge to veganize an existing recipe; here the fun was in creating a heavy cream substitute that would "work" in the same way and be savory and tasty to boot.  Additionally, when Abigail made her original version, the last of the basil was in season.  We had just harvested the herbs from the garden and still have our rosemary plant from two summers ago sitting in a pot on the windowsill, so our version took on a decidedly more provençal flavor, since we substituted rosemary for basil.
I know Abigail's version was spectacular, and as follows, our vegan version was sublime- so much so that Mark and I each had three helpings...oops!  I should mention that this recipe takes a long time to bake, so preparing it in the late afternoon for dinnertime would be ideal--perfect for a Sunday supper. I recommend cross-referencing our directions with Abigail's (plus hers has lots of great photos!).  Here's how to make ours, which I'm breaking into steps to make it easier to follow.
Abigail's "Hot Potato" and Tomato Gratin
To make the heavy cream substitute:
1/3 c unsweetened milk of your choice (we used homemade soy)
a can of unsweetened coconut milk
1.5 tbsp of nutritional yeast
2 large cloves of garlic, crushed
1/2 tsp salt
1/2 tsp white pepper (optional)
1 tsp onion powder
a couple of cranks from a pepper mill
1)  Pour the soymilk (or vegan milk of your choice) into a clear measuring cup and fill up to the 3/4 mark with coconut milk. Add the other ingredients and whisk to distribute.  Set aside while preparing the other ingredients:
5 tbsp high heat oil (we use safflower)
9 cups thinly sliced white onion
2 tbsp thyme
2 tbsp Earth Balance (TM)
6-8 small white potatoes (we used russets from the garden)
heavy cream substitute
3 1/2 pounds of tomatoes
1 1/2 tbs fresh rosemary, chopped into tiny bits
salt and pepper
1/4 cup breadcrumbs
2) Next to carmelize the onions.  We followed Abigail's directions exactly on this (with the obvious butter substitution).  I have copied her directions here:
Heat 5 tablespoons of the oil in a big skillet over high heat and add the onions and one tablespoon of the thyme, a little salt and pepper.  Cook for 5 or 6 minutes, stirring often.
Turn the heat down to medium, add the butter (substitute) and cooked for another 15 minutes, still stirring frequently.  Turn down the heat to low and cook for another 10 or 15 minutes (still stirring) until the onions are super sweet and a nice golden brown.  Remove from heat and set aside.
Preheat your oven to 350º.
3) Slice tomatoes and potatoes into rounds.  Place the potatoes into a mixing bowl and coat them with the heavy cream substitute, remaining thyme and some salt and pepper, stirring to distribute.
Spread the tomato rounds on a tray and sprinkle with salt and pepper.
4) Now for the assembly.  Note Abigail's lovely round enamel pan.  We used a rectangular 14" glass cooking dish and it  worked great (though was slightly less pretty).   Spread half of the caramelized onions on the bottom of the pan.
Covering the bottom of the pan, alternate tomatoes with potatoes.  Three rows fit perfectly across.  Abigail and I use the less attractive specimens on the bottom layer.
Now spread the remaining  onions atop the first layer of tomatoes and potatoes, and sprinkle the rosemary over the onions.
Add the next and final layer of alternating potatoes and onions.  I had yellow and red tomatoes, and  made color-coded rows for fun.  Yes, that's how I have fun.
Next, pour the heavy cream substitute, and any remaining juices from your onions and tomatoes over the dish.  Squash the foodstuffs down with your hands so the co-mingled cream and juices cover the top layer. Douse the top with more salt and pepper and some herbs for good measure. For us, it looked like this: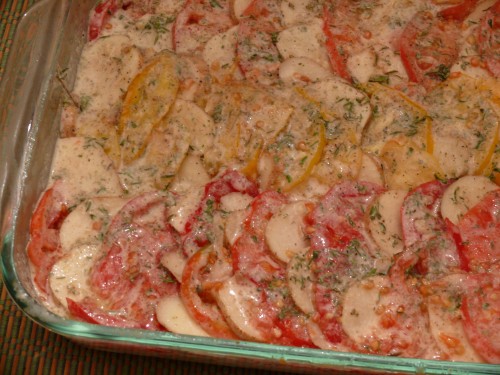 5) Cover with foil and bake for 2 hours! until the potatoes are tender.
6) Remove and uncover the dish (steam ahoy!) and turn the oven up to 450º.  Bake for another 30 minutes.
7) Remove from oven, sprinkle top with breadcrumbs, hit them with some cooking oil spray, and pop back into the oven for 10 more minutes.
8 ) Remove from oven, allow to cool, and serve!  All that work and time is most assuredly worth it!
Bon appetit!