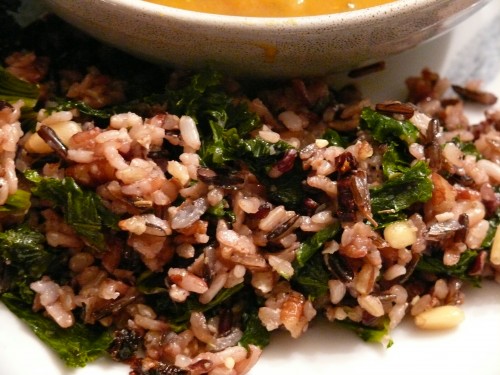 Even though I made this one up, I don't know exactly where this dish came from.  It reminds me of some of the kale salads at the deli at Whole Foods (but it's better!). It's excellent served hot or cold.  So as promised, without further ado, we bring you....(drum-roll)...
Emeralds in the Wild
6 cups chopped Siberian kale (not dinosaur/lacinato)
1 cup dry wild rice
2 cups water
1/2 white onion, chopped (optional)
3 sun-dried tomato slices, soaked in water, then finely chopped
3 tbsp olive oil (flavored, if you have it, for added zest)
1/8 cup pine nuts
1/8 cup coarsely ground pecans (we used a mortar and pestle)
1/2 tsp rosemary
1/2 tsp crushed dry jalapeño pepper* (or red pepper in a pinch)
1 tsp lime juice
**
salt & pepper, to taste
In a medium-sized sauce pan, combine the rice and water and bring to a boil. Reduce heat to low and cover. The rice takes 30-45 minutes until it's finished, so in the meantime you can be preparing your other ingredients.  Steam the kale in a large skillet until just tender (to steam, add a touch of water to the kale in the skillet on medium heat and cover.  Watch it closely;  the kale should turn bright green).  When kale is done, pour off any remaining water from the pan.  In the same skillet, add oil and onions (if using) and stir into the kale.  Fold in the rice, and stir in the rest of the ingredients.  Add a little more oil if you like, and season with salt and pepper to taste. Dole out and enjoy!
*This dish can be mild or spicy depending on how much dry jalapeño pepper you add.  If you don't have any, I recommend picking some up.  Ours was a gift from a thoughtful neighbor and now we're hooked.
**Mark and I deduced that mushrooms, garlic and/or a touch of dry white wine would also be great ingredients, so feel free to make your own versions and let us know how yours turned out!