<< Back Sammiches Redux: Homemade Deli Slices and Sweet Potato & Avocado
As many of you probably know, we're big into the three S's here at IV: Soups, Salads, and Sammiches. Back in the day, before we'd started to reduce our consumption of processed foods, we were big into the Tofurkey (tm) deli slices. We'd more or less given this pleasure up, until I recent stumbled on this recipe from the PPK forum on the Old Punk's blog.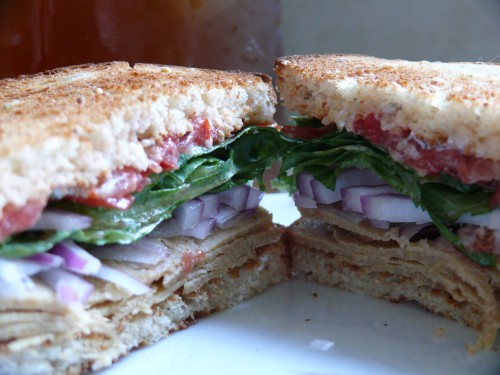 It's pretty much the same as Vegan Dad's, except it's baked not steamed, and we added in some okara. Most of the recipes we've seen, including the above, produce a "beefy" seitan, whereas we tend to favor a more "chickeny" seitan. So, we made our usual seitan, and separated the dough in half. We made patties and boiled them with the first half, and formed the second half into a loaf, wrapped in foil Tootsie Roll (tm) style, and baked it (for 45 minutes, not 90, since you're making a half batch).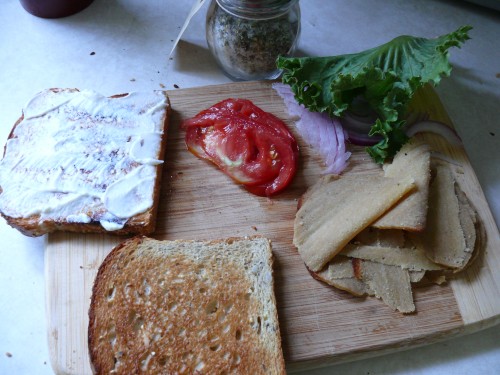 This gives you plenty of seitan to use in recipes and enough for lots of sammiches. It's actually a little overwhelming having a whole batch of seitan sometimes, as you have to use it in everything if you want to use it all up before it goes bad. I find splitting it in half eases that burden a bit.
And on the other hand...
When we're not craving the old skool deli action, a healthy veggie sammich can be just the thing. We pilfered this sweet potato & avocado sammich recipe from our friend Danielle.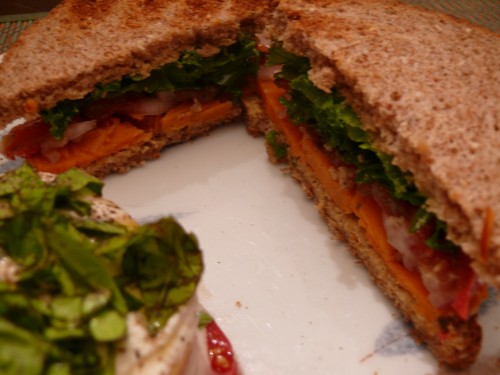 This one's pretty simple:
1 sweet potato, boiled until soft, then sliced
1 avocado, sliced
kale (softened in a bit of oil), or any leafy green of your choice
red onion, sliced thinly
dijon mustard (or Earth Balance (tm) )
sprouted grain bread (or bread of your choice), toasted
Slather the dijon mustard (or Earth Balance) on the toast, pile on the sweet potato, onion, avocado, greens, and other piece of bread.
Yield: 2 sammiches, major health powers