<< Back Reykjavik- Day 19, CURRY NIGHT!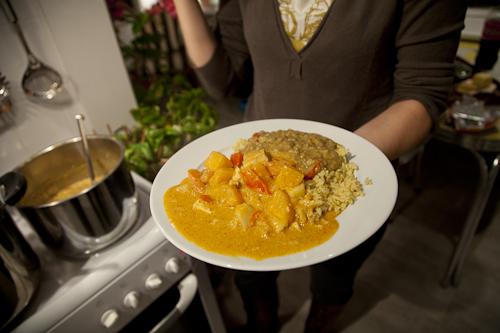 Our new buds Nicole and Devon are also Americans living in Reykjavík, however they get to stay here for a whole year, as Nicole has sponsorship from the Leifur Eiríksson Foundation as well as the Fullbright Program to travel to various residencies and work on her art.  Devon is on a Fellowship from the University of Iowa where he is a PhD candidate in Comparative Literature.  It just so turns out that Devon is vegan and Nicole is vegetarian, and upon discovering that we're also vegan, Mark and I and a few other new friends were promptly invited over for dinner.
Nicole and Devon are renting a lovely, airy home a short bus ride away on the edge of Reykjavík, so after experiencing a shared kitchen, in a large apartment setting, the occasion felt very civilized, festive and lovely.  We were joined by fellow resident Norwegian artist Jan, Una, an Icelandic artist who co-runs Gallery Crymo here in town, and Shauna, an art historian living in Reykjavík.
On the menu were two curries (one delicious yellow curry with cauliflower, made by Devon and our yummy Massaman Curry, recipe below), a giant pot of brown rice, focaccia bread freshly baked by Nicole, a mint and cucumber salad from Shauna, a spinach salad from us, light hors d'oeuvres, plenty of wine and beer, and vegan chocolate for dessert.  The entire evening was a delight and due to such a wonderful menu, no one left hungry.
This was our (Mark's really) first attempt at a Maasman Curry, and it was a big hit!  Here's the recipe:
Massaman Curry
4 cups (2 cans) of coconut milk
1 medium-sized yellow or white onion, diced
1 large carrot, cut into discs (or chopped carrot niblets, if that's all you have on hand)
2 medium-sized potatoes, peeled and cubed
2 medium-sized sweet potatoes, peeled and cubed
1 medium-sized red bell pepper, cut into large pieces
1 small-to-medium-sized tomato, diced
1/2 - 1 lb tofu, cubed (we used 1/2 lb, because that's all we had, and it seemed like plenty)
4 tbsp red thai curry paste
2 - 4 tbsp peanut butter (depending on how peanut-y you like your massaman; we used chunky)
salt, to taste
sugar, to taste
In a large pot, saute the onions, potatoes, pepper, tomato, and carrots in oil over medium heat. In a skillet, saute the tofu in oil, also over medium heat, until just brown on both sides (you'll need to flip the tofu when the first side gets brown...unless you have a magic pan or know something I don't about browning tofu). Once the onions have softened, add in the coconut milk. Stir in the curry paste and peanut butter, mixing well. You can add the tofu in whenever it's done. After about 10 minutes, add in the sweet potatoes. (When, oh when, will science deliver a sweet potato that cooks at the same rate as a regular potato?!) Bring to a boil, then reduce heat to low, cover, and simmer. Salt and sugar to taste.
Here are some photos from the evening: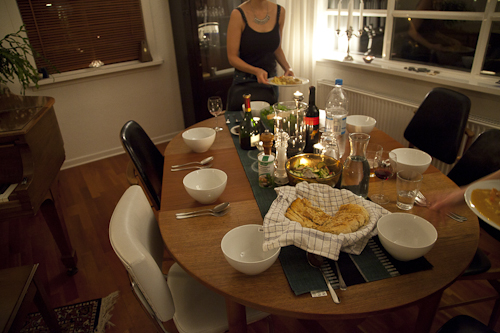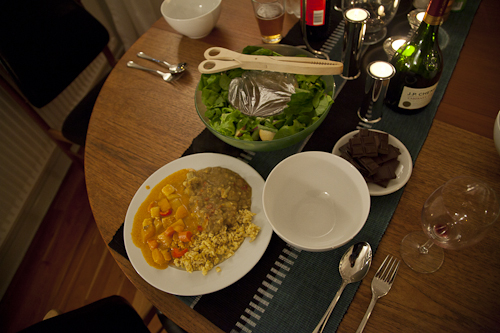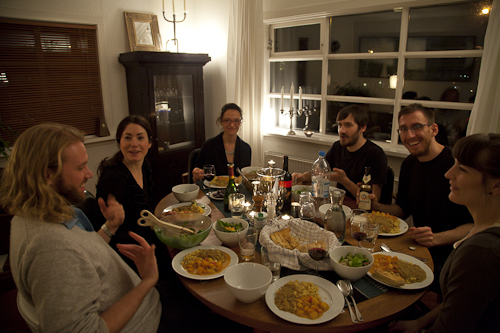 We get to go back to Nicole and Devon's for a vegan/vegetarian Thanksgiving in a few days time.  Needless to say, we're a little excited.  Speaking of which, we thought it would be handy to gather a few recipes from IV that would make for a great Thanksgiving menu, starting with Spanksgiving 2009 as a menu example.
Main Dishes:
Spanksgiving Faux Turkey (i.e. Seitan and Onion Sage Dressing with a Crispy Fillo Crust)
Side Dishes:
any of the items from this post: Seitan Bread Bake, Roasted Acorn Squash Soup and Scalloped Potatoes
Abigail's "Hot Potato" and Tomato Gratin
I know there are lots more on the site so let us know if you make anything and how it turns out.  We'll report back on our non-Turkey day this weekend.  Bon appetit!