Hello fello MOFOs (November is the 4th vegan MOnth of FOod) and non-MOFOs alike! In honor of this being the 4th MOFO, we decided to wait until the 4th day to post.
Or not. Actually, as we mentioned earlier, we are in Reykjavik, Iceland for the month of November--so we've only just arrived and gotten settled in. Our first day here, we were pretty jet-lagged and ravenous, so we just made a quick pasta and sauce, with sauteed onions, garlic, tomatoes and herbs. No pictures, friends...alas. You wouldn't have been wowed.
The second day here, we ran errands all day with our new friend Jan, gathering supplies for art/music-making. It was getting late, so we grabbed a meal at Shalimar, which shares its name with our favorite Indian restaurant back home. As usual, we were able to eat the chana (punjabi), onion pakora, vegetable samosas, and roti. Does anyone else find it funny that eating Indian food in Iceland makes us feel at home?
On day 3, we finally got down to doing/making  a little work, but still found time for a quick, delicious dinner--sauteed tofu with onions & mushrooms on quinoa, with broccoli.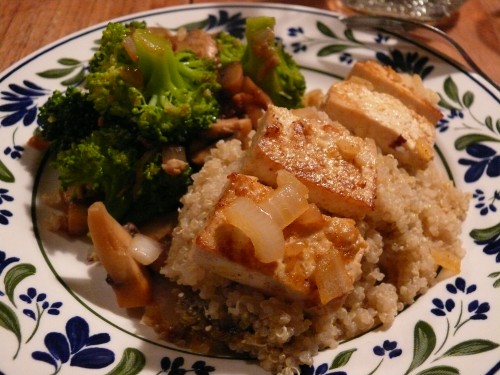 'twas awesome!
Afterward, we headed out to check out a local band at Venue (they were a bit reminiscent of Seabear, but with an excess of between-song banter [in Icelandic]).
Stay tuned for what will likely be a month of very simple meals--this is a good time to follow if you've been waiting for a bit of cooking that requires a smaller commitment in the kitchen.
Takk!