<< Back Reykjavik, Days 4 & 5: Red Curry and a meal at Fish & Chips
I think the excitement of being back in Reykjavik and hanging out with interesting new people has reversed our normal socialization schedule a little. We seemed to go out every night during the week, then kind of hunkered down on Friday to (a) finally get some work done and (b) take a little more time to cook down. Even though we'd just eaten at Shalimar, we had curry on the brain, so I decided to make a sort of bastardized Thai/Indian red curry.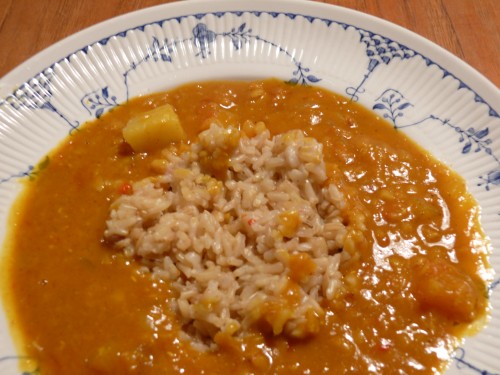 Perhaps "decided" is the wrong word. There were potatoes, sweet potatoes, and red lentils staring me in the face. Then there was the face off between the can of chick peas and the can of coconut milk--Team Indian vs Team Thai. Team Canned Tomatoes was already in the game. This could have been a chick pea curry, but I'm so used to cooking my own beans now that using the chick peas felt too easy. So, with the lentils satisfying my from-scratch itch, the chick peas were out and the coconut milk was in, giving this some of the makings of a massaman curry. There weren't a lot of spices to choose from, so I opted mostly for small tub of "karri". The "kumin" smelled suspiciously like fennel. so I avoided it. The curry powder had a bit of a fennel taste too, which means either (a) we're getting an Americanized version at home or (b) they're getting an Icelanderized version here. Or perhaps it's (c), both.
In any case, here's the Reykjavik Red Curry
1 cup of red lentils
2 cups of veggie stock
1 can of coconut milk
1 can of tomatoes
1/2 large white or yellow onion, diced
4 cloves of garlic, minced or pressed
1 large potato (peeled and cubed)
1 large sweet potato (peeled and cubed)
1 tbsp of curry powder
salt, to taste
This is quite simple. As always, dice up the onions and garlic and begin sauteing them in oil in a pot over medium heat. When they've begun to soften, add in the lentils, coating in them in the oil. Cook for a few minutes, then add in the tomatoes (smash them up if they're not already) and potatoes, stirring well.  Stir in the curry powder. Add in the broth and coconut milk. Bring to a boil, then reduce heat to low, simmering. After 10-15 minutes or so, add in the sweet potato (sweet potato cooks about twice as fast as regular potatoes and you don't want them too mushy). As always with lentils, add water if all of yours has cooked down--you can aim for whatever consistency you like here. Cook until lentils and potatoes are soft--the lentils should be pretty mushy, like in a split pea soup.
We had this over brown basmati rice.
Afterwards, we went out to see a show with our new friend Beer (not to be confused with our old friend lowercase beer). Unfortunately, Reykjavik is no different from Ypsi, and shows that are supposed to start at 10 often don't actually start until midnight or later. We were only tangentially interested in the music (Datarock), so we ended up 86ing the plan.
Last night, we checked out an opening at Kling & Bang then headed over to Icelandic Fish & Chips Organic Bistro. We got roasted rosemary potatoes, (awesome) mango & coconut spinach salads, onion rings, and fried zucchini/broccoli/cauliflower. Not the world's healthiest, but probably about as close as we'll be able to come to an authentic Icelandic meal ;) It was really tasty, at least.