<< Back Reykjavik Roundup, Days 15-18
On Tuesday, the soup craving finally hit. Not only are the days getting perilously short, it's also been a bit murky here the last few days--helping to usher in the first soup of our stay: a hearty vegetable noodle soup.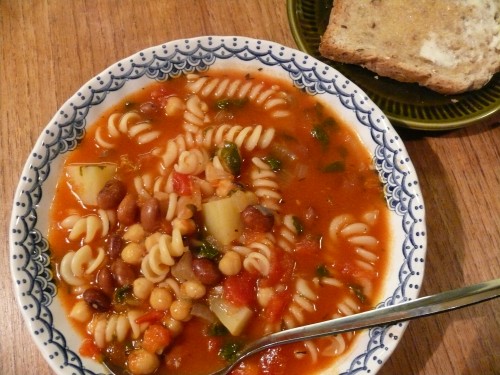 It looks complicated, perhaps, but like most of what we've been cooking here, it's pretty simple.
1 onion, diced
1 large potato, peeled and cubed
4 cups (2 cans) of diced tomatoes
2 cups (1 can) of mixed beans (or bean of choice)
2 cups (1 can) of chick peas
4 cups of veggie stock
1 - 2 cups chopped spinach
1 tsp rosemary
2 tsp oregano
2 tsp thyme
salt & pepper, to taste
additional water, to desired consistency
As per just about every soup we make, you'll want to start by sauteing the onion in oil in a large pot, over medium heat. When it's begun to soften, add in the potato. Cook for a few minutes, then add the tomatoes, beans, stock, and spices. Bring to a boil, then reduce heat, cover, and simmer until the potatoes are getting soft. Add in the noodles. When the noodles and potatoes are done, the soup's done. Simple!
On Wednesday, we hit Á næstu grösum. You may recall this one from last summer--it's all vegetarian, with lots of vegan options and a friendly, helpful staff. It's cafeteria style and you pay by the plate, choosing from about 10 entree/side options. It's about $18 for a plate of 3 items, but only about $20 for 5, so it makes a lot more sense to go with 5 items. That's actually quite a lot of food, but is a perfect amount for 2 people if you also get a soup (about $9) and fill up on the complimentary bread and hummus.
This time around, we got a shepherd's pie, some sort of "burger", a zucchini & pesto salad, a chick pea curry, and a pasta dish. The soup was a coconut curry. The shepherd's pie was okay, if a bit sweet--nothing memorable. The burger was also a little sweet, and somewhat unremarkable. The zucchini & pesto salad was really good, as was the soup. The chick pea curry was good, but not as good as an actual Indian curry. The pasta was pretty good as well.
For dessert, we had a barley cake with raspberry topping. It was really good and very filling.
On Thursday, we were coerced into eating at Shalimar again, so we'd have enough time to check out a short documentary about Ragnar Kjartansson' s performance at the Venice Biennale. We missed Kjartansson' s performance at the Biennale, but since it lasted 6 months, it's doubtful whether we would have gotten anything out of it. The documentary also seemed ineffective, vacillating between its desire to both document art and be art itself. But the dinner at Shalimar was delicious.
Stay tuned for CURRY NIGHT!