A month in Iceland makes Ypsi's Mexican food options seem...oh wait...they're pretty equally inedible for herbivores. You can get an authentic whale steak burrito in Reykjavik though. Just like you'd get in Mexico.
That being said, we did find it a bit difficult to cook Mexican food. There was nary a ripe avocado to be had, chili powder was less available, and tempeh? Forget about it. Cilantro was pretty scarce too. And with no pressure cooker, homemade refried beans were out of the question. So upon arriving home, we embarked upon a week-long Mexican food frenzy.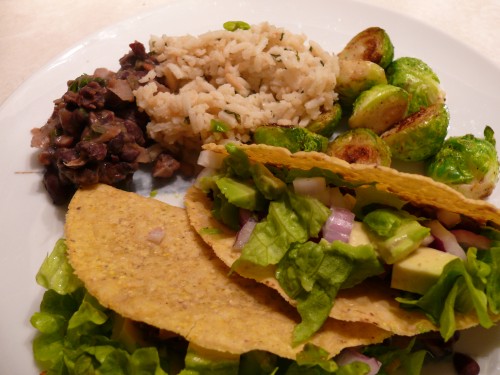 The first night (well, second...the first night we had to indulge in vegan pizza), I made refried beans, taco tempeh, and Mexican rice. We ate this burrito-style. That was pretty much the second night's meal too, but with sauteed onions, peppers, and mushrooms--fajita-style. When we got around to round three of our fiesta, the refried beans were gone and we needed a change, so I whipped up a batch of black beans, with a Cuban flare--spicy and chock full of cilantro. Normally, these would have a lot of lime, but I also made cilantro-lime rice and didn't want to over do it.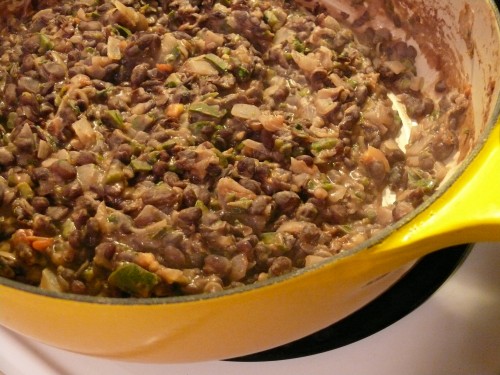 Black Beans Mexicana
1 white onion, diced
2 jalapanos/serranos/fresnos, seeded and minced
1 poblano pepper, seeded and diced
~ 4 cups (2 cans) cooked black beans
1/8 - 1/4 cup chopped cilantro
1 tomato, chopped
salt, to taste
We cooked the beans from scratch in a pressure cooker, but you are free to use canned beans. This is America. Or Canada. Or Germany. Or wherever you're reading from. Are there countries where pressure cooking is forbidden?
Then. In a large skillet, saute the onions and peppers in oil over medium heat, until the onion is getting soft. Stir in the beans, salt, and tomatoes, along with a bit of the bean water. Cook down for about 10 minutes, then add in the cilantro. Reduce heat and cover.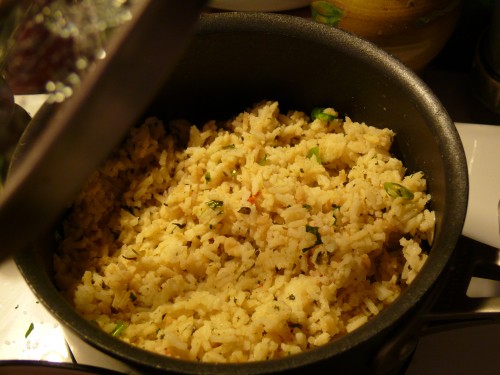 Cilantro-Lime Rice
1 cup white basmati rice
2 cups veggie stock
1/8 - 1/4 cup chopped cilantro
juice from 1/2 lime
salt, to taste
This is pretty simple. Cook a cup of rice in 2 cups of veggie stock, instead of water. At the outset, add in the lime juice and salt, so it cooks in. When the rice is done, stir in the cilantro and more lime/salt, to taste. Awesome! You now kick twice as much ass as Chipotle. That probably isn't saying much. It says twice as much if you pronounce it right: chi - pote - lay.
We had this with Brussels sprouts for added health prowess.