Now that we've posted the majority of our culinary masterworks, things have slowed down a bit here at IV. In the midst of the winter holidays, it seems this goes doubly so, as we turn to many of our old favorites. It probably goes without saying, but we're big chili buffs. Amy's mom also loves a good chili, so we figured it was time to whip up a batch.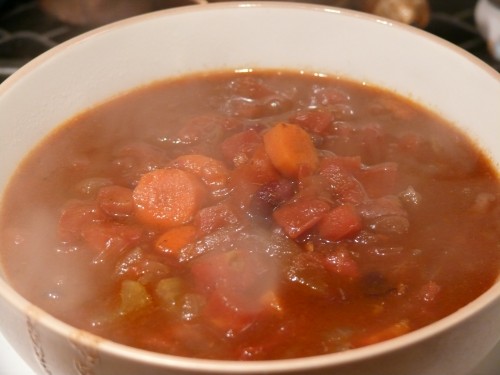 Typically, I rock a pretty thick and hearty chili, but Amy likes hers a little soupier. About 3/4 of the way through making this, I realized this was too thick, even for my tastes, and had the revelation that a few cups of veggie stock might be just the thing. (It's worth noting that it was probably think because I rinsed and drained the beans after cooking them--I'd previously been using the bean juice in the chili.) We've also been into smokier chilis lately, but were out of smoked chili powder--but what we did have was alder smoked salt. This combination proved to be just the thing. This is probably our best chili to date.
Best Chili to Date (maybe even marry)
4 cups (or 2 cans) chili beans (we pressure cooked kidney, black, and pinto beans)
4 cups (or 1 large can) diced tomatoes
1 medium - large white onion, diced
2 carrots, peeled and cut into discs or half-discs
2 stalks of celery, chopped
4 cups veggie stock
2 - 3 tbsp chili powder (to taste)
1.5 tsp ground cumin
1 tsp oregano
1 - 3 tbsp smoked salt, to taste
regular salt, also to taste
In a large pot, saute the onions, carrots, and celery in your oil of choice over medium heat. Once the onions start to get soft, add in all of the spices (well, not all of the salt, yet), stirring to coat the veggies. Add in the tomatoes, beans, and stock. Bring to a boil, reduce heat, then cover partially and simmer--for at least an hour, but ideally longer. A good chili takes time.
We're not usually into processed foods, but our local coop carries Daiya (tm) now, so we thought we'd give it a whirl for a change of pace. It was pretty good, but didn't really melt in the chili very well (which isn't to say it doesn't melt well, just that it probably needs higher heats to do so).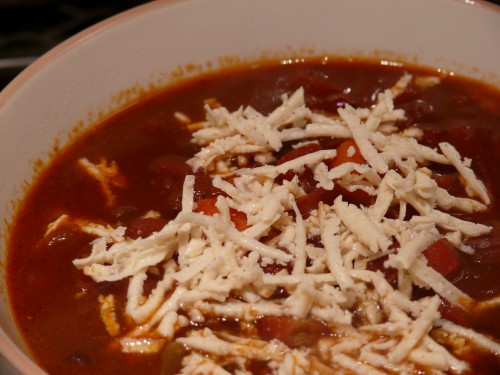 Since I made waaay too many beans, we made another batch of chili about a week after the first. Amy saw some amazing pretzels on Vegan Dad and thought (correctly) that they would be awesome with chili. We left out the whole veggie dog part, made them into twists, and brushed them with butter afterward. Also, we didn't have bread flour on hand, so we subbed 1 tbsp wheat gluten and 2/3 cup of all purpose flour for 1 cup bread flour. They turned out most awesome. Observe: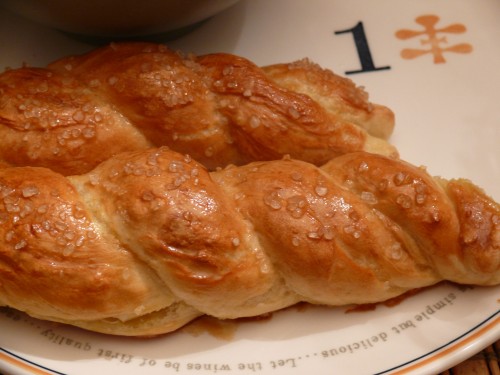 And also: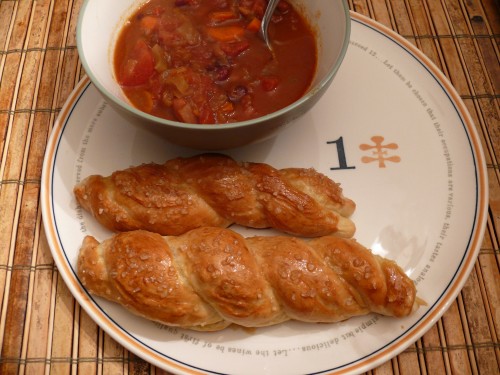 Superlative.