<< Back Improv'd Pot: Tomato Coconut Veggie Stew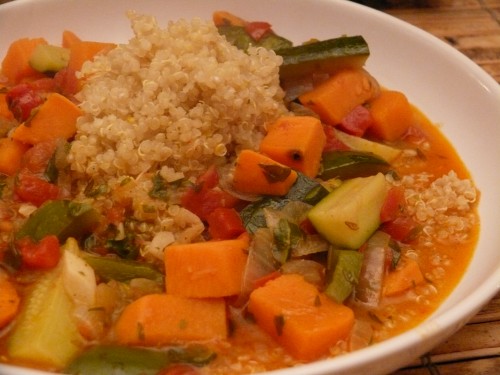 The other night Mark was bereft of inspiration, so I started rummaging in the fridge and decided to concoct a feast from what I could find.  I do this from time-to-time and think it should have a proper name; thus, the Improv'd Pot segment of the blog is born!  Here's some of what we had on hand: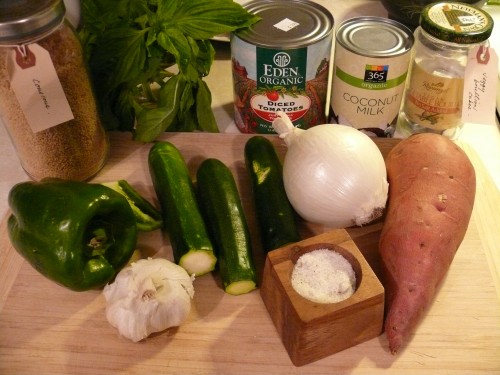 Clockwise from top left: cous cous (we ended up subbing quinoa), fresh basil, canned, diced tomatoes (local!), coconut milk (decidedly NOT local), veggie bouillon, a sweet potato, white onion, truffle salt (hmmm), zucchini, half of a jalapeno pepper, garlic and green bell pepper.  We added a few herbs, paprika, saffron and brown sugar, but that's the bulk of it the meal.  Witness the magic:
Improv'd Pot: Tomato Coconut Veggie Stew
2 cups or 1-14 oz can of diced tomatoes
1 medium-sized white or yellow onion, diced
4 big cloves garlic, coarsely chopped
1 medium-sized zucchini (or three baby zucchs), cut into desired shapes (we used vertical quarters)
1 medium-sized green bell pepper (cut into 1/2-inch pieces)
1 medium-sized sweet potato, cubed
1 1/2 tsp brown sugar
1 tbsp Hungarian paprika
1 tbsp dried thyme
1 14 oz can coconut milk
1/4-1/2 cup fresh basil, chopped
1 small jalapeno, seeded and diced
1 cube veggie bouillon
2 cups water
truffle salt (optional)
salt and pepper to taste
Saffron Quinoa:
1 1/2 cups dry quinoa
3 cups water
a pinch of saffron
a sprinkle of coarse sea salt
a dash of olive or other flavorful oil
Directions:
First, dice and slice ALL of your veggies, and set each aside in individual bowls.
Prepare your quinoa by adding dry quinoa, water, salt, and saffron to a small cooking pot.  Bring to boil on high heat, then reduce to low and cover for about 5-10 minutes until quinoa is soft and has released it's little spiral-like germ.  Stir in the oil.  Set aside.
Drizzle oil into a small dutch oven or stock pot set to medium heat.  Stir in veggies in relatively quick succession (allowing about a minute's cook time in between) in the following order: onions and garlic, bell pepper and jalapeno, sweet potatoes, zucchini.
A minute or so later, add tomatoes, along with salt, truffle salt, pepper, thyme, paprika and brown sugar.  Stir.
Add water, bouillon cube and coconut milk.  Bring back up to simmer and stir to make sure the bouillon is dissolved.  Add chopped basil last to preserve its flavor.
Allow to simmer for about 5-10 minutes or so, tasting the broth and adjusting salts, pepper, sugar, herbs and spices to taste.  Be sure the veggies don't get too soft.
Serve over saffron quinoa (we made a little stew moat around a central mound of quinoa).
Enjoy with some good wine in front of the fire!