Pacing listlessly at the bottom of a deep drop in our recent creativity, Amy pulled this little marvel out of thin air: a layer of crispy baked, garlicky sweet potatoes, a layer of refried chili beans, a layer of taco chik'n, a layer of avocado and finely diced onions and tomatoes, all topped with salsa--the Southwest Stack!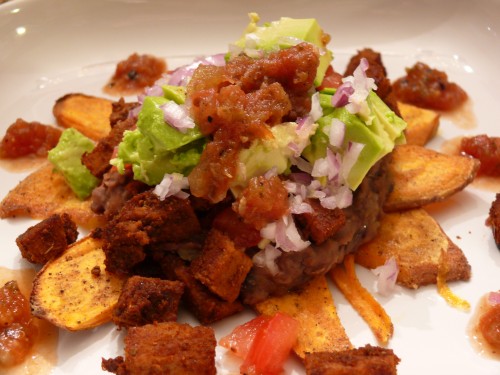 This was sort of like the best parts of chili fries and taco salad rolled into one delicious beast. It was good. Almost unbelievably good. Good enough to transcend the one-off cooking experiment status and enter our repertoire. It has the added benefits of being really attractive, and thus a great meal to serve guests, and relatively small-portioned, which tends to be a rare thing in our Mexican-inspired dishes. We felt great after eating this.
In keeping with our usual tradition of chaining recipes and leftovers together, this meal arose out of several others. The refried beans were made from the remaining chili beans (kidney, pinto, and black) from our recent chili, the taco chik'n was made using the okara from a recent batch of homemade soymilk, and the sweet potato had been staring us in the face since before Iceland.
For the refried beans, check out the original post. I can't emphasize strongly enough how much better these are with homemade beans. Also, the stock from the seitan chik'n makes them extra flavorful.
We've made a lot of seitan chik'n recipes here on IV, but I think have finally, officially settled on Zoa's recipe. We've been building on each other's recipes back and forth for a while now, and we finally just now got around to trying her method of doing a quick boil in stead of a slow simmer. The consensus: far better. You don't get the mushy, crumbly edges, the texture is perfect, and it's much faster. We've also experimented back and forth with okara or not (though it's hard not to when you have it on hand), and have settled on the the version with okara. It's less rubbery, as seitan can sometimes be. The texture and flavor are great, and it's a great use for your leftover okara, should you make your own soymilk. The next batch of these we make, we'll post our version of Zoa's version of...
The taco seasoning is here.
For the baked sweet potato fries [sic]: cut one large sweet potato into thin-ish slices, douse with high heat (we used safflower) oil, sprinkle with granulated garlic and salt, and bake at 425 F degrees for 20 minutes, until crispy.
Stack, as noted above.