<< Back 2nd Annual Breakfast Day!--> Spicy Tofu Omelette and Blueberry Muffins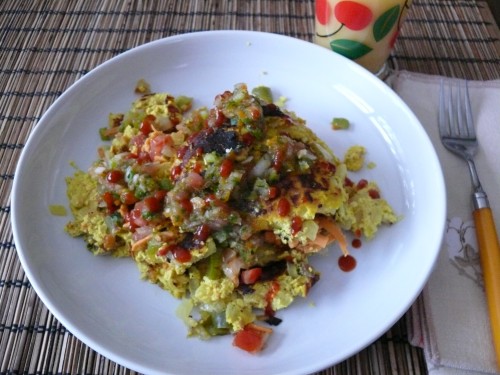 Last year, when Mark volunteered to spend a Sunday doing our taxes, I decided to contribute by making breakfasts over the course of the day. The menu included Buttermilk Pancakes and Tofu Chard Quiche. I decided to uphold the tradition this year and make some breakfast-y comfort food in several courses. Since I had a bunch of art and school stuff to do today as well, actual morning-time breakfast was a simple onion bagel half with some Earth Balance and a clementine (with coffee of course). Note the computer in the background denoting the eating of the small repast whilst in the midst of the chore that is taxes.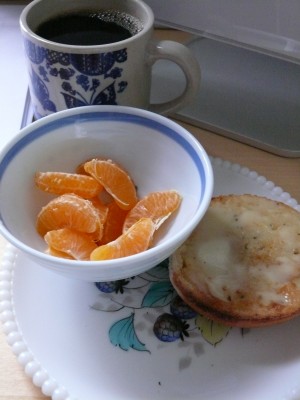 Taking a cue from the quiche (which is the most eggy thing we've tasted since giving up eggs), I decided to try the quiche filling as an omelette batter, which worked out so-so in terms of staying together, but tasted great! Here's what I did:
Spicy Tofu Omelette
1 lb. firm tofu, drained
3/4 cup unsweetened soymilk
1 tbsp safflower oil (or another high-heat oil)
5 cloves garlic, minced
1 large white onion, peeled and diced
1 tsp salt
1 tsp oregano
3/4 tsp turmeric
a few cranks of pepper from a pepper mill (the recipe calls for 1/8 tsp)
a few pats of Earth Balance
1 1/2 tbsp nutritional yeast
1/4 cup soy cheese, grated (optional)
various finely chopped veggies.  I used: 1/2 of a jalapeno with seeds, 1/2 green bell pepper, 1 small tomato
Mix tofu, soymilk, oregano, nu yeast, salt, pepper and turmeric in a food processor until smooth. Set aside in a bowl.
In a large skillet, heat a tablespoon or so of oil and sauté 3/4 of the onion and the garlic over medium heat until onion is translucent. Fold into the tofu mixture.
In the same skillet add a big pat of Earth Balance, keep over medium heat and pour the tofu mixture into the pan, flattening out with a spatula so that it looks something like this: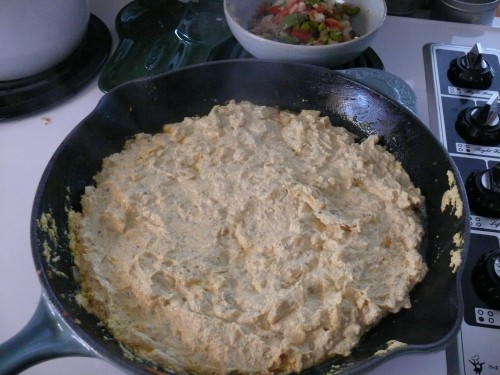 Now, the mixture is very squishy, nothing like eggs and takes a much longer time than a non-vegan omelette to cook. Cook over slightly-lower-than-medium heat (4 on a scale of 10) for about 15 minutes.
While that's cooking, sauté the other veggies (including the rest of the onion) in a bit of oil in another large skillet until veggies are soft. Set them aside in a bowl once cooked.
Add some Earth Balance to the now empty second skillet. Loosen the omelette from the sides of the first pan and quickly overturn into the second pan so that the other side can cook (not ideal, I know, but there's no flipping this puppy in the same pan).* Squash the omelette into the pan with the back of your spatula and allow to cook for about 15 more minutes.
Spread the cooked veggies and the soy cheese onto half of the omelette. Fold the other half over the veggies and cheese and allow to cook for another couple minutes. This makes a very large omeltte, so we cut it into thirds, each took one section and left the other for left-overs. Serve with salsa and Sriracha. It's extremely tasty, spicy and met the approval of overly-taxed Mark.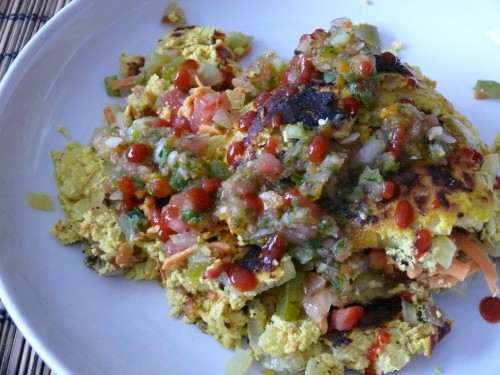 *For a more flippable version, check out another omelette recipe on the site.
I also decided to make some of our favorite blueberry muffins. I wish they were healthier; they might as well be cupcakes for all of the sugar they contain, but hey, it's comfort food, right? The original recipe is on Vegweb (see link), but I'm also copying and pasting  it below, with only slight modifications, for your convenience.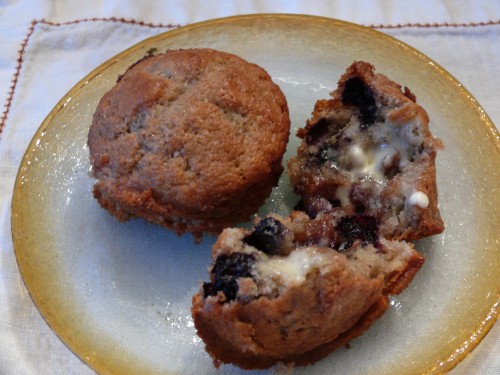 Blueberry Muffins with Crumb Topping
Muffins:
1 egg equivalent, prepared (e.g., Ener-G Egg Replacer) (1 tbsp apple sauce per egg works too)
1-1/2 cups flour
3/4 cup vegan sugar
2 teaspoons baking powder
1/2 teaspoon salt
1/3 cup vegetable oil
1/3 cup nondairy milk
1 cup blueberries
Crumb Topping:
1/4 cup sugar
1/8 heaping cup flour
2 tablespoons vegan margarine
3/4 teaspoons cinnamon
Note: I cut this recipe in half and it still makes an ample amount of topping.
Preheat the oven to 400 degrees F (200C). Grease 12 muffin cups. Prepare egg replacer; set aside.
Combine flour, sugar, baking soda, and salt.
To a 1 cup measuring cup, add the vegetable oil and egg equivalent, then add enough nondairy milk to equal one cup. Add to dry ingredients and mix well. Fold in blueberries, then place the batter into the greased muffin tin.
Crumb topping: Mix sugar, flour (overfill the 1/8 cup), margarine, and cinnamon until any large lumps are worked out. Sprinkle topping over muffin batter before baking.
Bake about 25 minutes, until the topping and the tops of the muffins are golden.
Makes: 12 servings, Preparation time: 20 minutes, Cooking time: 25 minutes
The muffins also met with approval, although I should mention that I'm using the ensuing sugar rush to fuel the writing of this post.  Does anyone have any good healthy muffin recipes to share?  Any links would be most appreciated.  Happy tax season everyone!