<< Back Ryan & Val's Roasted Pepper and Corn Chowder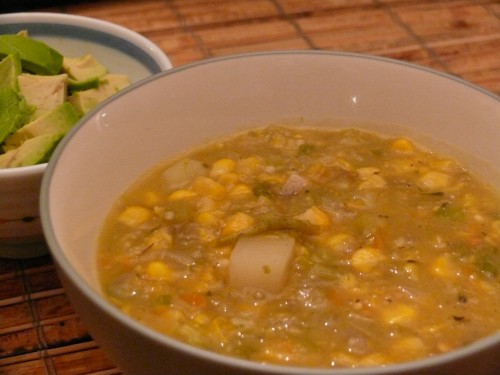 Our friends Ryan and Val got mad cooks, so it's no wonder that we occasionally cop one of their recipes. While we all tend to approach cooking in much the same way, they cook with slightly different, often more Southwest, palate (maybe related to their being from Texas? possibly?). When we use other people's recipes they're often the ones that we wouldn't have thought of, the ones that you see and think simultaneously:
Oh man that looks awesome! | Oh man I never would have thought of that!
That's just how we reacted to their Roasted Pepper and Corn Chowder.
For some reason, unless it's in tortilla chip form or on the occasional cob, I forget that corn can be anything but garnish, something there to add a little yellow to a soup. So basing a whole soup around corn seems crazy to my corn-impaired brain. But I'll be damned if Ryan & Val's didn't look awesome. Tantalizing even?
We didn't quite have the proper ingredients; we had a green and a red bell pepper, and several jalapenos. We roasted both peppers, as instructed, and subbed a jalapeno and a small can of diced green chilis for each poblano (leaving the seeds in one jalapeno for a little spice action). I didn't try theirs, so I can't compare, but ours turned out extremely tasty. Importantly, this has not only added a new soup to our repertoire, but has added a new type of soup.
And more importantly, I think we've all learned a valuable lesson here. Corn has come into its own. It's no longer supporting cast--it's the lead.
Corn: Your meal's protagonist.