<< Back Tempeh Pepper Pasta Perfection
Welcome, dear readers, to this, our 200th post! In celebration, we bring you this culinary kick in the buds!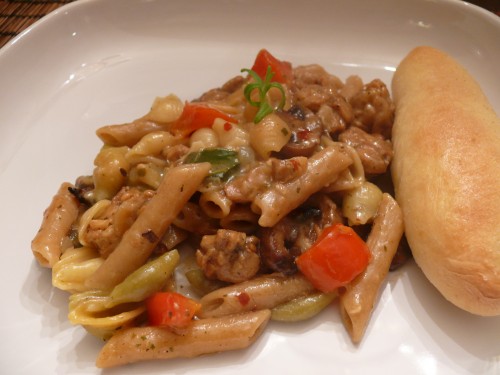 It's no secret that we're generally a seat-of-the-pants-style operation, that we frequently pull meals out of our proverbial buttox. You know how it works: scan the fridge; scan the cupboards; scan the fridge again, expecting, beyond all reason, that you will find something that wasn't there just moments ago; scan the pantry; start taking appealing items from the fridge as the vague outline of a plan takes shape. Cook, cook as hard as you can.
Last night's meal was the rare exception. There was prompting, planning, mutual taste calibration sessions, revision, and cooking-show-style pre-preparation. This was a meal birthed by meticulous planning.
Amy asked me early in the afternoon what I was hungry for for dinner: Noodle-y something, thought I. Amy concurred.
She was thinking something spicy: Tempeh sausage we quickly agreed upon.
Then we hit upon this delicious-looking pasta at What the Hell Does a Vegan Eat Anyway?: Mushrooms became integral. And a rich, creamy-but-subtle sauce.
To balance out the color and flavor, and the accent the tempeh sausage, we added some red bell pepper and poblano pepper.
Amy had a yen for baking, so we added breadsticks to the mix.
It rarely happens that a meal goes entirely according to plan, let alone vastly exceeds your expectations. This may be one of the most delicious things we've ever made! Maybe there's something to this careful planning thing after all.
Tempeh Pepper Pasta Perfection
Tempeh Sausage
1 package of tempeh, crumbled or torn into large pieces
2 tbsp oregano
1 tsp crushed red pepper
1/2 tsp ground cumin
1/4 cup soy sauce/tamari/shoyu
8 cloves of garlic, minced or pressed
Noodles
1/2 medium-sized white onion, diced
2 cloves of garlic, minced or pressed
4 cups of veggie stock
2 tbsp dry white wine (we used cooking vermouth)
2 tbsp nutritional yeast
~2 cups of penne pasta
~1 cup of shell pasta
1/4 cup Earth Balance (tm)
The rest of the fixins
1/2 large red bell pepper, cut into large-ish pieces
1/2 large poblano pepper, cut into large-ish pieces
1/2 medium-sized white onion, diced
4 cloves of garlic, minced or pressed
8 - 1o mushrooms, cut into thick slices
So this one takes a little work and a fair amount of time. Amy and I split up, with her making the breadsticks, which needed to rise, with instructions here. I started the tempeh sausage, as it needs to sit in the fridge for at least 15 minutes before you use it.
Combine all of the ingredients but the tempeh in a small bowl, stirring well. Cut or tear the tempeh into large-ish pieces and put them into a medium-sized bowl. Pour about half of the mixture over the tempeh, coating well and stirring. Add the rest of the mixture, bit by bit, until it's gone and the tempeh is covered thoroughly. Put in the fridge
Next, chop of all of the veggies. Dice an entire onion and separate into two bowls. Mince or press 2 cloves of garlic into one bowl, and the remaining 4 cloves into the other. Coarsely chop the peppers and add them to the bowl with more garlic. If you're in the zone, what better time to cut the mushrooms into thick slices?
After 15 or more minutes, it's time to get rockin'. In a medium-sized saucepan (or large pot, depending on your strategy--read on), saute the onions and garlic from the first bowl in 1 tbsp of Earth Balance. Once they begin to get soft, add in the uncooked noodles, coating. (You don't need to use two different types of noodles, or even the same type as us.) After a few minutes, add in the veggie stock and some salt, and bring to a boil.
Meanwhile, in a large skillet, saute the remaining veggies in another tbsp of Earth Balance. Similarly, saute the mushrooms in Earth Balance in another skillet, and the tempeh sausage in yet another.  If you're in a rush, you can cook these all together without too much ill-effect. But the results are best when you can gauge exactly when each of the ingredients are done. You want the mushrooms soft, the tempeh browned, and the peppers remaining just a little crisp. (If you do combine everything, start with the onions, garlic, and mushrooms; next, add in the tempeh; add the peppers in last.)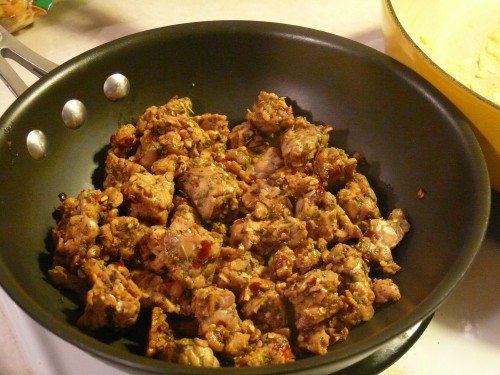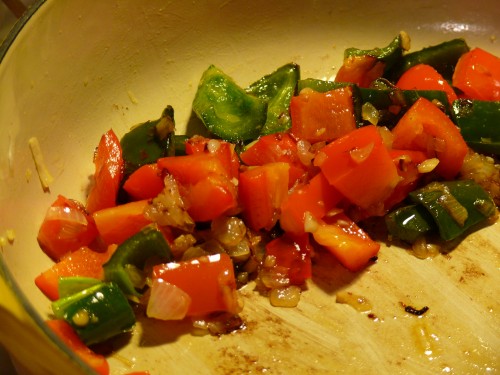 Once they're all done to perfection, you can combine them. When you're about 15 minutes out (roughly, this stage on the process), pop the breadsticks in the oven, if you're making them.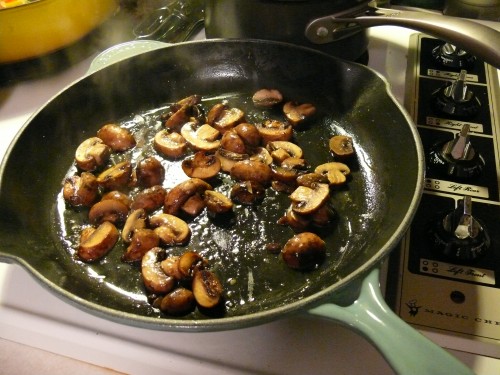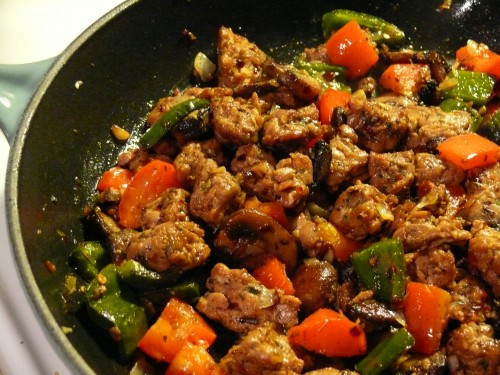 Ideally, the noodles will be al dente about the same time as the veggies, mushrooms, and tempeh. We combined the the non-noodle ingredients in a medium-sized skillet, and then dumped the noodles into a large skillet (if you're using a large pot, you can leave them there). Add the vermouth (or white wine), nutritional yeast, and 1/4 cup of earth balance. Allow to cook down until you have a thick, creamy, sauce. You're finally ready to combine everything.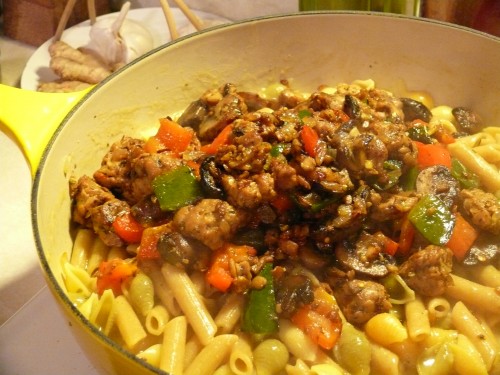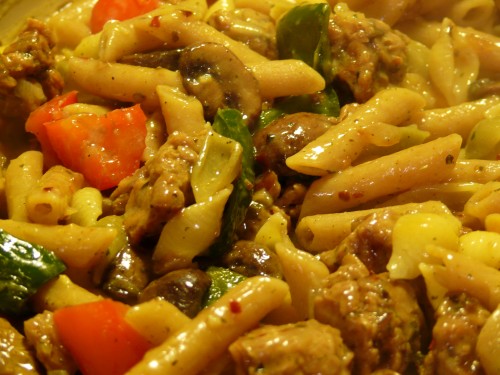 Finally, your efforts have paid off. Fill up your plate, strap in your belly, and eat until it hurts (we did).