In Southeast Michigan, the veg community mainlines tempeh. When we moved here from Chicago, with a healthy, but manageable, appetite for seitan, we didn't know what we were getting into. While seitan could rarely be had in a restaurant, it seemed like almost everywhere had at least one tempeh dish, often the ubiquitous (and delicious) tempeh burger. And thus we were hooked.
The first one's free.
But for some reason, over the last 6 months or so, tempeh has been relegated to tacos and little else. Maybe this is the lingering effect of some earlier burnout, or perhaps that tempeh was unheard of in Iceland. So about a week ago, I was hit with a serious pang for tempeh. I was mentally adding it to recipes--ones where it didn't even fit. Tempeh curry anyone? Tempeh lasagna? How about some homemade tempeh ice cream?
So by Sunday, I finally gave in to the whim and produced a very simple tempeh and wild rice hash, really allowing the tempeh's flavor to come out.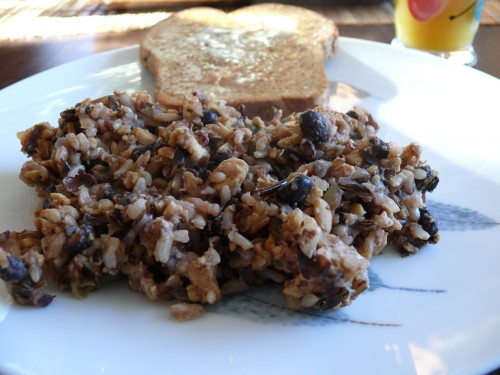 This could legitimately be eaten--and conceived of--as any meal of the day. In my mind, it was a breakfast (even though we ate it mid-afternoon, which is probably the dumbest time to eat, save the middle of the night).
Tempeh & Wild Rice Hash
1 package of tempeh, chopped into medium-sized pieces or crumbled coarsely
1 medium-large white onion, diced
3/4 cup of uncooked wild rice
1.5 cups of water
1 cup (1/2 can) of cooked black beans
3 tbsp soysauce/shoyu/tamari
1 tbsp nutritional yeast
2-3 tsp herbs d'provence (sub 1.5 tsp thyme and 1/2 tsp basil, if necessary)
salt & pepper (lots of pepper), to taste
Start the wild rice first, because it takes about 45 minutes. In a medium-sized saucepan, add the rice and the water (like most rice, wild rice is cooked at a 2:1 ratio) and bring to a boil. Reduce heat and cover, cooking until the rice is soft and all the water is absorbed. This is actually a lot better if you already have cooked wild rice on hand, perhaps leftover from Emeralds in the Wild.
25 - 30 minutes after you start the rice, saute the onion in oil in a large skillet over medium heat for about 5 minutes. Meanwhile, prep your tempeh (chop or crumble it). Add this in with the onion. Allow the tempeh to brown a bit on both sides--tempeh browns well and this really brings out the roasty part of its flavor and tones down the nuttiness. Once the tempeh has browned, add in the remaining ingredients (including the cooked rice), cooking for an additional 5 - 10 minutes.
Serve as breakfast, with coffee, OJ, and toast or English muffins.
Serve as dinner with baked/grilled garlic-lemon asparagus or steamed Brussels sprouts sauteed in Earth Balance.
Serve as lunch in a reusable container, while staring listlessly at a computer screen. Your coworkers are on a different floor. There is no lunch room. But you have a window, and that means something in this world, damn you. It's just you and the pigeons. Coo. Coo. And an apple. You don't want scurvy.