<< Back Week of Raw Day 1: Tomato Basil Cream Pasta & Carrot Cake
The first thing I learned about myself and my diet yesterday is that I am officially coffee's bitch. Coffee, it would seem, is calling all the shots. Amy and I switched to half caf a year or two ago, so I thought I was in the clear, that I could just ditch coffee any time I wanted, with no ill effects. Not true, friends, not true. I felt like I had the grippe. Despite the murky mental fog and lethargy, we somehow managed to get a few things done, including preparing the hell out of some food.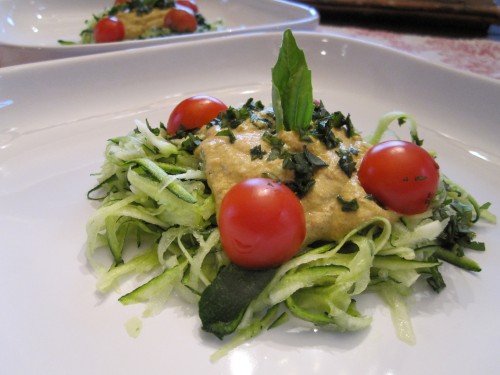 Pictured above is our raw take on VeganYumYum's famous Tomato Basil Cream Pasta. This is one of our quick and simple goto dishes, and we had some basil to use up, so this seemed like a great choice for dinner on our first (official) day of raw. It turned out pretty stellar--just about as good as the original. The sauce didn't suffer a bit. The shredded zucchini noodles were good, but a bit watery. We've got a spiral slicer on the way, so hopefully that clears up that problem.
Raw Tomato Basil Cream Pasta
1/2 cup raw cashews, ground
3 small-ish tomatoes, chopped
1/4 cup water
2 cloves of garlic
1 tbsp cold-pressed olive oil
handful of fresh basil
fresh ground black pepper, to taste
celtic sea salt, to taste
2 zucchinis, spiral sliced or shredded into long strips
8 cherry tomatoes, halved, to garnish (optional)
This is pretty simple. If you don't have a Vitamix (we don't), you'll want to grind your cashews in a nut or coffee grinder (we have an extra coffee grinder for nuts and seeds). Throw half of the basil and everything but the cherry tomatoes in to the blender and blend until smooth. Salt and pepper to taste. Dice the rest of the basil and halve the cherry tomatoes, if using. Serve the sauce over the noodles, with the rest of the basil sprinkled on and garnished with cherry tomatoes.
Serves 4
Our friend Lauren recently got a pretty stellar juicer (a Breville), which re-awakened our interest in using (our slightly less awesome) juicer (the Omega 800). We needed an afternoon pick-me-up, so I made a kale, carrot, apple, and ginger juice. This left us with lots of pulp.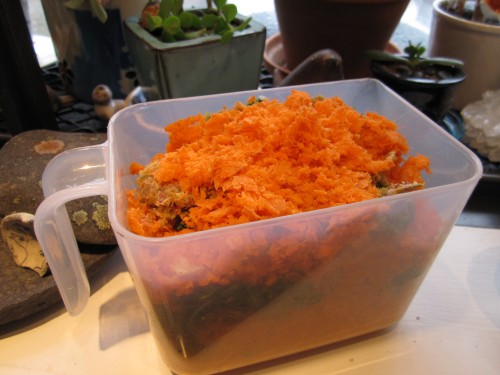 Which Amy turned into this, for dessert: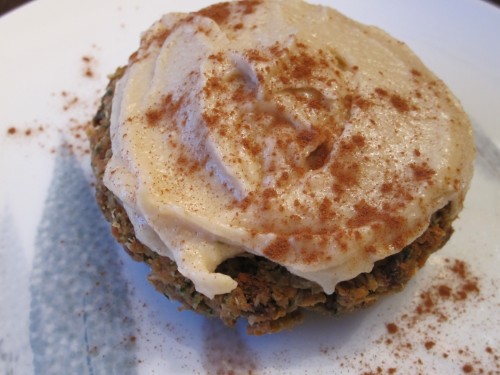 That's right, raw carrot cake! Amy slightly modified this recipe, to pretty stellar effect.
Raw Carrot Cake
~ 4 cups leftover dry pulp from juice made with lots of carrots and an apple or two and a wee bit of kale (original recipe calls for 4 cups shredded carrots)
1 cup dates (about 16 dates), pitted
1 cup walnuts
1-1.5 cups unsweetened shredded coconut
1 cup raisins (we didn't have an apricots, so we added more raisins than in the original recipe)
1 teaspoon cinnamon
1/2 teaspoon nutmeg
1/2 teaspoon allspice
2 tbsp orange juice
Combine walnuts, dates and raisins (and apricots if using) in food processor and pulse until ground.  Mix into your juicing pulp mix (or grated carrots) and add spices.
Blend mixture the food processor, until a cohesive mix is formed and it begins to solidify and stick to itself. Depending on the size of your food processor, you may need to do this in two or more batches.  Once finished, transfer back to a large bowl, and stir in coconut.  Portion out the mix by packing a 1/2 cup measuring cup, then cut around the edges with a butter knife and plop down onto a baking sheet or into a container, making a little cake. Repeat for the remainder of the mix. Refrigerate.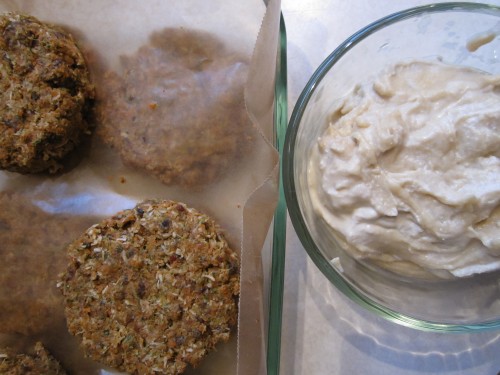 Cashew Butter Frosting
1.5 cups raw cashews
3 tablespoons raw agave
3-5 tablespoons water (perhaps more depending on the size of your lemon and the desired consistency)
juice from 1/2 lemon
1 tsp vanilla
Blend all of the above in a food processor until smooth and delicious, scraping down the sides when necessary. Spread atop the cakes just before serving.
Serves 8 - 10
Word to the wise: these things are really filling!
While Amy was making this, I whipped up another bunch of kale chips. Our dehydrator capacity is much lower than Blue's, so--I'm a little ashamed to admit--this was only enough for a snack later in the evening.
After dinner and dessert (a rare treat for us), as my caffeine headache began to subside, I decided to help normalize Amy's morning routine by making a batch of raw almond milk for our usual breakfast shakes (which are otherwise raw).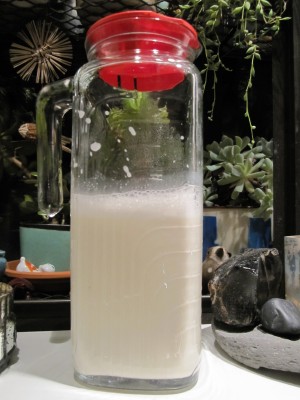 This is ridiculously easy, and pretty tasty to boot.
Raw Almond Milk
1/2 cup raw almonds, soaked for ~8 hours, then peeled
3 cups water
2 dates, pitted
Blend all of the above in a blender until very smooth. There are any number of filtering methods out there, but we went with our soymilk standard of using a gold mesh coffee filter. Pour the blender contents into the filter and push through with a rubber cake spatula, sloshing around first, then mashing once you're left with mostly pulp. Transfer the pulp to a container (for later use). Repeat until you've filtered all the milk. It should be nice and smooth now. I think sometimes when folks make this at home, they skip the filtering stage, which results in a really gritty, sludgy milk.
We had this in our breakfast shakes this morning and they tasted just like the normally do with store-bought almond milk. Goodbye store-bought! (Our soymilk maker also makes almond milk, so we really should have been on this much sooner.)
As of this post it's day two and I'm happy to report that my brain is far less addled than yesterday.
Stay tuned for day two of our rawventure!