<< Back Week of Raw Day 2: Pad Thai
It is currently 10:15 am. I have been up since 8:30 am. What have I been doing with my morning, you ask? Preparing raw foods and cleaning up, of course! This is the sink load of dishes I've already produced this morning: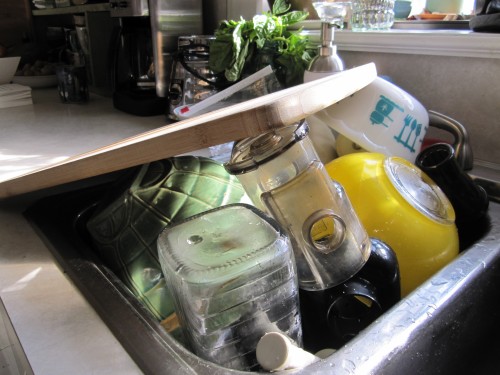 This accounts for our morning breakfast shake, the raw almond milk we made for the breakfast shake, the jar and bowl for sprouting chickpeas for raw falafel, the bowl for soaking sunflower seeds for raw falafel, the juicer attachments to grind the chickpeas and sunflower seeds, the cutting board to chop the onions for the falafel, the garlic press for the garlic for the falafel, the bowl for mixing everything...and that's all after putting away the gigantic sink load from last night's raw pad thai.
As people who love off-the-cuff cooking, working creatively from what's available and catering to our whims, we are having a great deal of difficulty with amount of preparation the raw diet seems to require. On one hand, raw can mean simply eating lots of fresh fruits, vegetables, and nuts--in which case raw can be pretty easy and not at all time-consuming. In fact, eating this way moves you away from the need to rely on prepared foods, allowing you to eat precisely when you're hungry--eating less, and more frequently. Which is a good thing, to be sure.
On the other hand, however, to eat thoughtfully prepared delicious raw meals requires a great deal more preparation and lead time than the standard (veg) diet. If you're merely eating for sustenance, then the former seems perfectly fine. But if you're eating because you love it, because eating is something you think about frequently and look forward to, it's hard to live on largely unprepared meals. So we've found ourselves inclined to prepare some of the more complex raw recipes (rawcipes, if you will). For the falafel that we'll hopefully be eating tomorrow, we had to start soaking chick peas two nights ago, then started sprouting them yesterday. We also had to start soaking the sunflower seeds last night. Finally, this morning I was able to make the falafel patties (recipe tomorrow), which have to dehydrate for 16 - 18 hours.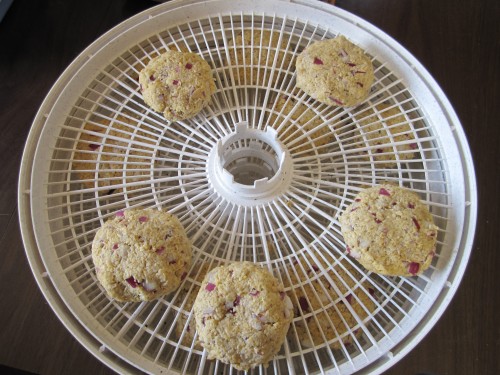 This isn't to say we're averse to a little prep time, or to building up a cycle for preparing what we eat; consider soaking soy beans, making the soy milk, then using the okara for seitan or other sundry deliciousities. That's a pain too, but well worth it.
Perhaps the issue thus far is that, while pretty tasty, the raw meals we've concocted haven't really been as good as the usual vegan fare we make. Amy pointed out last night that how we're feeling right now is probably how most folks feel about eating vegan for a week. It's been so long now, that I hardly remember it being difficult, but I'm sure it must have been. I didn't really know how to cook yet, I didn't like ethnic food...perhaps the fact that I could still drink coffee and booze dampened the pain.
But perhaps you just came here for the raw pad thai recipe? This turned out pretty good--the sauce was really tasty, though I might cut back on the ginger and lime next time. Considering some of the above thoughts, Amy's response was that it would make a great salad or side dish. So it was good raw dish, but just an okay dish in general. Our goal this week is to hit that great in general point.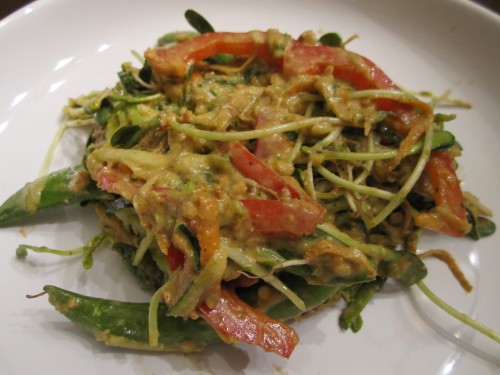 Raw Pad Thai (modified from Elaina Love's recipes in The Complete Book of Raw Food)
"Noodles"
3 zucchini, spiral sliced or shredded into strips (for less watery zucchini, let them sit in a strainer for 5 - 8 hours before hand [thanks FoodFeud])
1 package of mushrooms, cut into strips (she calls for enoki, we had crimini on hand, but forgot them)
3 green onions, sliced thinly
1/2 red bell pepper, cut into thin strips (she calls for 1 whole pepper, but that was two much)
10 snow peas
1 handful of snow pea sprouts (you could use all snow pea sprouts, but the variety below is nice)
1 handful of broccoli sprouts
1 handful of sunflower sprouts
Sauce
small handful of arame seaweed (she calls for hiziki)
1/2 cup almond butter
1/2 cup sun-dried tomatoes, soaked for 2 hours
1/2 - 1 lime, chopped
4 cloves of garlic, peeled
1/4 cup olive oil
2 serrano chilis (she calls for thai chilis or jalapenos)
3/4 - 1.5 tbsp freshly grated ginger
1 - 2 tbsp tamari, or more to taste
1.5 tsp Celtic sea salt, or more to taste
1 cup cilantro
1 - 7 dates, pitted (optional, for a sweet sauce)
up to 2 cups of water (you may not need any--we made our own almond butter)
As with most rawcipes, once you've got everything prepped, the process is really easy: blend all of the sauce ingredients in a blender until smooth. We made almond butter in our Omega 8005 juicer, which was really dry, so we had to add in water. The recipe also calls for a fair amount of ginger and lime; add these in a bit at a time, to taste. You can always add more.
Combine all of the noodle-y ingredients in a large bowl and toss. Pour about 1/4 of the sauce on and mix and coat well. Add in more sauce to desired coverage. We only made two zucchinis, and half the sauce was still a little much. Let the pad thai marinate for about a half hour before eating.
Up for tonight, Mexican stuffed peppers!