<< Back Week of Raw Day 4: Falafel and Cashew Ice Cream
Victory at last! After a few days of good-but-not-great raw food, we have finally achieved greatness. After days of planning and preparation, the raw falafel we've been working on were finally done--and were delicious.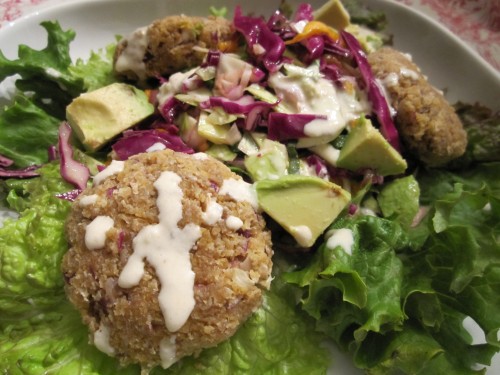 We've been struggling for years now with homemade falafel--in any form and any way of cooking. We've never found just the right recipe and we've moved away from frying at home, preferring to bake most things instead (baking is healthier and doesn't make your house smell like fried for days). This makes getting the consistency difficult, as you can fry something a little softer and it will harden enough on the outside to work. Our baked falafels have frequently been a little mushy.
But then this little gem fell into our lap (once again via The Complete Book of Raw Food). The flavor is great, the consistency is great, and they're raw! I made tahini sauce and Amy had the genius notion to create a cabbage salad, which complemented this perfectly, rounding out the meal. We'd just dipped our toes into feeling a bit frustrated with raw, and this totally turned that around; it was the first night that it simply felt like one of our normal meals, not a raw meal. This is a recipe we'll surely revisit frequently. It satisfies that Middle Eastern craving--normally a guilty pleasure (we have it after the gym sometimes)--and transforms it into a really healthy, balanced meal. We both felt great--satisfied and full--after eating this.
Be forewarned, these take some major lead time: 32 - 36 hours and require a food dehydrator.
Here's what you'll need (Falafel slightly modified from Rose Lee Calabro's recipe in The Complete Book of Raw Food):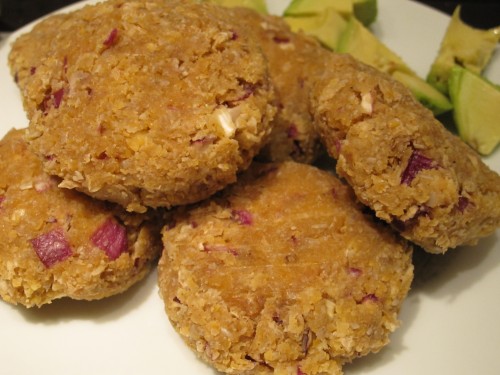 Falafel
1.5 cups chickpeas, soaked for 10 - 12 hours, and sprouted for 8 hours
1 cup sunflower seeds, soaked 6 - 8 hours and rinsed
1 medium red onion
1 - 2 cloves of garlic
1/4 cup fresh parsley (optional)
juice from 1/4 - 1/2 of a lemon (~2 tbsp)
1/4 cup cold-pressed olive oil
1 tsp ground coriander
1 tsp ground cumin
1/4 - 1/2 tsp cayenne
1 - 2 tsp Celtic sea salt (or more, to taste)
This is not a recipe you can whip up on a whim, but with careful planning, it can be ready as early as two days after you start. A couple of hours before going to bed, put the chick peas out to soak in enough water to cover them twice (they soak up a lot of water) and let them soak overnight. The next morning, rinse and drain them, and put them in a jar, fitted with a sprouting lid or with cheese cloth rubber-banded or screwed under the open lid (if you have the canning-type jars with the empty ring that screws on). Place the jar upside-down in a bowl at a 45 degree angle to drain. You're now officially sprouting! Now dump the sunflower seeds into a bowl to soak for the day.
When you get home or when you would normally make dinner (ideally about 8 hours later), you're ready to make the falafels. Rinse and drain the chickpeas and sunflower seed. We ran them through our juicer (Omega 8005--like a Champion) first, to make a nice, coarse paste, but this isn't strictly necessary. Now combine the remaining ingredients in a food processor and process until you have a somewhat uniform coarse paste (the onions can still be a little chunky).
From the mixture into small patties (about 2 inches by 1/2 inch) and dehydrate for 16 - 18 hours. If you're not going to be around the next day, it's best to put these on just before bed. That way, they should be ready (and a little warm) just about dinner time the next day.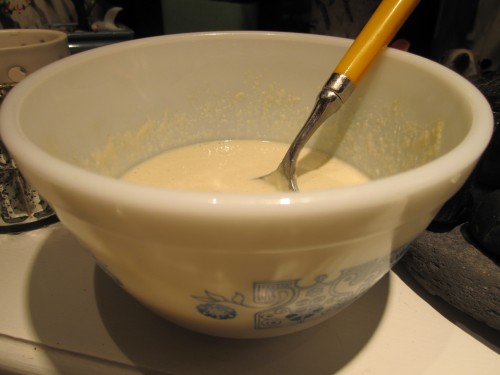 Tahini Sauce
1/2 cup tahini
2 tbsp olive oil
2 -3 tbsp lemon juice
3 cloves of garlic, pressed
Celtic sea salt, to taste
water, to desired consistency
Mix all of the ingredients in a bowl, adding water a little at a time until it's the consistency you like it. We like thin enough to drizzle, but thick enough not to be watery. You don't have to wait for Middle Eastern night for this; it's great as a salad dressing as well.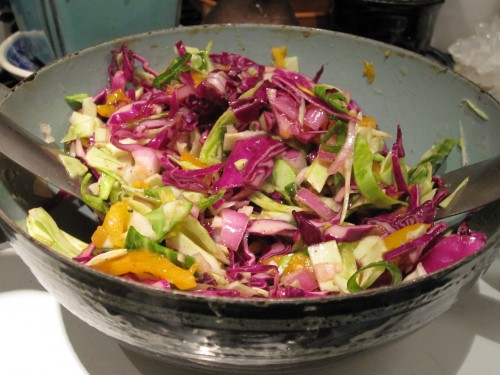 Middle Eastern Cabbage Salad
1/4 head of purple cabbage, chopped
1/4 head of green cabbage, chopped
1/4 red onion, diced
1/2 large tomato, de-boogered then chopped
1 green onion, thinly sliced or cut
2 small cloves of garlic, diced
1 - 2 tbsp olive oil
juice from 1/2 lemon
salt & pepper, to taste
Combine the cabbage, onions, garlic, and tomato in a bowl, then toss with olive oil and lemon juice until well coated.
We served the falafel and cabbage salad over lettuce instead of in lettuce wraps. Lettuce wraps always seem really messy and you end up eating half of them with a fork and knife anyway. So we decided to skip to the chase and eat them with a for and a knife directly, avoiding the mess.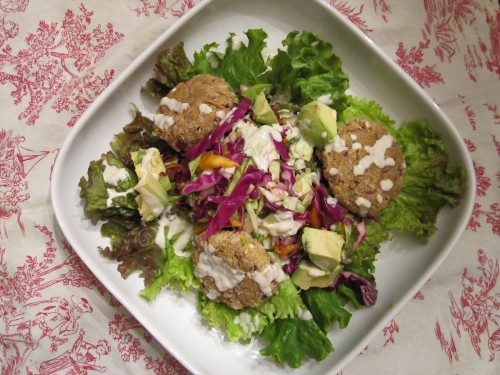 As if this delicious meal weren't enough, we got a wild hare to make dessert too--raw cashew ice cream! After trying the amazing cashew ice cream at Luna's in NYC, we've been dying to make our own version. (NOTE: this requires an ice cream maker.)
We followed this recipe, reducing the agave a bit, and without adding any extra ingredients. Don't let the name fool you--it didn't seem very "vanilla" to us; the raw agave (which is darker and has a stronger flavor then the processed version) and raisins give it a rich, buttery, toffee flavor.
One of the key things that makes this recipe work well is pre-chilling the "cream" before putting it in the ice cream maker. This is something I frequently forget to do. You also need to remember to put your ice cream maker bucket in the freezer in advance. Otherwise, this is a pretty quick recipe.
It turned out delicious, with a nice consistency and flavor, though perhaps a bit too sweet. I would cut the agave in half--which would also give you a little more control over the flavor. He calls for 1 - 2 tbsp of raw cacao butter or virgin coconut oil. We used the coconut oil, and 2 tbsp gave it a little bit of a coconut-y undertone. You want the coconut for the fat content, but if you want more control over the flavor, stick with 1 tbsp. If you're making something chocolate-y, go with the cacao butter.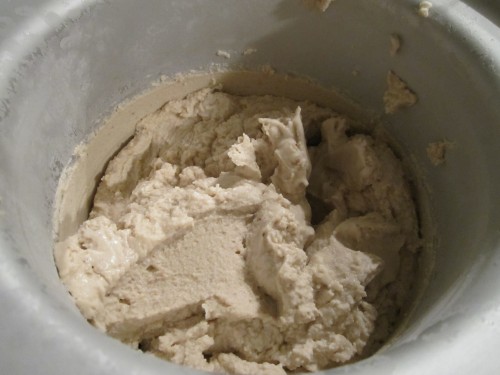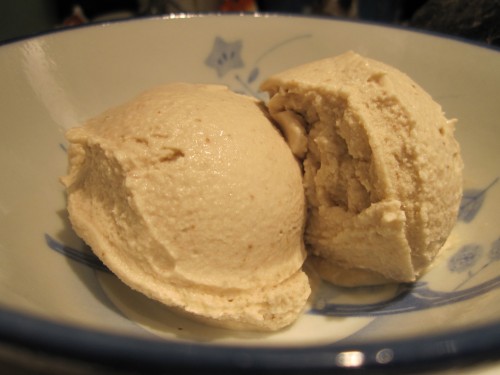 Last, but not least, as sit here typing this post I am cheating just a hair. Amy picked up some Teeccino herbal "coffee" yesterday. It's organic; made from nuts, roots, and grains; brewed like regular coffee; and is grown by first-world farmers. While it's not raw, it is at least herbal and hopefully will ease us back into the world of non-raw. In this last week, we've both learned that we drink far too much caffeine and since this week-long diet is about exploration, we thought now would be a great time to try something else different.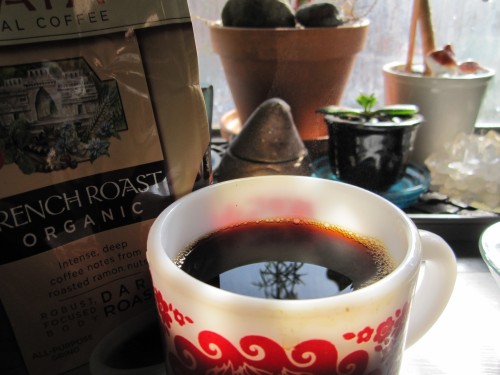 Not quite as good as coffee, but it really does scratch the coffee itch in a way that tea doesn't.
Stay tuned as we explore the world of raw leftovers!