<< Back Week of Raw Day 5: Leftovers (and lunches)!
Our meal on Friday was so awesome, we had it again on Saturday! As with most people, a lot of our meals--especially lunches--come in the form of leftovers. Since eating raw usually means eating fresh, we've found that we had fewer leftovers this last week. We did end up with lots of pre-prepped ingredients for meals, however, like this raw pad thai redo, made using the leftover sauce from earlier in the week: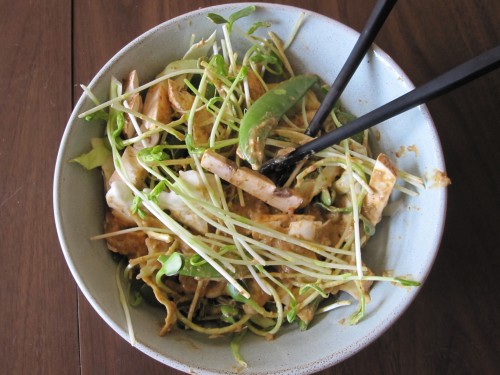 This time around, I skipped the zucchini noodles, which Amy and I immediately burnt ourselves out on earlier this week. If you don't have time to drain them, they're too watery. And since the sunflower and snowpea sprouts are pretty noodle-like, as well as crisp and delicious, they made for a way better pad thai. It felt much fresher. Additionally, I added a little miso paste and raw agave to the sauce, to make it a bit sweeter and richer (the original recipe called for dates, which we were out of--I should have subbed a little agave). The original recipe also called for mushrooms, which I didn't forget this time, and which made this much, much better.
While this made for a great lunch, it felt a little light for a dinner. You'd probably want this with something else. Or, even if you're not on a raw diet, this would make a great salad, especially along with an Asian dish. Amy and I often have trouble concocting salads to go with our Asian meals. The sauce for this keeps for a while, so you can easily think of it as an Asian dressing (that's two in one week--Asian salads are looking up!)
Speaking of lunches, it occurs to me that we haven't been very explicit about our entire raw diet--just the dinners.
For breakfast each day, we've had a breakfast shake using raw almond milk.
Our lunches have looked something like
leftover salad, fresh homemade juice, and a clementine or two
pre-prepared salad and leftover raw carrot cake (these are really filling)
a large, fresh salad (we both work from home occasionally) and an apple with peanut butter
leftover Mexican stuffed peppers
freshly revisited pad thai, fresh strawberries
As you can see, lots of salads, lots of fruits. This is probably what we should be eating for lunch. It's light, healthy, and will allow our leftovers to go a little further by providing a second dinner, instead of a lunch or two. Not only should this be a bit cheaper, it's a great way to make sure we're getting a salad in every day-ish.