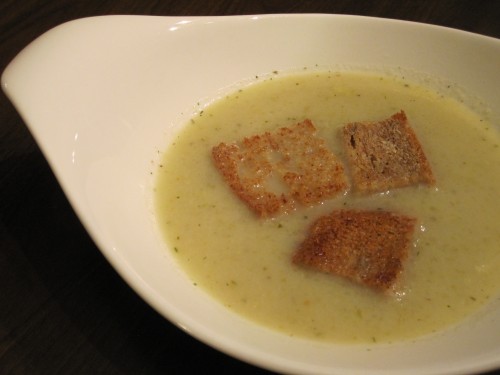 The summer before my senior year in college, my mom and I started cooking together a lot more.  I think she wanted to send me off for my final year (in a house with a kitchen, so no more dorm food) with the ability to make some nutritious meals for myself.  That's when my love of cooking, specifically soup making, was born.  This is a veganized version of the first soup we made together from that time period.  Concocting and sharing it with Mark brings back great memories.
Cream of Celery Soup
10-12 stalks of celery, chopped
1 large white onion, chopped
2 tbsp cooking oil (we use safflower)
4 cups veggie broth
1 cup unsweetened almond or soy milk
1/2 tsp ground mustard seed
1 tsp herbs de provence
1 tsp salt (or to taste)
1/4 tsp white pepper
a couple of cranks from a pepper mill
to thicken: 1tbsp flour, whisked into a bit of cold water to make a thick roux and/or stir a bit of cornstarch into cold water (we used both methods)
Saute onion and celery in oil in a soup pot until onion is translucent.  Add salt and stir.  Add veggie broth and herbs and spices and bring to a boil.  Add milk and slowly stir in a bit of flour/water mixture and/or cornstarch/water mixture to the desired consistency.  Using an immersion or standard blender, blend soup until smooth.  Adjust amounts of ingredients (salt, pepper, herbs or milk) to taste.  Cover and simmer for 15 minutes.  Serve with homemade toasted croutons dusted with onion and garlic powders.  This recipe serves 4 with a bit leftover.