<< Back The Mysterious Irreverent Vegan
Well, at least that's what we hope you're thinking. We're not posting because we have a crucial, mysterious mission, of which we can tell you very little.
You guessed right. That's it.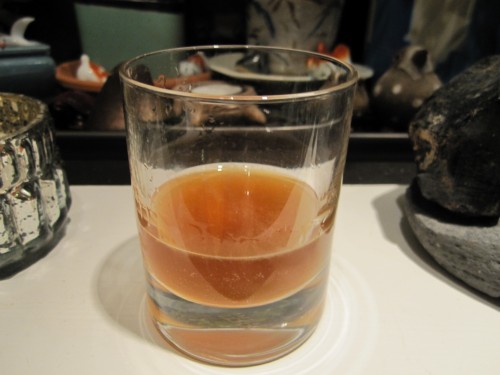 Our mission--well, one of them--was drinking this delicious Maple Sour. I'm a big bourbon fan, but not usually a sweet drink fan--not into Old Fashioneds, for instance--but this was superlative. It's just 2 oz bourbon, 1/2 oz lemon juice, and 1/2 oz of maple syrup. It wasn't too sweet on account of the lemon, and the maple syrup made it rich, not overly sugary.
But really, if we were you, we'd probably be thinking that IV went raw and then fell off the map--either by way of malnutrition or acquisition of super powers resulting form said raw diet.
Sadly, 'twas neither, dear readers. We have been rocking more raw action, and are still off the coffee, but otherwise, it's back to normal...perhaps a little too normal. We've not broken much worthy culinary ground--just the usual culprits, peppered with a few interesting tidbits, presented here in digest form.
Salsa Verde + Raw Mexican Night Redux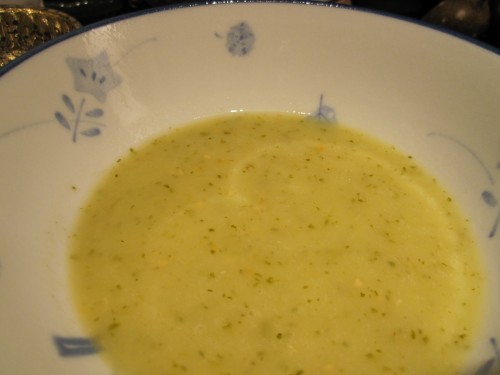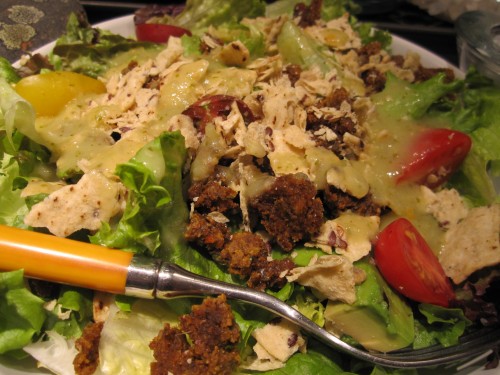 One of the first things we made post-raw was this salsa verde. Strangely, as much salsa as we make, we'd never done one verde-style. I don't think we'd ever even purchased a tomatillo. Suffice it to say, we'll be growing some tomatillos this year. This salsa was awesome. 'twas a perfect addition to our (almost) raw Mexican salad.
On our raw diet we also discovered the wonder of cacao nibs. If you ever win the lottery, I highly recommend buying and consuming a ton of these. They're delicious, super healthy, and perfect in smoothies. But hey also cost like $7 for enough to make 6 -8 smoothies. We definitely rocked a lot of PB & cacao smoothies, as well as pioneered a new mint chocolate chip smoothie (it's just the mint smoothie with cacao nibs). Veggie blender turned out a real blessing. Additionally, I recently pioneered the PB Chai Smoothie: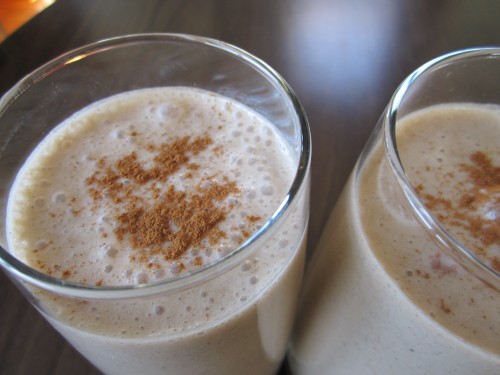 2 bananas
2 cups faux milk of your choice
2 tbsp of peanut butter
1 date, pitted
1.5 - 2 tsp cardamom
1.5 - 2 tsp cinnamon
1 tsp nutmeg
raw agave to taste (optional)
about 1 cup of ice
Blend all of the above until smooth and delicious.
Last but not least, we had the fixins for a stir fry and decided to do it up Thai style. We love a good Pad Kee Mau (Hot Spicy Crazy Noodle, Drunken Noodle, etc), so we decided to concoct a poor man's version: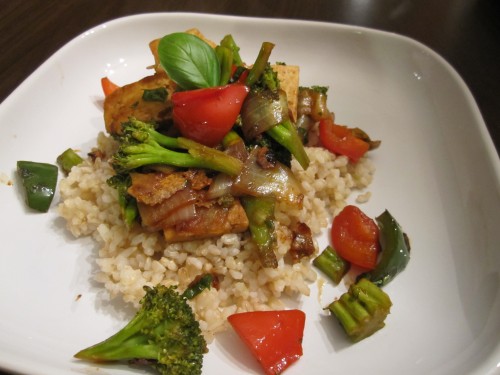 We didn't have rice noodles, so we used brown rice. We also cheated by using store bought red Thai curry paste. This was pretty ad hoc, and not very authentic, so we won't bore you with a recipe. Instead, we challenge you to create your own poor person's version and post back, for our eating pleasure.
Okay!