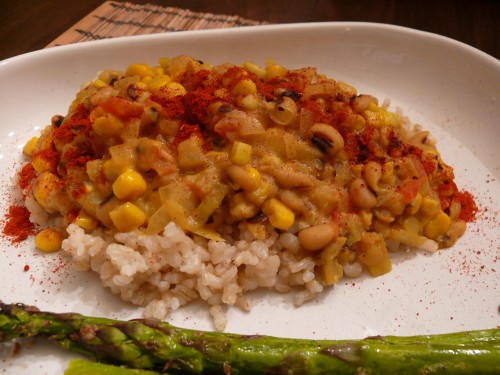 I first had this dish in the quaint little fishing town of Pouch Cove, Newfoundland, of all places. I was at an artist residency in 2005, and near the end of my three weeks there, a local artist had the six or so artists at the residency over for dinner. Finding vegan fare in Newfoundland had been a challenge until that point, so imagine my joy upon visiting this artist's lovely home to find out that she had made this wonderful naturally vegan dish with me in mind, having spent some time in Africa, and being familiar with plant-based foods from that region.
I compared this to other versions of traditional kunde online and it looks like my host took some liberties with the customary recipe (this is pretty much the recipe she wrote down for me, with a few tweaks from us).  Since kunde is simply Swahili for black-eyed peas, the recipe can probably be pretty much anything that uses vegetarian ingredients readily found in Kenya.  It always has black-eyed peas, but some recipes highlight the role of the tomatoes and most emphasize the addition of peanut butter or peanut oil, whereas ours has none and contains coconut milk instead. None seem to have corn.  Our dish looks more like a cross between kunde and a dish called M'Baazi, which does have coconut milk, but is often served cold.  It also resembles recipes from the Caribbean.
Regardless of the authenticity of the recipe, let me assure you that this version is delicious.  It left me swooning upon first (and second and third) helping back in 2005.  Mark and I used to make it a lot when we lived in Chicago and finally decided to revisit it again tonight since we had all of the ingredients on hand.
If anyone knows anything more about kunde, or has recommendations for other African dishes, please let us know; we'd love to expand our African cooking repertoire.
East African Kunde (by way of a hospitable Newfoundlander)
1.5 cups corn
1 cup cooked black-eyed peas
1 onion, diced
1 tomato, chopped
1/2 tsp curry powder
1/2 tsp turmeric
1 -2 tbsp brown sugar (depending on how sweet you like this)
1/4 tsp cayenne
1/4 tsp chili powder
1/2 tsp paprika
1 cup coconut milk
cooking oil
salt, to taste
If serving over brown rice, begin that first so it can be cooking while you prepare the kunde. In a large frying pan, sautee the onion over medium heat. When the onions become soft, add all of the spices. Next, add in the tomato, corn, and black-eyed peas. Finally, pour in the coconut milk. Next, mash the beans up a bit with a spoon or potato masher if desired.
Allow to simmer for 30 - 45  minutes, until liquid has reduced.
Serve over brown rice, couscous, or quinoa.
Bliss = achieved.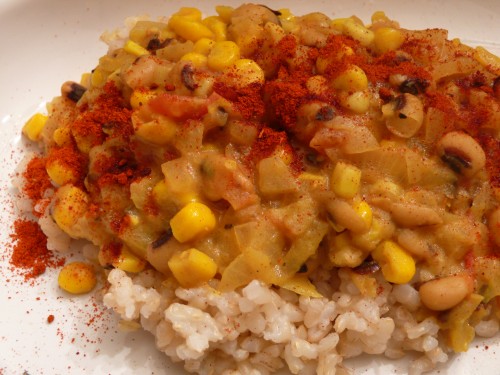 Note: We typically double this recipe so as to have leftovers.  This recipe serves about 4-6 depending on portion size.
Another note: My host mentioned referring to the recipe for kunde in The Spices of Life by Troth Wells, which looks fantastic!  We'll have to pick up a copy for sure.