Because we love cooking, we often get caught up in the complexity of intricately combined flavors. Left too long to these devices, we forget that food is more than just ingredients--most food, with just a little coaxing, is delicious on its own. Occasionally, it's good to remind ourselves of how simple our diets can be, to approach what we eat on its own terms (especially if you're eating seasonally and/or locally).
The challenge: make a meal of uncombined, simple foods.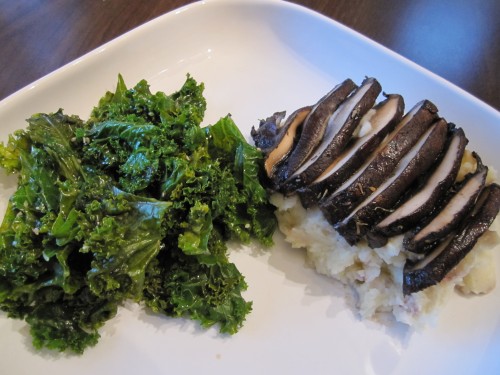 We made sesame kale, mashed potatoes, and grilled portabellas. Of course, we didn't use just kale, potatoes, and mushrooms; we did season everything and used a splash of almond milk and a pat of Earth Balance for the potatoes. But none of these was a "dish". Ultimately, we had potatoes, kale, and mushrooms.
Sesame Kale
Steam the kale until it just begins to soften. Toss in sesame oil and soy sauce (to taste), the sprinkle with sesame seeds, if you have any on hand.
Grilled Portabella
Marinate the portabellas in (measurements approximate):
1/4 cup soy sauce
1/4 cup red wine
1 tbsp herbs d'provence
freshly ground black pepper
Then grill them up! Serve whole, or slice and top the mashed potatoes with them.
Mashed Potatoes
If you're using red potatoes, leave the skins on these guys--it's healthier for you. Otherwise, peel some taters. Cut them into large pieces and boil them until soft. Add a pat (or several, to taste) of Earth Balance and just enough faux milk to make them creamy when mashed. Mash 'em up! Salt and pepper (and optionally garlic powder, though maybe that's cheating) to taste.
This meal was very simple to prepare, and very refreshing. It also doesn't require you to have much on hand. Aside from the portabellas, this is stuff you could pluck from your own garden (or at a farmer's market).
Cooking like this is also a great way to get to know your food, and how to better use it later in more complex dishes.