<< Back Southwest Road Trip: Packing Up
Our excellent pals Jason and Allison were getting married in Santa Fe this summer (congrats guys!) and, unusually for us, we didn't have any large trips planned. We'd never been to the southwest, so we decided, what better excuse to plan an immense three week southwest road trip?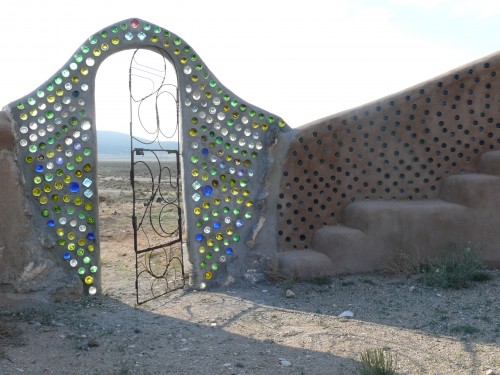 Here's the itinerary:
Quincy, Illinois (to visit our friends Jen and Todd)
Kansas City, Missouri (to see art) and Tulsa, Oklahoma (to visit our friend Sienna)
Santa Fe, New Mexico (for the wedding!)
Taos, New Mexico (to stay in an Earthship)
The Grand Canyon
Bryce Canyon, Salt Lake City, Spiral Jetty, and Arches National Park--all in Utah
Denver, Colorado
Mount Rushmore & The Badlands, South Dakota
Sioux Falls, South Dakota (as a luncheon pit stop) and Iowa City, Iowa  (to visit our friends Jeremy and Beth)
Larsen, Wisconsin (to visit Amy's folks)
Shirland, Illinois (to pseudo-camp with a whole mess of friends)
Home!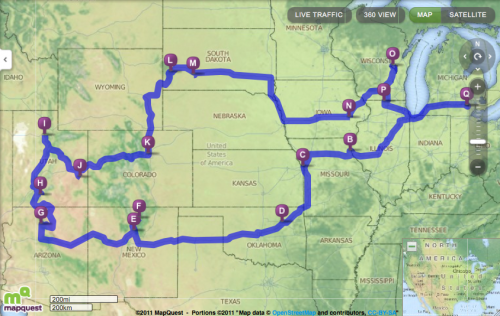 The plan was to couch surf with friends and camp mostly, splurging on a nice hotel in Santa Fe for the few days surrounding the wedding, so we wanted to be well-prepared for doing a lot of eating (and a bit of living) out of our minivan, Vanna Gold. We anticipated being able to eat reasonably well in the larger cities, like Santa Fe, SLC, and Denver, and figured we'd be able to manage in some way while staying with friends. Camping and in smaller cities--and especially during the very long days on the road--we'd need to have food on hand. This meant breakfast and lunch for almost every day, and dinner for about a third.
Here's what we packed, food-wise:
2 batches of homemade granola bars (recipe forthcoming!)
1 bag of apples
1 bunch of bananas
1 jar of peanut butter
1 jar of jam
2 loaves of bread (way too much, it turns out)
1 carton of almond milk
1 small carton of soy creamer
1 bag of baby carrots
1 bag of snow peas
1 bag of broccoli florets (we bought 6 stalks of broccoli, cut into florets, and juiced the stalks)
1 large batch of hummus
1 small batch of baba ganoush (we cheated and bought both of these)
2 cases of La Croix (we're addicted to fizzy water--we make at home with our Soda Stream (tm), but had to suck it up and go with cans on the road)
3 gallons of water
2 packs of sesame rice crackers
1 box of woven wheats
1 large jug of the green Naked (tm) juice
1 box of Mojo bars (mainly for hiking)
2 jars of cashews (1 garlic herb, 1 spicy thai)
1 jar of dried apricots (this was a bad idea--the sulfur used to dry/preserve them makes me very gassy...and we were closed up in the van for long periods of time...)
These provided us with breakfast and lunch pretty much throughout the entire trip. We went through the apples and bananas and juice pretty fast. We ate far fewer sandwiches than we thought we would (they're not that easy to make while driving). We ate a lot of the homemade granola bars the first week and a half, but started to get a little burnt out on them later (and they get crumbled after being shuffled around so much). We ate a ton of veggies (carrots, broccoli, and snow peas) with hummus and baba ganoush. This is a great way of eating fresh and healthy on the road--you get your veggies and your protein. For a change of pace, we'd add in some crackers occasionally. The cashews and apricots were great for quick snacks.
We also packed some camping meals (we brought along a camp stove, a pot and a pan, some camp-friendly dishes, and a french press for coffee):
quick-cooking brown rice
fusili noodles
2 cans of soup
1 jar of pasta sauce
1 can of chana chole
1 bag of decaf coffee
veggie bouillon
rolled oats (and a maple syrup, for oatmeal)
earth balance (for toast)
We camped slightly less than we anticipated, so these supplies proved to be more than enough. Since they're non-perishable, nothing has gone to waste.
We're currently most of the way through the trip (relaxing with Amy's folks in Wisconsin) and have felt really healthy and happy (if a bit over-prepared) with our food choices.
Stay tuned for some beautiful trip photos and reviews of some amazing veg restaurants!