<< Back Southwest Road Trip: Santa Fe
After the mind-numbing drive through Oklahoma and the Texas pan-handle, we finally made it to Santa Fe, just as the bachelor/ette parties were kicking off...but not before passing one of the largest crosses in the Western hemisphere, just outside of Amarillo, TX.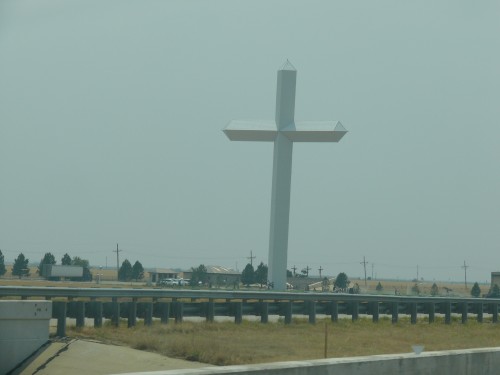 This is just past the "Jesus Christ Is Lord(... not a swear word) Travel Center" truck stop.
Texas, you are a mystery to me.
Suffice it to say, it was a relief when we finally entered the far more scenic desert (which actually starts in West Texas, just after Amarillo).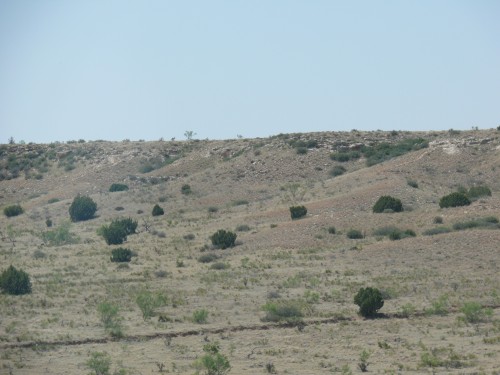 And did you know that New Mexico has mountains?!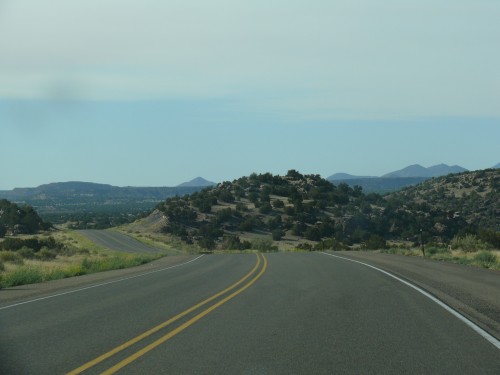 For some reason, I'd been expecting a flat sandy desert, with those bent-arm cactii. It turns out there's a lot of brush, there are mountains, and that it gets cool at night. Because of its high altitude (7000 feet above sea level), the air is thinner and the sun is more brutal. This makes you a cheap date, because alcohol affects you more intensely. It also means that until you adjust (and maybe even for a while after that), physical activity wears you out more. And it is DRY. Scientists recently thought they'd discovered an Anasazi mummy, but then realized it was just me on day three, after lots of sun, lots of drinking, and lots of activity.
The details of which I shall now relate.
Upon arriving, we checked in to our (very posh...probably too posh) hotel, quickly showered, and then headed right back out for the parties. I met the fellows at Del Charro. The groom, Jason, is vegetarian, so I wasn't too worried about finding something to eat. While there weren't a ton of vegan items on the menu, they did have a vegan garden burger served with local (very hot) green chilis, which was really good. The green chilis are a staple of Santa Fe, featured in a lot dishes, and are much hotter than the mild variety us Midwesterners usually get in cans (our Texan pals, Ryan and Val, used to the green chili heat, recommend Hatch (tm) brand, if you can't get the real deal in the Southwest). We also had margaritas, which seem to be the official drink of Santa Fe. We drank plenty of these and lots of local beer...seriously, a lot of local beer. I think we closed down 3 consecutive bars. But hey, that's the bachelor/ette life, right?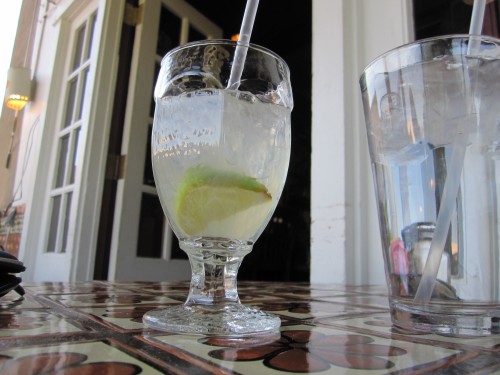 Despite what the locals tried to convince us, the margaritas there weren't much different than ones we've gotten at Mexican restaurants in the Midwest (I think they picture us all eating at Chili's or ChiChi's, not at authentic restaurants). Pictured above were our margaritas outdoors at The Ore House, which we drank while a road-worn, one-eyed man rocked us on the acoustic guitar, and while eating great happy hour chips, salsa and guacamole.
The second day out, we had a tofu scramble, potatoes, and homemade vegan sausage at The Chocolate Maven. We were elated to be able to find vegan breakfast after a hard night's work party. While the scramble wasn't particularly distinct, it did feature the local chilis, which gave it some zang. The homemade sausage was killer.
We spent the day wandering around Santa Fe, which is home to loads of artists--mostly of the crafty/painty-of-light/looks-inoffensive-over-the-couch variety (with the exception of the amazing and friendly Box Gallery and a bad-assed new media show in a warehouse down the street from Box). The general vibe was laid-back, but a bit tourist-y. If you're into handmade rock/gem rings, New Mexico is your jam.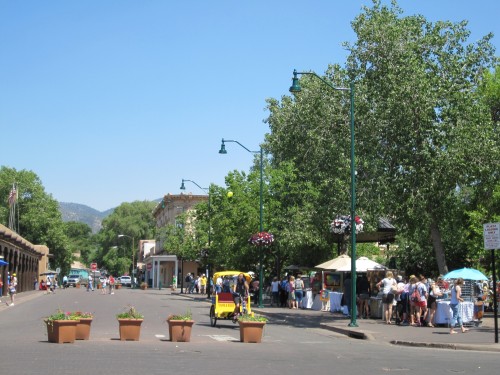 For dinner, we decided to go fancy-pants and tried out Anasazi. Usually, we've had pretty good luck with restaurants that have chefs. The folks at Anasazi were extremely reluctant to diverge from their menu, which was a bit of a problem, since they only had one vegan entree. After a few polite attempts, we sucked it up and ordered the Chefs Vegetable Canasta. We had no idea what a canasta was; it turns out it's a sort of quasi-pastry filled, in this case, with mushy vegetables and (I think) some sort of beans. It wasn't stellar. Since everything else had butter or meat, we got a standard salad and some french fries to round the meal out. Generally speaking, Santa Fe didn't feel like a town for vegan adventure--it was perfectly pleasant to eat it, but only when sticking to the program.
We snuck a day hike in the Santa Fe National Forest in before the wedding.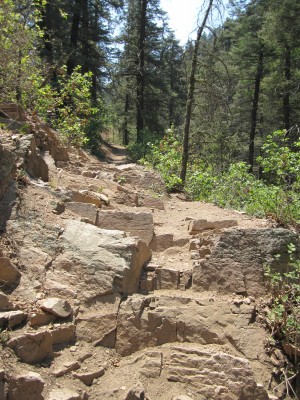 The wedding that night was really nice--the ceremony was outdoors at a gallery and the reception was just inside. Jason and Allison had us covered on the vegan tip, so we were able to relax, drink, and (maybe it was the altitude...) dance like crazy. Their crew (who were all extremely awesome) like to party, so when the reception ended at midnight, we moved on to a local bar.
The next morning we were again in desperate need for breakfast, so we tried another local joint--Louie's Corner Cafe.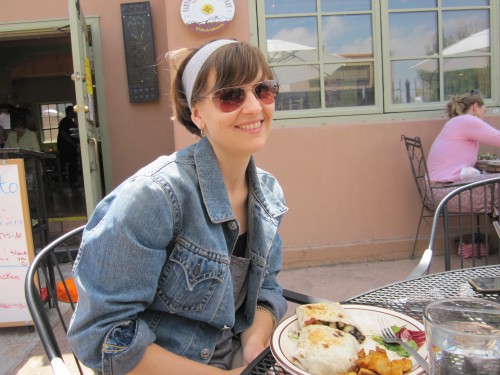 We got the breakfast burritos, which were once again welcome, but not stellar. The green chilis made another appearance to spice things up. The burritos did come with a breakfast salad, which we thought was novel and tasty.
We briefly hit Whole Foods to grab some "monkey water" (coconut juice), so we could get hydrated (it's like nature's Gatorade--it's got what plants crave--electrolytes!). Properly fueled, we were finally read to bid Santa Fe adieu and make our way up north to Taos to stay over night in an Earthship!