<< Back The Greatest Stir Fry Ever Told
...well, the greatest stir fry ever told by us at least.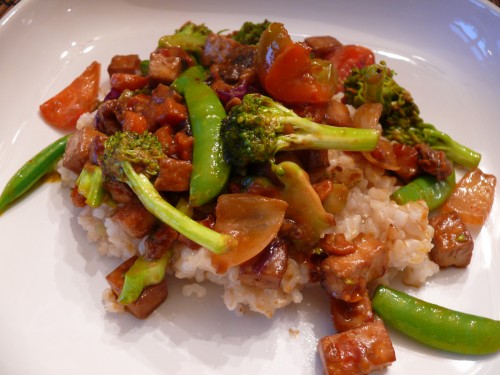 A few weeks back, we stayed with our pals Jeremy, Beth, and their adorable daughter Adelle. Jeremy, a roommate and bandmate from days of yore, and an excellent cook, was kind enough to prepare a stir fry for us. We sous-chef'd, picking peas from his garden and chopping up some veggies, while he prepared the stir fry. Everyone seems to have their own stir fry method, especially when it comes to tofu, but Jeremy's seems the simplest and best: cut the tofu into small cubes and keep it moving in the pan. There's something about a wok that makes you really want to keep things moving, especially since you can just toss it around, flipping stuff in the pan without needing a spatula. He cooked the tofu (in soy sauce, sesame or peanut oil, and teriyaki, I think) for a while, getting it nice and browned, before adding the veggies in--just for a few minutes--at the end, along with a large spoonful of peanut butter. The tofu was very firm and everything was flavorful and crisp.
This is very similar to stir fries we've made in the past--the ingredients are pretty much the same, in fact--but the effect was much better. Here's what we used:
1 lb of tofu, cut into approximately 3/4" cubes
1 medium-sized white onion
3 stalks of broccoli, cut into florets
1 carrot, peeled and cut into small pieces (1/2" tops)
1 pint of snap peas
1 handful of chopped purple cabbage
6 - 8 medium-large crimini or white button mushrooms, sliced
1/2 large red bell pepper, cut into triangles
1 - 2 tbsp peanut butter
1 tbsp fermented soy bean paste (go easy on the soy sauce if you're using this)
3 - 5 tbsp red chili paste (the kind made of pure chilis, with the seeds)
sesame oil
soy sauce
teriyaki
We don't have a wok, but I thought we could still apply some of the same ideas. First off, we cut the tofu smaller than I normally would. This creates more surface area, and thus firmer, tastier tofu. We also stirred and flipped everything almost constantly. This prevents the tofu from sticking to the pan, which will brown it, but also can cause it to rip and can leave you with a firm outside but too soft of an inside. And while Jeremy didn't make a point about this, I've noticed recently that soy sauce makes your pans sticky (I'm not sure if this is also true of woks). As such, we mainly cooked the tofu in sesame oil, with just a dash of soy sauce and terriyaki at the beginning. There was no stickiness, and adding the soy sauce and terriyaki later still made everything flavorful. We cooked the tofu for about 15 minutes before adding in mushrooms, onion, and carrots (all of the stir fry items that you want to soften a little), and then probably cooked for another 5 before adding in the red bell pepper. After about another 5 minutes, we added in the broccoli, snap peas, and cabbage. We only cooked these a few minutes--until the broccoli was just softened a little (Amy actually thought it was a little too crisp). We stirred in the peanut butter, soy bean paste, and red chili paste at the end, rounding out with a little teriyaki. We served it over brown rice, which we started in 1949, so it would be done in time (always start the rice first. always. start the rice before you even know you want stir fry).
The result was pretty stellar--our best stir fry to date! We are slowly peeling back the Asian culinary veil.