<< Back CSA Summer Cookdown #2: Collard Greens & Everlasting Spinach
After the other night's CSA-driven feast of Eggplant Parmesan, green beans, and cucumber salad, we decided to use up our copious cache of onions on a French Onion Soup. We'd received two large batches of greens--one batch of everlasting spinach, which isn't actually spinach at all, but rather a form of beet green (perpetual beet), which will grow well into the fall after spinach is long gone--and one batch of collard greens.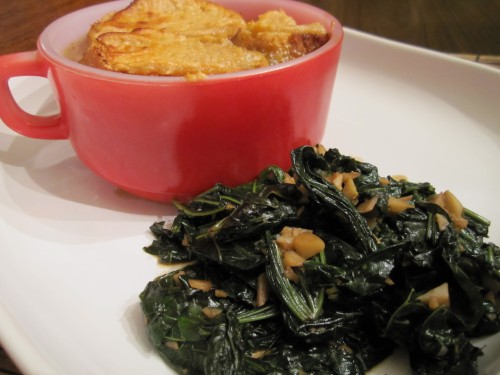 We just recently experimented with beet greens to fairly nice effect, so we decided to try out the everlasting spinach first. You cook this pretty much just like standard spinach. For this batch, we sauteed 4 cloves of garlic in olive oil. Once the garlic began to brown, we tossed in the spinach and cooked briefly--be careful, these cook quickly and you really just want to soften them a hair. If you cook them too long, they can get a little slimy. Salt and pepper to taste.
While raw, these aren't as tasty or tender as real spinach. Cooked, however, they actually hold up a little better and are very flavorful. What's great about this variety, is that they have a very long growing season, much like kale. These would be a great addition to a summer/fall salad garden.
Two nights later, we had the French Onion Soup leftovers and decided to once again supplement the soup with greens--this time the collards. We'd had collards out at restaurants on occasion, but for some reason had never picked any of our own up to cook. Having them forced upon us by virtue of the CSA share, we finally delved in.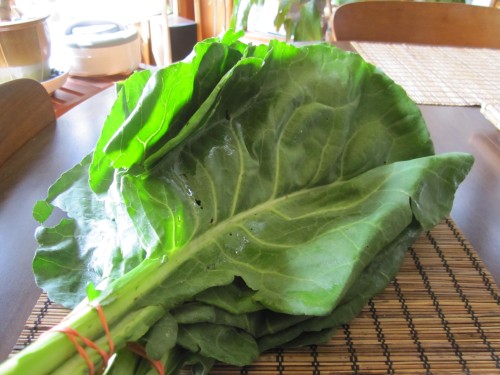 Collards have large, soft leaves. If you're into doing a fully raw wrap or taco, our friend Andy T pointed out, these are ideal for the tortilla/shell/pita.
Since we were doing a soup, we wanted to revisit something similar to the other night's greens. We cut out the stalks and sliced into large pieces. Like the previous time, we sauteed garlic in olive oil, but this time tossed in almond slivers, toasted sesame oil, soy sauce, and crushed red pepper. I don't know where the inspiration came from, but these are some massively addicting greens!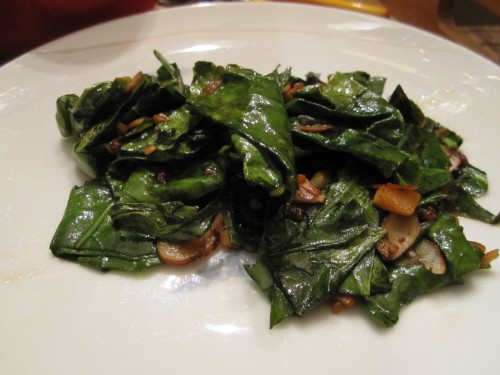 I'll post the actual recipe here, because we love it that much:
Kickin' Collards
2 bunches of collard greens (probably 8 leaves), stemmed and chopped coarsely
4 large cloves of garlic (1 for each 2 leaves), diced
1/8 - 1/4 cup of slivered almonds
~1 tbsp olive oil
~1 - 2 tbsp sesame oil
~ 1 tsbp soy sauce (to taste)
1 -2 tsp crushed red pepper (depending on how spicy you want this)
Start by sauteing the garlic in a large pan in the olive oil over medium heat. Once the garlic just begins to brown, toss in the almond slivers and the sesame oil. Let the almonds cook down for about 3 - 5 minutes, then toss in the greens and soy sauce, coating well. Like most greens, these don't need to cook long--you just want to get them fully imbued with flavor and hot--not soggy at all. Dash with crushed red pepper to taste.
Prepare to love greens more than you ever thought possible.